Outstanding Graduate Awards 2021
Michelle is a creative marketer who's equally adept at designing and writing. Says Michelle: "I have always enjoyed various aspects of writing. When I was younger, I enjoyed writing poetry and journaling. I'm also a bit of a grammar nerd. My love of words has extended into also learning modern calligraphy, which is a lot like drawing letters and words. During the pandemic, I wrote a book about Pinterest marketing called The 7 Day Pinterest Plan and became a self-published author. I plan on writing more in the future."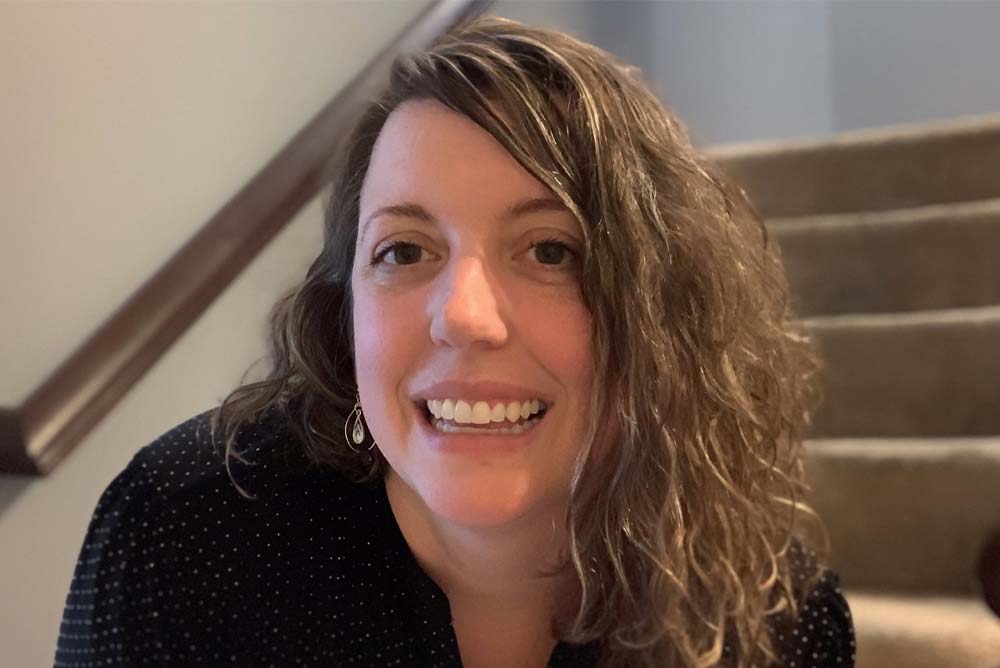 Learn more
While at Sessions, I enjoyed learning about writing copy for marketing. I've been married for 23 years and feel blessed with three children that have grown into thriving adults. I have one child on the autism spectrum and two other children with challenging needs, and investing in their lives has been both difficult and rewarding. I'm also a huge dog lover and have two rescue dogs: a black lab, Lily and a Brittany named Milo.
According to Michelle…
Areas of strength: My favorite projects incorporate design, copywriting, and thinking about a target audience. Web Design is something I've been doing for years with small projects and I have enjoyed the challenge of marketing to specific niche audiences using visuals and words. More recently, I've discovered that I really enjoy creating promotional videos, which also incorporates visuals and marketing copy. While I'm strong in writing, I navigate often towards video and design projects that allow me to use writing and design elements together.
Benefits of studying online:  Studying online requires dedication and being a self-starter. Although an instructor leads the course, it is up to you to want to learn and to want to get better. You'll receive constructive criticism can help you if you let it. If you don't understand something, it's a good idea to reach out to your instructor. There were times my instructor didn't get back to me right away, so I did my best to figure it out myself. This just pushed me to achieve what I wanted from the class. Learning online requires that you own your education and become responsible for the outcomes. It was a great choice for me because I was able to use what I learned in my classes at work. The real-life projects helped me in my job and continue to help me as I take on new roles and responsibilities.
Best thing about Sessions College: I love the projects! In a typical school, you'll probably do assignments that will not help you in the future. Every project I did at Sessions made me more ready for a career. I really enjoyed the practice in ad campaigns because it encompassed everything I learned in the first year and helped me see the bigger picture. In addition, I love how each project could be placed into my portfolio, which came in handy when I had job interviews. My favorite reaction was when my current boss told me, "Michelle, you should be so proud of your work. It's really beautiful."
It's not just a project—it's preparation for a career.
Favorite class or instructor? My favorite instructor was Kristen Becker. She taught a few different classes. At first, I wasn't her biggest fan. I thought she was a difficult teacher and hard to please. However, her feedback to me on projects pushed me to do better. By the end of my time, I had grown to appreciate her valuable input for every assignment, which helped me grow in ad campaigns and design projects, and encouraged me to pursue the things I was most passionate about.
Creative and/or  professional goals after graduation: I graduated several months ago and then COVID hit, which left me unemployed. Although I had both website and marketing experience, it was difficult to find work. I started looking around when it was safer to do so, and landed a job as a Marketing Coordinator for Crystal D, a company that creates crystal awards and gifts. It has been such a great experience working for a company that knows their own brand and knows their audience, but also realizes the importance of investing in their employees.
In the last 5 months, I've worked on various marketing projects: copywriting, flyers, social graphics, ad campaigns, meeting with consultants, creating video promotions, introducing a new product line, and more. Currently I'm learning about Adobe Premiere Pro and video production, which is trending more and more on social sites. My goals are simple: keep learning! I'm in my 40s and I know I'm competing with 20-somethings in this position. If I'm continuing to learn and grow, I'll continue to move forward and be an asset in any position I'm in.
Portfolio link: michellebuck.myportfolio.com
"Michelle approaches all design challenges with an eye for the end result and overall functionality, taking care to factor in the client's objectives and her marketing expertise before even beginning to think about aesthetic design. She then pulls it all together with a strong communication/functionality and high-quality aesthetic design. She is especially skilled at marketing techniques and her overall professional practice. Additionally, she has intense personal motivation that shows through in her process, preparation and follow up. She has been an absolute pleasure to work with."