Military Student Admissions
GI Bill Approved Programs
The GI Bill® was created in 1944 by President Franklin D. Roosevelt to provide financial support for the education of veterans who served in the United States military. Today, this program provides an essential education and career training path for millions of service member veterans and their families through schools that accept the GI Bill.
All Bachelor's Degree, Associate Degree, and Undergraduate Certificate programs at Sessions College are approved by the State Approving Agency of the Arizona Department of Veterans' Services. We have worked with hundreds of students eligible for GI Bill Chapters 30, 33, and 35 funding as well as Vocational Rehab (Chapter 31). In most cases, GI Bill benefits will cover all of your tuition costs.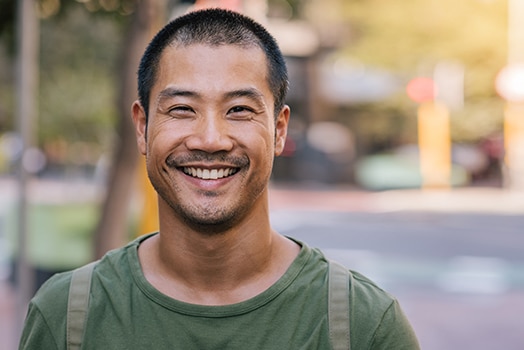 Why Sessions College is Right for Veterans and Families
Develop Creative Skills
At Sessions College, you can choose from a range of cutting edge creative programs in graphic design, digital media, photography, and more. Earn a degree or a certificate–or pursue multiple credentials.
Portable Classes
Take your program entirely online while maintaining your busy work and family schedule. No set logins and no textbooks are required—all you need to get started is a computer and Adobe Creative Cloud subscription.
Tuition and Fees Covered
Depending on your eligibility, most students find that all tuition and fees are covered.
Accredited Programs
Sessions College is accredited by the Distance Education Accrediting Commission (DEAC) and approved by the State Approving Agency of the Arizona Department of Veterans' Services.
Experienced Advisors
For more than 10 years, our advisors have helped hundreds of GI Bill eligible students navigate their benefit approval processes.
"I would really like to become a better photographer and use those skills to promote my current business. I was truly a novice when I first started the classes and though I am still learning with every class, I feel that I am looking for certain shots or lighting. In fact, my skills are getting significantly better."
GI Bill Information Request
Ready to learn more about Sessions College? Request information on programs, program costs, and more.
By submitting this form, you consent to an Admissions Advisor contacting you about our educational programs via email, phone, or SMS text. Message & data rates may apply. You can opt out or unsubscribe at any time. Privacy Policy.
Which GI Bill Programs Are Approved?
Eligible military service students, veterans, or their families may fund their education at Sessions College through one of the following programs. Some students are eligible for more than one Chapter of the GI Bill. In most cases, they cannot be used simultaneously. Any combination of benefits cannot exceed 48 months of eligibility.
Chapter 33: Post 9/11 GI Bill
The Post 9/11 GI Bill, which went into effect on August 1, 2009, will provide education benefits for servicemembers who have served on active duty for 90 or more days since Sept. 10, 2001. Benefits are tiered based on the number of days served on active duty, creating a benefit package for active duty servicemembers including National Guard and Reserve members.
You may be eligible if you have 90 days or more of active duty service after September 10, 2001, and are still on active duty, or if you are an honorably-discharged veteran, or were discharged with a service-connected disability after 30 days of service.
Chapter 30: Montgomery GI Bill Active Duty (MGIB-AD)
If you served at least two years on active duty, you may qualify for the MGIB-AD program. This program is sometimes known as "Chapter 30." It provides education benefits to eligible veterans and servicemembers for up to 36 months.
To qualify for the MGIB-AD program, veterans must have received an honorable discharge and earned a high school diploma or GED (or earned 12 college credits in some cases), and must meet the requirements of one of four Montgomery GI Bill categories. For more information, visit this VA.gov page.
Chapter 35: Survivors' and Dependents' Educational Assistance (DEA)
The Survivors' and Dependents' Educational Assistance (DEA) Program provides training and education opportunities to eligible dependents of a veteran who died in service or is totally and permanently disabled as a result of service. Servicemembers or their spouses/dependents are eligible for up to 45 months of assistance and may be eligible for multiple benefits which may be used for degree and certificate programs.
Chapter 31: Vocational Rehabilitation & Employment (VR&E)
The Chapter 31 Vocational Rehabiitation & Employment (VR&E) program is designed to help veterans with service-connected disabilities become employed, stay employed, or become independent in daily life.
In order to be eligible for VR&E benefits, a veteran must:
be or will be discharged under other than dishonorable conditions;
incur or aggravate a service-connected disability which entitles him or her to VA disability compensation;
need vocational rehabilitation as a result of her or his service-connected disability creating a handicap in employment.
Chapter 1606: Selected Reserve (MGIB-SR)
The Selected Reserve program is also known as the MGIB-SR. It provides up to 36 months of education benefits to eligible reservists in the Selected Reserves while in a VA approved program. This includes the Navy, Army, Air Force, Coast Guard Reserves, Marine Corps, Army National Guard and the Air National Guard.
The Selected Reserves program is the first that doesn't require active duty service in the regular Armed Forces to qualify. Among other requirements, you must have agreed to a six-year obligation to serve in the Selected Reserve signed after June 30, 1985. If you're an officer, you must have agreed to serve six years in addition to your original service obligation.
Chapter 1607: Reserve Educational Assistance Program (REAP)
This is a VA program designed to provide up to 36 months of educational assistance to members of the reserves called to active duty in response to a national emergency or war as declared by the President or Congress. Ultimately, the Secretaries of each military service, Department of Defense, and Department of Homeland Security (Coast Guard) will determine a reservist's eligibility.
Financial Aid
Did You Know? If you are eligible, Federal Student Aid can be combined with GI Bill funds to help you cover the cost of your education.
Other Information on Eligibility
Transfer GI Bill to Spouse or Dependents
The Post-9/11 GI Bill allows for servicemembers to transfer their unused benefits to their spouse or dependent children. This request must be made while the sponsor is still serving as an active duty member of the armed forces. The Montgomery GI Bill is not transferable.
With the Post-9/11 GI Bill, eligible servicemembers may transfer all 36 months or the portion of unused benefits (unless DoD or the Department of Homeland Security has restricted the number of months that can be transferred). If you're eligible, you may transfer your benefits to the following individuals:
One or more of your dependent children
Your spouse
Any combination of spouse and dependent children
To learn more about transferring your benefits, visit the Transfer GI Bill to Spouse or Dependents page.
Online Basic Allowance for Housing (BAH) or Monthly Housing Allowance (MHA)
Eligible people can receive a Basic Allowance for Housing (BAH), also called the Monthly Housing Allowance (MHA) with their GI Bill benefits. The amount you receive and how long you receive it will depend on several factors including which GI Bill program you are using and your location.
GI Bill Online BAH
Can you get BAH for online classes? In many cases you can. GI Bill recipients can receive a housing allowance for their online courses. The amount and duration of benefits you're eligible for varies on your situation. The basic allowance for housing for online students is half the national average BAH for an E-5 with dependents for student veterans.
For more information, visit our GI Bill Monthly Housing Allowance (MHA) page.
Determining Your Eligibility
Ultimately, only the Veterans Administration (VA) can determine your benefit type, eligibility and duration of benefits. Find out your eligibility by following the instructions below. You can locate Sessions College at the VA site by visiting this page and searching Arizona under "S".

Verify
Verify your eligibility for education benefits at the Department of Veteran Affairs Web site or by calling the Veteran Educational Benefit Office at 888-442-4551.

Chat Live
Contact an Admissions Advisor by phone or email or live chat. While you verify your benefits, we can help you identify the right program.

Apply
Complete your online application for degree programs or certificate programs.
IMPORTANT: All applicants using military education benefits are expected to provide transcripts for all previous college credits in order to maximize credit transfer and prevent duplicate coursework.
GI Bill® is a registered trademark of the U.S. Department of Veterans Affairs (VA). More information about education benefits offered by VA is available at the official U.S. government Web site at http://www.benefits.va.gov/gibill.