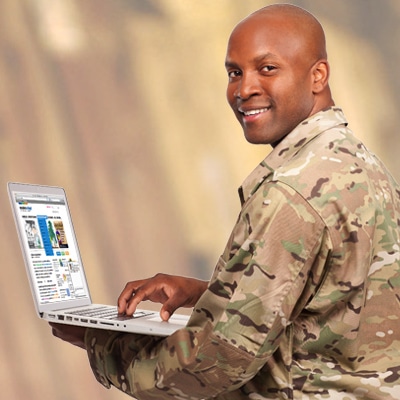 Military Student Admissions
GI Bill
The GI Bill® provides education financial support to veterans who served in the United States military in an active duty status. All programs are approved by the Arizona Veterans Education and Training Approving Agency: GI Bill Chapters 30, 33, and 35 as well as Vocational Rehab (Chapter 31). In most cases, GI Bill benefits will cover all of your tuition costs.
Eligible Programs:
Associate Degree
Undergraduate Certificate
Vocational Certificate
Which GI Bill Programs Can Be Used?
Eligible military service students, veterans, or their families may fund their education through one of the following programs:
Chapter 33 – Post 9/11 GI Bill (36 months eligibility)
Chapter 30 – Montgomery GI Bill (36 months eligibility)
Chapter 1606 – Active members of Reserves with 6 year obligation (36 months eligibility)
Chapter 1607 – Reservists called to active duty for 90 days or longer (36 months eligibility)
Chapter 35 – Dependents of a veteran who died in service or is totally and permanently disabled as a result of service (45 months eligibility). Servicemembers or their spouses/dependents are eligible can be eligible for multiple benefits.
Chapter 31 – Vocational Rehabilitation & Employment (VR&E) – For Veterans with service-connected disabilities and have a VA Integrated Disability Evaluation System, (IDES) rating of 20% or more.
NOTE: Some students are eligible for more than one Chapter of the GI Bill. In most cases, they cannot be used simultaneously. Any combination of benefits cannot exceed 48 months of eligibility.
"You cannot beat online college as a way of continuing your education when you are in the military. There are no issues with having to order textbooks, as all course material is online. Sessions College has opened my eyes to online college and as a Non-Commissioned Officer I let my soldiers know that not all colleges have to be in a classroom. I show them that with determination and dedication you can accomplish anything." Chris Deprater
Determining Your Eligibility
Ultimately, only the Veterans Administration (VA) can determine your benefit type, eligibility and duration of benefits. Find out your eligibility by following the instructions below. You can locate Sessions College at the VA site by visiting this page and searching Arizona under "S".

Verify
Verify your eligibility for education benefits at the Department of Veteran Affairs Web site or by calling the Veteran Educational Benefit Office at 888-442-4551.

Chat Live
Contact an Admissions Advisor by phone or email or live chat. While you verify your benefits, we can help you identify the right program.

Apply
Complete your online application for degree programs or certificate programs.
IMPORTANT: All applicants using military education benefits are expected to provide transcripts for all previous college credits in order to maximize credit transfer and prevent duplicate coursework.
GI Bill® is a registered trademark of the U.S. Department of Veterans Affairs (VA). More information about education benefits offered by VA is available at the official U.S. government Web site at http://www.benefits.va.gov/gibill.