April 2023 Student Gallery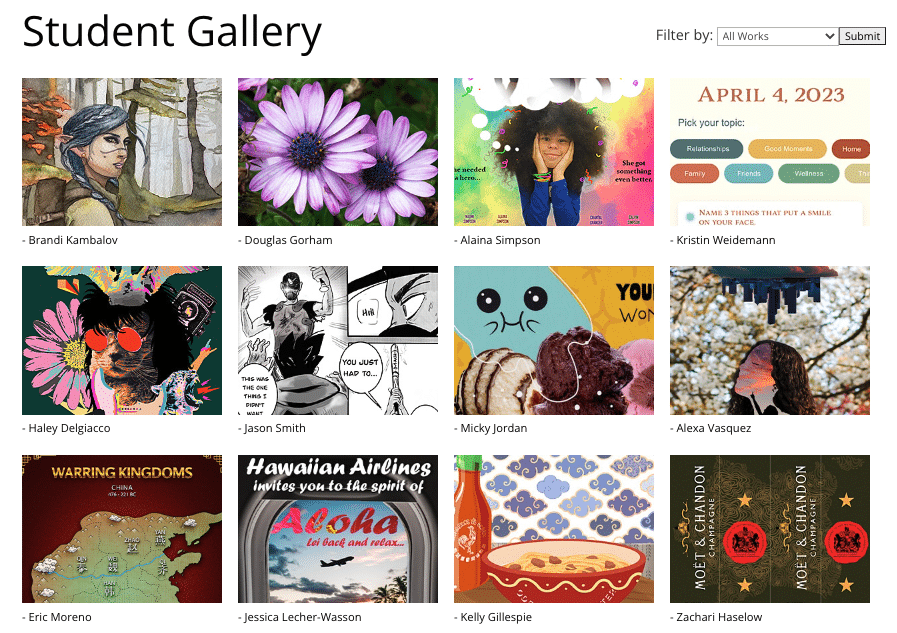 Happy Thursday, Sessions people! As the summer beckons, we once again find ourselves amazed by, and celebrating, the high level of creative work accomplished by our students this Winter 2023 term.
To find out more, clap your eyes on our April 2023 Student Gallery, updated each term with excellent art, design, digital media, and photography work, nominated by Sessions College faculty.
Below are the 40 outstanding students whose work was selected. Congratulations to each of you. Keep up the great work!
Aaron Allina
Alaina Simpson
Alexa Vasquez
Alexandra Mocomb
Andrea Larez
Autumn Aycock
Rebekah Gagliardi
Brandi Kambalov
Brett Yokota
Cameron Bentley
Douglas Gorham
Elia Giuliani
Eric Moreno
Grace Mahovsky
Haley Delgiacco (2)
Jaclyn Marr
Jason Smith
Jessica Lecher-Wasson
Joshua Chislett
Kathryn Dunford
Kelly Gillespie
Kristin Weidemann
Maeleen Rosetti
Maggie Brownstone
Martin Brannan
Megan Lewis-Reed
Micky Jordan
Nevaeh Baxter
Olivia Barrilleaux
Prince Maduekwe
Rhiannon Williams
Richard Rivera
Samantha Nelson
Stacey Alexander
Tamara Lance
Thomas Newhall
Viansa Lozano
Victoria Torres
William Esque
Zachari Haselow
To learn more, visit the Student Gallery page. Once again, our thanks to all faculty members who nominated student work to the gallery, and to our Manager, Faculty and Curriculum Development Lauren Hernandez and Creative Director Patricio Sarzosa for curation and production.
Please continue to celebrate excellence and creativity!!

Sessions Staff is a restless soul who loves to share Campus News stories with current and prospective students.