Melanie Makes It Their Best.Day.Ever.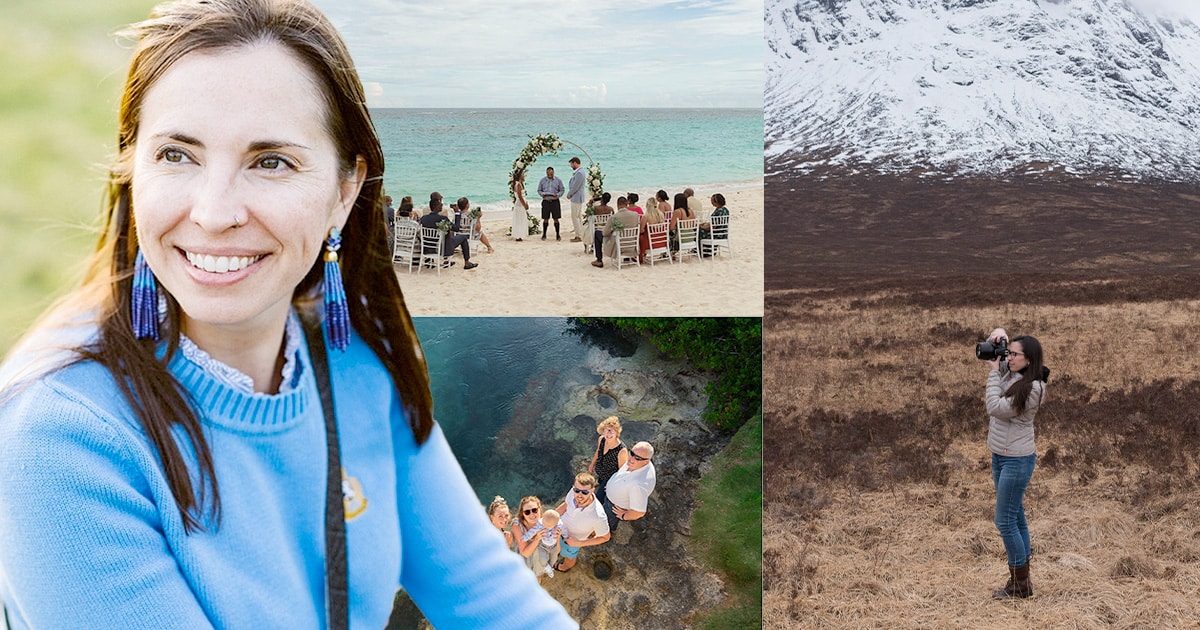 Sessions College faculty member Melanie Fiander is a professional photographer and educator who runs her own wedding and event company from Bermuda. Her work has been widely recognized and led her to travel all over the world documenting destination weddings.
With such a deep professional resume, we're excited that Melanie has joined Sessions College this year to teach and develop advanced courses for our BFA in Digital Photography program. Our Academic Coordinator Lauren Edmundson interviewed Melanie to find out more about her work.
Q: Melanie, you have traveled all over the world to capture weddings and events. What's your favorite destination? Are there any unique challenges you have overcome along the way?
I've traveled all over the world and always with a camera in hand, although not all of my destinations have been to capture weddings and events. A lot of my travels, particularly when I was in my twenties, focused on documentary and fine art photography. These places include Vietnam, Cambodia, Thailand, Ecuador, Greece, Spain, France, Belgium, Holland, and Germany—to name a few.
For photographing weddings and events, I've had the pleasure of traveling to Canada, Bermuda, England, Scotland, Italy, and throughout the USA. While Italy holds a very special place in my heart because my mother's family originates from Calabria and Naples, my favorite destination for capturing a wedding was Scotland. [Editor: That's one of our favorites too!]
As a traveling photographer, there are bound to be challenges. In the past, I've had flights canceled and luggage lost. Although, these are things anyone may face while traveling and when I'm traveling for work, I make sure to arrive a few days prior to a wedding or event. In the event that I arrive late or luggage is lost, I still have a few days to get to my destination and sort out any issues. As a general rule of thumb: I always take my camera gear, laptop, and a change of clothes with me as a carry-on.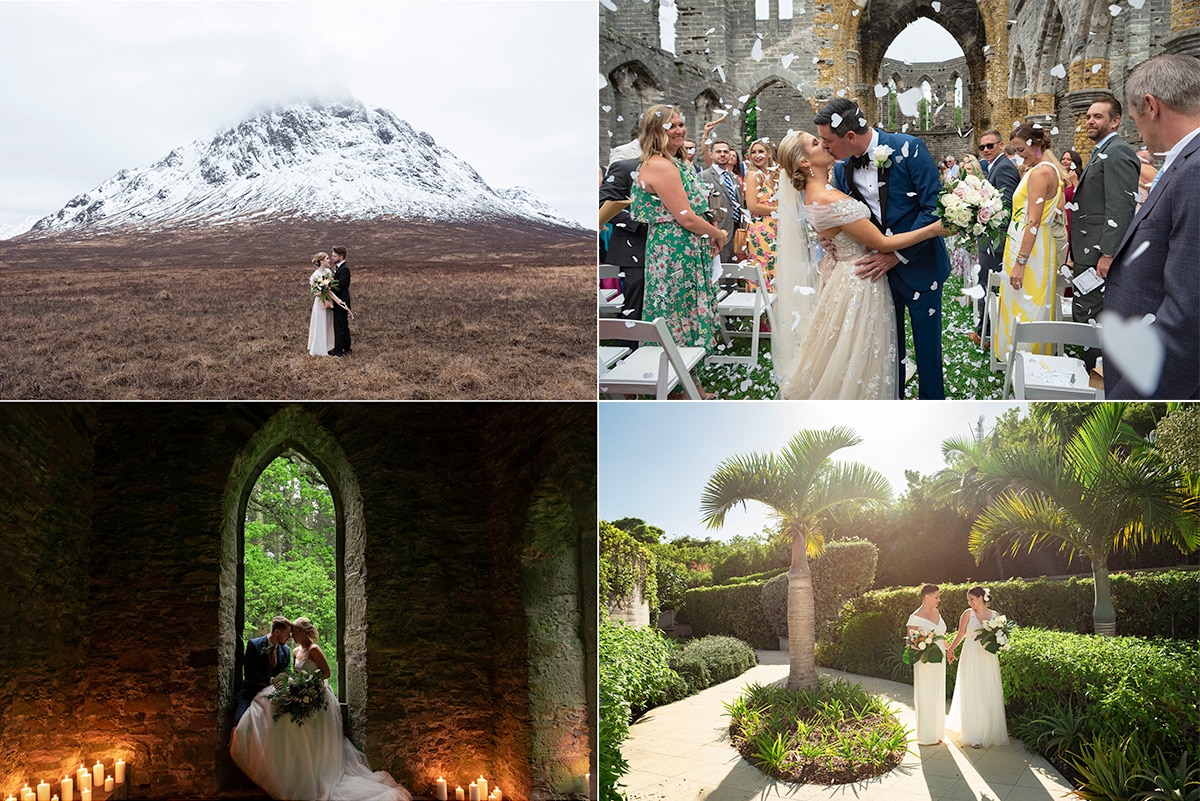 These days? My unique travel challenges have related to Covid-19. As I cannot work from home as a wedding photographer, being able to travel is important in order for me to make a living. I made the personal decision to get vaccinated and boosted mainly to protect myself, my family, and slow the spread of Covid-19. But I also made the decision to become vaccinated and boosted to travel and do my job; to show up for my clients both physically and emotionally. Of course, no vaccine is not 100% bullet proof. As a result, I also travel with several face shields, a K-N95 masks, antigen tests, and hand sanitizer. Moving forward, I plan to follow the guidelines recommended by the CDC and WHO regarding protection from Covid as well as other diseases. In short, it's important for me to be a responsible traveler when it comes to my health as well as the health of others.
To give you an idea of a UNIQUE challenge while photographing a wedding outside of my home country: there was one incident where I found myself locked into the venue. We were photographing a wedding at Errol Park Estate in Errol, Scotland. In short, I arrived at the wedding venue the day before to photograph a few details: the dress, the bride's shoes, the wedding invite, and overall shots of the property. I stayed a little longer than I had planned and when my husband and I went to leave, we found the door had been locked! We had to call the bride, who had a key to the venue and she opened the door for us. It's not every day your client has to "rescue" you; we all had a good laugh about it.
To see some of Melanie's work, view the following slideshow:
Q: What's your creative/planning process for a big event?
When hired by a client to photograph a wedding or a big event, the first thing we do is to discuss is the timeline of events for the day. There is so much going on during a wedding day and the timeline becomes vital, not just to myself as the photographer but also to other vendors. For example, if the bride will be getting into her dress at a certain time, the hair and make-up artists need to know this so in turn, they can ensure their work is completed on time. The timeline will ultimately shift between the day it's created to the actual day of the wedding or event. Although, it's good to "get the ball rolling" ahead of time so everyone can plan accordingly.
Overall, it's important to remember that photographing a wedding requires collaboration. The photographer is not only collaborating with the couple to obtain stunning photos of themselves but also with the other vendors. It's all about "team work" on a wedding / event day!
Q: Your portfolio showcases weddings from a variety of cultures. What have you learned about other cultures in shooting international events over the course of your career?
Growing up in the Washington D.C. area, I was very lucky to be exposed to many different religions, cultures, and communities. The D.C. area is home to over 170 nationalities and ethnic groups. While it's not the most diverse city in the world, it provides the opportunity to learn about new cultures.
My parents played a big hand in teaching me about other cultures. We had family and friends from different parts of the world whom we'd spend time with: from Morocco, China, Korea, the UK, Canada, Italy, Japan, Australia, Greece, Ecuador, Columbia, Israel, Puerto Rico, Mexico, Vietnam, Egypt, Iran, South Africa, Czech Republic—the list goes on. We also traveled quite a bit while I was growing up, which is likely why I like to travel so much today!
My experience growing up not only influenced my current commercial photography but also my graduate school studies, when I was actively studying photography, film, and cultural anthropology. At that time, I was working on two fine art documentary photo projects; one that focused on a Sudanese family who had immigrated to Portland, Maine and the other on an Irish Jesuit Catholic Priest, who in my opinion, was a very forward-thinking and liberal man.
When I am working with a client who may be from a different culture, religion, or community than myself, I have learned to be humble, to be mindful, to listen and observe, and when appropriate, to blend in. As a photographer, my clients have hired me to capture the essence of and the emotions behind their event; they want me to tell their story. In order to accomplish this, I have to be a "sponge" and learn as much as I can about them and the event.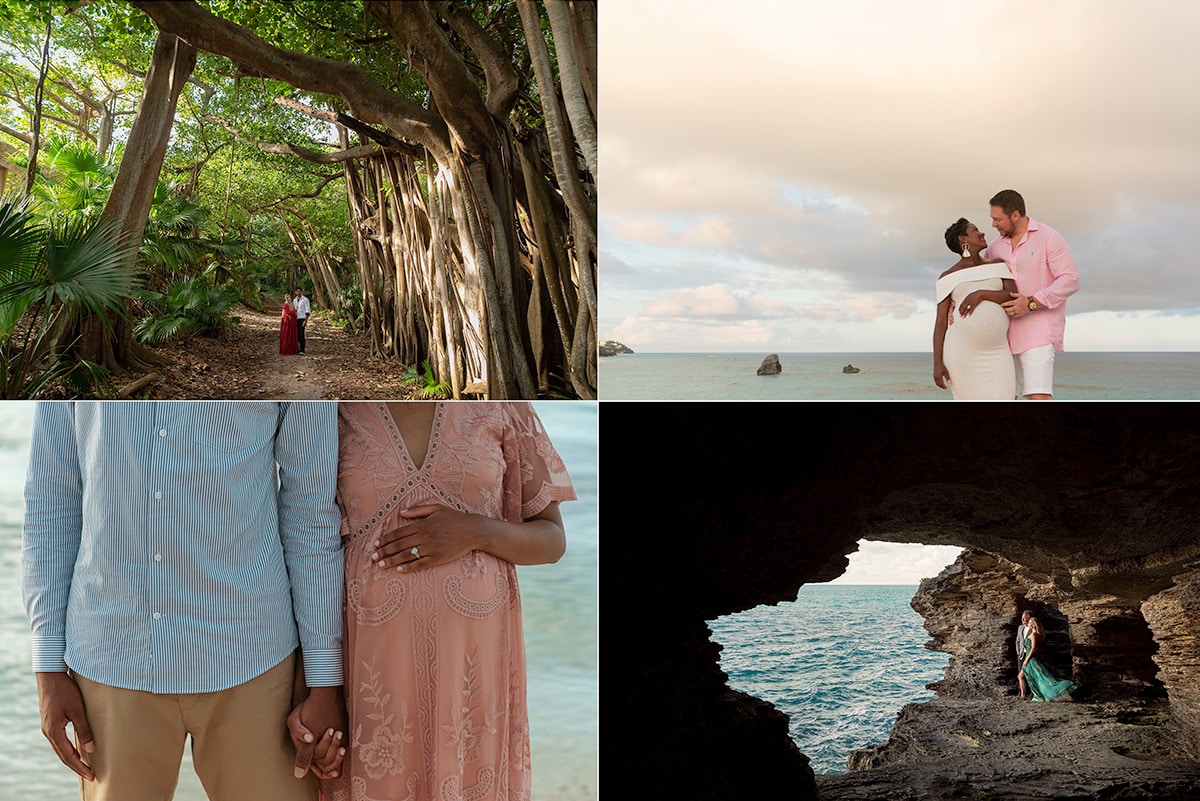 Q: You are also a portrait photographer. What are some keys to success in portrait photography?
Success can be defined in different ways. I like to give my clients a nice variety of images. With this in mind, I capture images that display both candid moments and traditional portraits, directional lighting and overall soft lighting, photos that offer a variety of focal lengths, and unique compositions. I'm a big fan of tack-sharp subject matter, true-to-life colors, and images that reveal emotion.
The client experience is also an important part of being successful. I want to ensure that clients have a positive and fun time working with me. As mentioned above, a certain amount of collaboration is needed between the photographer and client. For me, part of the collaboration involves finding a "common ground" with my clients and making them feel at ease in front of the camera. Sometimes having your photo taken can be a bit awkward. If I find something in common with them, we can chat about that topic while we take photos. Along with a good conversation, I also try to "liven up" the photo shoot with different games that require them to pose in a certain way or that result in specific emotions being evoked for me to capture.
I want my clients to look back on their images and remember not only why they booked the photo shoot—for example, if they were celebrating an engagement, wedding, anniversary, maternity, or a simple vacation—but to also remember the good time they had while creating the images.
Q: As a professional photographer, editing and image management are key. What role does Photoshop or other programs play in your work?
Over the past 18 years, I have developed a workflow for image management and editing. When I learn about new programs or software that may assist me, I make adjustments to my workflow.
In terms of image management, the most important aspect is backing up my photographs. I always shoot with two cameras; each with two memory cards within them; one SD Card and the other a CompactFlash. If one card fails, I have the second one. From there, I download and back up my images onto three different hard drives; if one fails, there's are two more as a back-up. On top of that, my images are also backed up online. When it comes to SD Cards, CompactFlashes, and hard drives, it is not a matter of if the item will fail, it is a matter of when. This is why multiple backups on hard drives as well as an online back-up is essential.
In terms of post-production, I use Photo Mechanic to cull my images. Adobe Photoshop plays a big role in my editing. I'll use Adobe Camera Raw to make the major adjustments to the white balance, exposure, contrast, highlights/shadows, texture, color adjustment, and so on. Once the major adjustments are complete, I go through the photos to see if any items or distracting elements need to be "Photoshopped" out. At times, I may opt to blend a few images together to make one.
Q: We noticed that your projects include creating and hosting your very own film festival! What led you to do this and what did you learn from the experience?
The Fiander Film Festival was a sold-out event which occurred at The Dunes (art gallery) in Washington D.C. in February 2012. The festival featured works by artists from Bermuda, England, Italy, and the United States. A wide range of genres were included in the festival: art, documentary, reality, comedy, and drama. Overall, the chosen films examined the idea of human growth and human connection.
I had recently moved from Portland, Maine back to the D.C. Area, where I grew up. While living in Maine, I went to graduate school at the Maine College of Art and my focus was on creating short films. Post graduate school, I continued this practice and entered my film pieces into different festivals; some were successful entries and others were not. As an art student, I was taught that both success and rejection will occur, although it's what one does after a rejection that is important. After I moved back to the D.C. Area, one of my films was turned down for a festival and I thought, "I'll just host my own festival." 🙂
From there, I contacted a venue, designed a logo, website, and branding for the festival, put a few "call for artists" announcements in the Washington City Paper and the Portland Phoenix, sent out press releases, and began contacting artists. As the wheels started to turn, I also ordered a few promo items like buttons, posters, stickers, and set up a system for selling tickets.
Through the advertisements and press releases, I had quite a few submissions come in. Although, I also contacted artists directly to see if s/he/they wanted to participate in the Festival. In total, I had thirty-five artists submit their work to the Fiander Film Festival.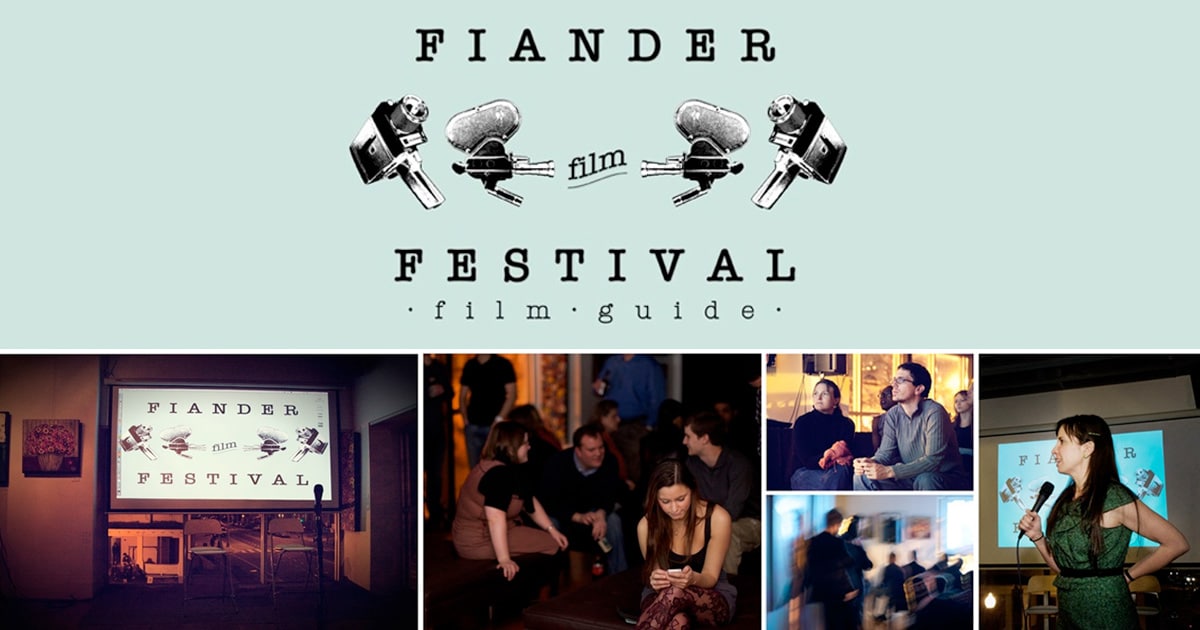 What made this festival unique was not only the variety of genres included in the mix, but also the background experiences that each director held. One of the directors screened his entry at the 2011 Sundance Film Festival and the SXSW Festival, where as five of the directors created their first video solely for the Fiander Film Festival. Four artists held their Masters of Fine Arts degrees from Maine College of Art (MECA) in Portland. Six filmmakers studied at or are affiliated with the Salt Institute for Documentary Studies; now also part of MECA. Six professors and students at The Art Institute of Washington submitted films. A project was submitted by the cast and crew behind Food Coma TV, a hodgepodge of individuals within the restaurant industry in Portland, Maine. The Nomadic Nation's "Wreck Trek" was a television series that later appeared on Netflix and is now on Amazon Prime Video. Employees from the Social Security Administration (where I held my first job as a photographer) and the Department of Energy also submitted videos. My film collaborator and now husband, Jim West, works as a deep-sea commercial and charter fisherman; we entered a film titled "Heartbeats."
Throughout the overall experience, I learned that hosting, curating, and participating in a Film Festival is a lot of hard work. At the time, I was teaching photography for The Art Institute of Washington in Rosslyn, Virginia. When I was not with my students, I was working on the Festival. There were many evenings when I would work through the night, perfecting the website, answering emails from applicants, creating promotional items, and selling tickets.
One of the most significant things that I discovered while working on the Fiander Film Festival was the community that was formed as a result. During the months leading up to the Festival, I found the filmmakers to be very eager to apply and show their work; to be a part of a new festival. I was also amazed at how quickly the event sold out! Overall, I think it was important for film makers and attendees to come together for an artistic purpose because it created a sense of social belonging.
Q: Can you tell us more about your video, "Heartbeats"? What was your inspiration for it?
"Heartbeats" was a film I put together in collaboration with my husband, Jim West. As mentioned earlier, Jim is from Bermuda and works as a fisherman. We spend quite a bit of time on the water as a result.
While we were snorkeling one day, I had my underwater camera with me and took some footage of the reef. The water was a little murky due to a squall that had just come through. As I'm a "city girl," my imagination always runs wild when I'm in the water; I always think I'm going to see a shark or a barracuda! In reality, I normally just see a few Sea Cucumbers, Grunts, and Snappers. As I was nervous on this particular murky snorkeling adventure, the audio from the footage was mainly of my heavy breathing through the snorkel tube; scared to death that I'd see some "creature from the deep"!
Jim and I both found the audio to be hilarious. As a result, I put merged the footage, the original audio, and some stock audio together to create "Heartbeats." For us, it's a take on our different personalities and relationship; it's a good 'ole fashioned "love story".
Q: Any exciting, challenging, or just fun projects on your horizon?
Yes; I am currently planning another stylized bridal portrait shoot in the Isle of Skye in Scotland. We are still "putting the pieces together," although I'm hoping to shoot this in the Fall of 2022 or Spring of 2023. After which, I plan to submit the images for publication in a variety of bridal magazines and blogs throughout the UK and USA.
To find out more about Melanie's work, check out the following online resources:
fianderfoto.com
fianderfoto Instagram page
fianderfoto Facebook page
Visit Sessions.edu to find out more about our online BFA in Digital Photography program.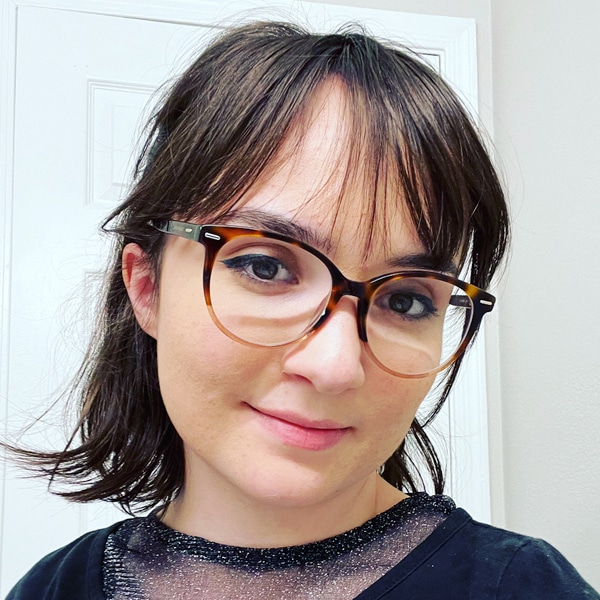 Lauren Hernandez is the Manager, Faculty and Curriculum Development at Sessions College. Lauren is an artist, educator, and former middle-school teacher with a passion for everything art-related. Outside of work, Lauren likes to take care of her plants and hang out with her bird.