Summer 2020 Student Gallery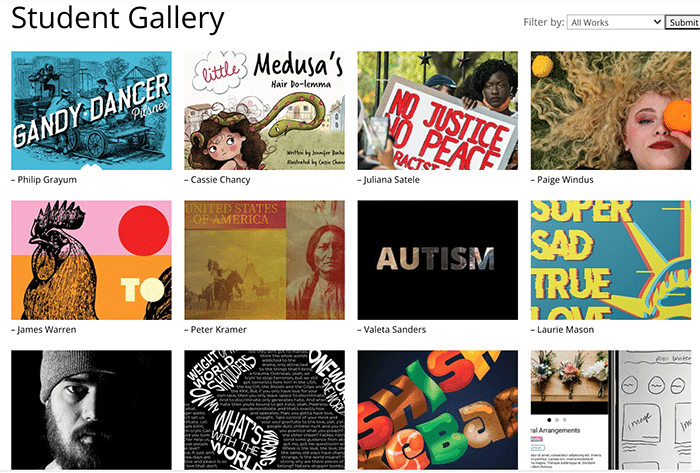 The Sessions College Student Gallery page was updated this week with creative work from all majors submitted in Summer 2020 classes. It is quite remarkable to see such a range of excellent work in art, design, photography at a time when society in general is working so hard to pull through the COVID-19 crisis.
Here are some of the outstanding students whose work was selected. (If you are among this list, congratulations, you must be proud!)
Baleigh Bates
Barbara Clark
Bhakti Randeria
Brad Bransford
Bradley Poreda
Cassie Chancy
Charlotte Sidwell
Christine Lee
Donek Morton
James Warren (2)
Jamille King
Janelle Dohve
Jessica Braun
Juliana Satele (2)
Kristen Fontanini
Laurie Mason
Michael Zunino
Miranda Forchap
Paige Windus
Peter Kramer
Philip Grayum
Rachel Acord
Sabrina Timmermans
Valeta Sanders
To learn more, visit the Student Gallery page. Our thanks all faculty members who nominated student work to the gallery, and to our Creative Director Patricio Sarzosa for curating and production.
Please continue to help us celebrate excellence and creativity!!!

Sessions Staff is a restless soul who loves to share Campus News stories with current and prospective students.