Taz Tally Exhibition – Landscapes Across Alaska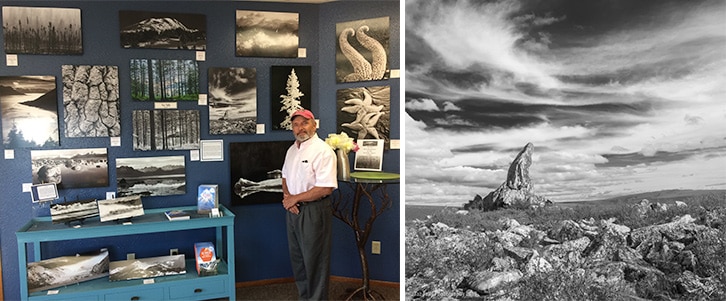 For now through October, Alaska residents can view an exhibition of Dr. Taz Tally's nature photography called Landscapes Across Alaska at the Art Shop Gallery in Homer, Alaska. The exhibition showcases work from Taz's travels around the Alaskan countryside.
Here are some artist's notes from Dr. Tally on a dual art piece entitled Twin Through-the-Boreal-Forest Views of Tutka Bay Fjord.
"Normally, I only display black-and-white interpretations of the landscapes I shoot, but for this exhibit, I've chosen to showcase this dual art piece because of how strongly they demonstrate the power of color and the power of its absence."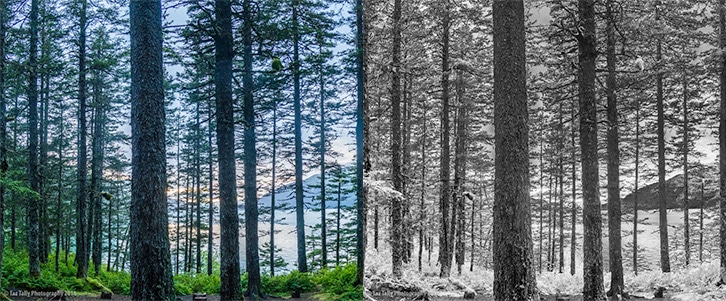 Twin Through-the-Boreal-Forest Views of Tutka Bay Fjord
How Taz uses perception and elements in his photographic art
"Allow your eyes to drift back and forth between the two interpretations and examine which portions of the scene are highlighted in each. Notice how elements and details that may be subdued in one image become prominent in the other. Perception informs our understanding of reality, what we see and how we think and feel about a subject, and these two interpretations of the same boreal forest and fjord scene demonstrate how various elements of a subject can be revealed and emphasized through different artistic interpretations."
"I capture my images in color and then intermix the three individual channels of grayscale to create black-and-white interpretation of scenes. I enjoy using grayscale tones to emphasize structures, textures and fabrics and the compositional emphasis of my images often changes dramatically between the original color version and my final black-and-white creation. Color is such a dominant visual force to the human eye and brain that by removing color, we can more easily focus our attention on other image elements and details that we might otherwise miss seeing."
We encourage any students, Alaska residents, or fortunate tourists to stop by the Art Shop Gallery and catch Taz's stunning images of the Alaskan wilderness.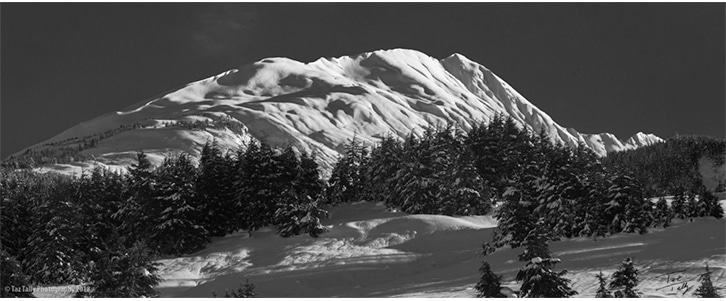 For more information please visit:
Art Shop Gallery
202 W PIONEER AVE Suite A
HOMER, AK 99603
(907) 235-7076
http://www.artshopgallery.com
Dr. Taz Tally is a Sessions College instructor and the president of Taz Tally Seminars and Taz Tally Photography. He has authored numerous books on printing, Photoshop, and the outdoors. His latest title called Backroads & Byways of Alaska was published in April 2018. To find out more about studying photography at Sessions College, visit our online photography degree or photography certificate programs. 

Sessions Staff is a restless soul who loves to share Campus News stories with current and prospective students.