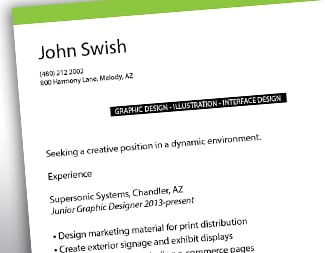 Put your best face forward with our resume tips.
Design Career Guide
Resume Tips
Sending a prospective client or employer your resume, along with a link to an online portfolio, isn't just a requirement; it's also the perfect opportunity to successfully package and market yourself. Review the resume tips and advice below to navigate the dos and don'ts of the process.
WHAT SHOULD MY RESUME LOOK LIKE?
Your resume must reflect your professionalism in its content and appearance. A simple, legible layout is essential; your resume and all of its key elements should be easily understood at a quick glance on just one or two pages. Your resume may be the first thing an interviewer looks at, so it should reflect your professional identity and design style.
SHOULD I INCLUDE A COVER LETTER?
Yes! A job inquiry that just includes a resume and a quick line of introduction almost never results in an callback or an interview. Just sending your resume says you can't be bothered to do the minimum to get an interview—a bad first impression to send.
Instead, include a cover letter summarizing your background and expressing your interest in the company and its products or services. The quality of your writing and energy should come through in the letter, giving the employer an introduction to who you are and how well you can communicate professionally
HOW SHOULD THE EMPLOYER CONTACT ME?
All of your professional contact information should be included on your resume, including your portfolio URL and email address. It can be advantageous to have your own professional domain name so that your URL is memorable and so that your email address is simple and professional (for example, jsmith@jsmith.com).
WHAT KIND OF EXPERIENCE SHOULD I LIST?
When listing your experience, think of what skill sets the client is trying to fill and keep your entries relevant. Include your current title and the title of your last position if you had one (for example, Art Director or Marketing Manager). List the dates you held the position for as well. It is important have all time accounted for. If this is unavoidable, be prepared to be able to explain your employment gap.
WHAT ARE THE ESSENTIAL DETAILS TO INCLUDE?
Each job listing should include a detailed description of your responsibilities, the size of the team you worked with, and your role within the team, as well as any specific responsibilities, projects, and skills involved. If you are a freelancer with many clients, you might also include a client list. Also remember to include any formal education you have had, awards or honors you have received, and an honest listing of software skills.
WHAT SHOULDN'T BE ON MY RESUME?
Personal information should never be on your resume (age, personal description, religious or political affiliations, hobbies, family status). A resume is meant to portray your professional life only. Most importantly, check your resume for accuracy, spelling, and grammar. You're not likely to get a call back if you miss this important step.