Academic Team
Department Heads
The Department Heads are a team of veteran instructors who provide the school expert guidance on curriculum and course development, to ensure our programs keep pace with ever-changing demands of design industry practices. At degree level, Department Heads teach Capstone Project, Portfolio Review, and Design Business courses, providing experienced assessment and mentorship as students graduate their programs.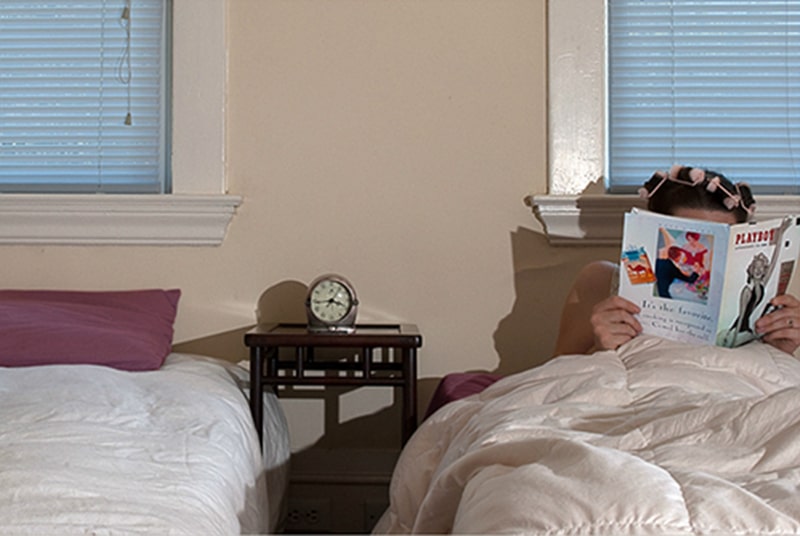 Felicia after a creative photoshoot in Oakland, CA.
Felicia Kieselhorst
Photography Department Head
Today, nearly everyone has a high-quality camera in his or her pocket and many consider themselves photographers. There's more to being a professional photographer than owning a fancy camera and watching a few YouTube videos.
The saying "a photo is worth 1,000 words" has never been more accurate than it is in this era of smart phones, selfies, and affordable DSLR cameras. A good photo is worth much more; it evokes a feeling, tells a story, and sends a message.
About studying Digital Photography at Sessions
The craft of photography is about more than equipment. I've seen beautiful work made by professional photographers using low quality equipment. And I've seen less exciting work made by amateurs with very expensive gear. Photography is capturing the world as you see it through your eyes, communicating your unique (and perhaps the vision of others involved in a project).
Photography is communicating a rich visual story through strong aesthetics and concepts. Initially, an intrinsic skill or passion may have led you to pick up a camera. You may have taken to photography quickly or you may have had a period of struggle and confusion. Either way, a desire to learn has led you to Sessions. Eventually, mastery will lead you to success.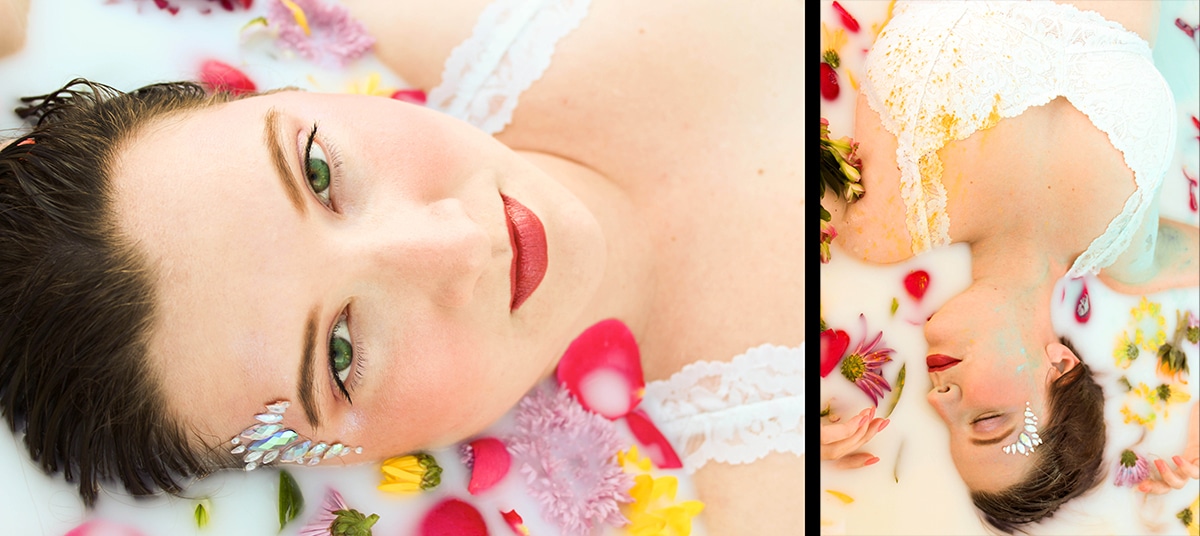 Student work by Desiree Murray
The Sessions Photography Program builds a foundation of skills, not only technical, that empower you to create photographs that compete in the market. The online curriculum allows flexibility while preparing you for a field where the ability to self-start and to work with minimal oversight is king. You'll be supported by a network of teacher-mentors, many of whom are professional photographers themselves, and by peers to influence you while you hone your creative vision and distinctive style. You'll leave the program with the vocabulary and skills necessary to compete in the rapidly changing marketplace.
The curriculum is designed to allow maximum creative freedom while teaching essential skills. Each path to photography is different. The vigorous and concentrated program at Sessions will honor the vision you already possess and will take you to the next level. You'll no longer be a guy or gal with a nice camera; you'll be a serious contender in the photographic field.
– Felicia Kieselhorst, Photography Department Head
Jordon Schranz
Illustration Department Head
You realize that with a simple drawing you have the potential to create entire worlds.
From all the methods of image creation available, whether a digital rendering or hand-drawn in charcoal, drawing is unique.  The use of drawing to communicate with one another has been taking place since the beginning of recorded history and it continues to this day to offer one of the most intimate forms of personal expression of any practice.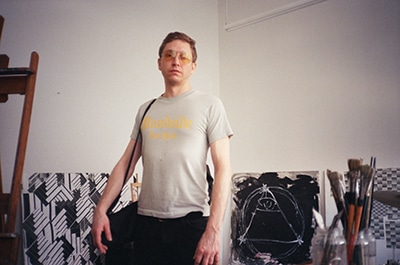 Jordon leaves his sable brushes behind. 
About studying Illustration at Sessions
Consider how are artists able to illustrate not only their impressions of the physical world outside of themselves, but also the dream-like realities that can only exist in the imagination?
This program focuses on the tools and techniques used in contemporary illustration.  Detailed lectures introduce students to the fundamentals of design and complex pictorial concepts while hands on exercises give students the opportunity to practice the necessary skills required of a professional illustrator.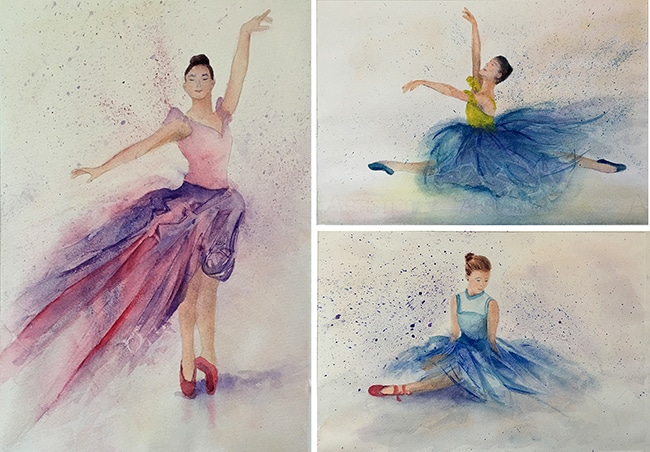 Student work by Lynne Adams
Foundation courses emphasize working by hand and drawing from observation, with additional studio courses available for training in both traditional media and digital software.  Individual instructor mentoring and advanced assignments encourage students to experiment and to develop a personal direction of their own as they build a portfolio of their strongest work.
We suggest through illustration new  possibilities, new ways of thought.  We tell our stories, we inform the masses, create detailed instruction, and entertain both for education and to escape.  Let this program be your first step in acquiring a new understanding and proficiency in the art of Illustration.
– Jordon Schranz, Illustration Department Head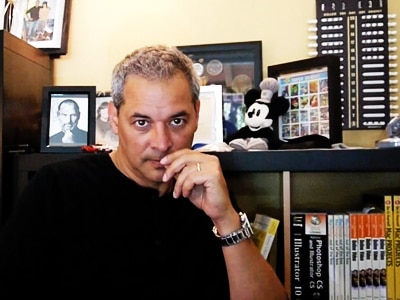 Andrew Shalat
Graphic Design Department Head
When I speak to an audience, at a conference or a lecture, I ask how many of the attendees are designers. Those who are eager, or not bored, will raise their hands.
Nominally, just a few out of a lot. To which I will say, to those who didn't raise their hands, you're wrong. As human beings we are all designers.
About studying Graphic Design at Sessions
We may not say it out loud, we may not introduce ourselves to each other that way, and rightly so. Because even though we're all designers, we're not all good or accomplished or even articulate designers. If you've ever set a table, if you've ever made a choice about what color shirt to wear with what jeans or trousers or dress, then you've acted as a designer. It may not necessarily be art, and it's not necessarily commercial, but it is design.
Design is taking something from the state in which you find it, and moving it to a preferred state. That something could be an idea, a message, a color, or a shape. That something is an element of language; a form of articulation. And the degree to which you are aware of that as an act of design is also the degree to which you can call yourself a designer out loud.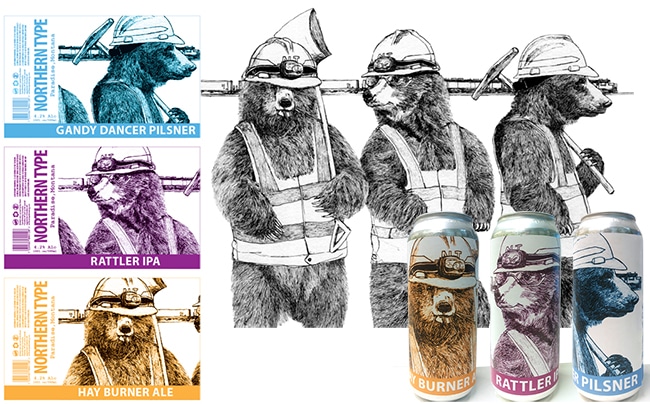 Student work by On On Lao
Like tourists in a foreign country, at first we generally can't speak the language. The signs tell us little, and the sounds we hear are strange. The words are unfamiliar and we have to point at what we want like children. After a while, however, we start to pick things up. Words that were once unrecognizable now begin to make sense, gain meaning. How do we get to the train station? How much does that shirt cost? How much for the food?
As we start to learn the language of this foreign place, it begins to be less foreign. We know where to turn right, where to go straight. We begin to understand where the train station is from the signposts that say where it is. We see the address numbers and they make sense. The map is readable. The menu is recognizable.
Well, design is like that. When we begin to speak the language of design, when we start to understand how the various and previously unintelligible forms combine now to show intention, and meaning, we begin to take control and take ownership of our surroundings.
The online Graphic Design program at Sessions gives you entry to digital art, print, and Web design. What we delightfully call distance learning lets you work with a freedom and focus that in its own way is a training in professional discipline. Meeting deadlines and finding design solutions. Our program will hone your visual vocabulary and help develop a fluency that in turn will help you to become an articulate designer, one who not only knows how to read the language of Design, but how to create it. The curriculum is designed(!) to address the specific needs of the marketplace, balanced with all that palaver I wrote about above. I also hope it is fun.
Whatever the internal stirrings that brought you here in the first place, coming through a rigorous and focused course of study and practice such as ours will serve you well both professionally and in recognition of who you already are—a designer. Our program will give you the right skills to help you say it out loud, and know it's true.
– Andrew Shalat, Graphic Design Department Head
Piper Nilsson
Web Design Department Head
Learning how to plan, design, and build a Web site can be both fulfilling and rewarding. After you've got the basic groundwork covered, you can focus more on the design side (if you're a right-brainer), or delve deeper into programming languages (left-brainer).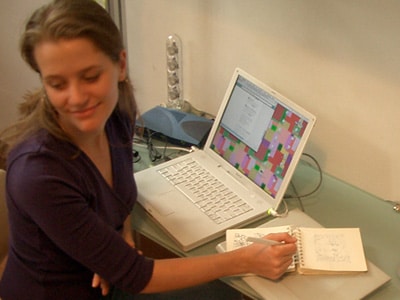 Where coding and design meet. 
About studying Web Design at Sessions
What are your favorite Web sites? What do they offer you in your daily life? And what do you hope to contribute to the World Wide Web?
In the online Web design program, you'll gain a foundation for creating rich interactive experiences. A focus on visual design will make your work stand out from the crowd. We'll help you to add more value to the sites you design—aesthetically, conceptually, semantically.
Student work by Louien Siy
As a Web designer, you're responsible not only for creating a design layout, but also for executing that layout, down to the last pixel and HTML tag. You control the message—if you have a mastery of Web languages and graphics software, and a good understanding of design fundamentals, page layout, and interface design.
In the Associate of Occupational Studies program, you'll learn to address the needs of your client and your audience. Practical work, discussions, and critiques will channel your creativity for the real world of client work.
In your online classes, you'll design dozens of graphic and Web projects. Hands-on training is essential to hone the skills you'll need to create professional work. We'll prepare you to evolve as the Web evolves, keeping up with the influx of devices and technology used to access Web content. Web design can be as challenging as it is rewarding, but at the end of the day, once you are done and a site is published, your design is out there for all the world to see.
— Piper Nilsson, Web Design Department Head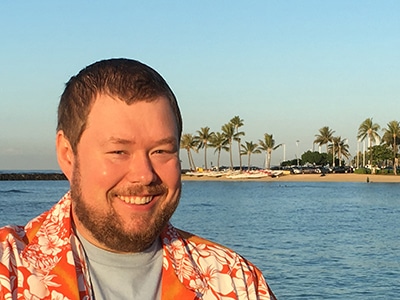 Greg is excited by interactivity. 
Greg Marlow
Digital Media Department Head
Does the word "digital" make you shiver with revulsion or tingle with anticipation? Every artist has an opinion of the digital revolution. Some cling to traditional media with the tenacity of a momma bear protecting her cubs. Others are only happy if they are using the newest and greatest technology money can buy.
About studying Digital Media at Sessions
But art isn't a thing you can hold in your hand. Art is a communication. And like all forms of communication, be it the spoken, written, drawn on a canvas, or spray painted on an overpass, the physical representation will eventually be gone. It is the idea, the communication that has the potential to live forever.
The computer will never make art by itself. Neither will a brush or a pencil. They are all tools at your disposal to assist in the very difficult challenge of communicating visually. Learning how to use a specific program will no more make you a great artist than learning how to use a pencil. It is just a tool. However, unlike the pencil, it is a tool that is drastically more complicated to operate and can offer you creation opportunities unlike any other tool in the history of art.
Student work by Kevin Korenthal
Digital media is particularly forgiving for artists who are learning to hone their skills. Every artist has that piece that they ruined with an errant mark of the pen or brush. Ctrl-Z is the time machine that we have all hoped for to rectify those mistakes. The computer allows for cheap and quick experimentation with just a few clicks of the mouse. And enclosed in that metal box of hard drives, processors, and fans is the ability to emulate nearly every other media available in the traditional world, and a few that are not.
Communicating with art is hard. Don't let anyone tell you differently. And in a world where your artistic options grow larger every day, it can seem overwhelming. The Digital Media program will help you build a strong foundation in the new media options available to you and strengthen your ability to craft your work in a way that is clear and effective. Digital 2D graphics, animation, video, 3D visualization, and effects are just some of the techniques you will learn to wield.
The online Digital Media program at Sessions College is not designed to simply teach you how to use a few popular pieces of software. It is designed to teach you how to use those tools to communicate with your art. It is designed to empower you with the skills you need to convey your message in the way that only you can.
It is not your ability to use a program that will get you a job. Your skills at communicating ideas visually will be what appeals to employers. Digital is just the media you will use to do your job. Our program can help you grow to be the digital artist you want to become. Where you go from there is up to you.
— Greg Marlow, Digital Media department head
Kristen Becker
Advertising Design Department Head
Are you passionate about design? Do you enjoy the challenges of creating fresh promotional concepts that help people, companies, and organizations achieve their goals?
Design and advertising go hand in hand! The dynamic field of advertising offers a never ending stream of fresh ideas, new clients, and groundbreaking products and services to promote. In this arena a creative problem solver with both solid design skills and a strong understanding of marketing concepts is highly coveted.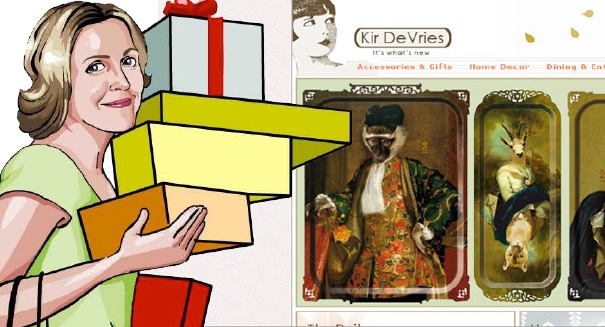 Kristen making e-commerce tick.
About studying Advertising Design at Sessions
The Associate of Occupational Studies (AOS) in Advertising Design program is an innovative program that uniquely prepares you to excel in this highly sought after field.
A successful advertising campaign involves creative concept development, professional design work, and clear and persuasive communication of the message. To achieve this goal you need to understand your target market and know how to develop an appealing campaign that will speak to them. Traditionally designers work with account managers, creative directors, copywriters, and others to make sure each campaign hits the mark. More and more agencies and freelancers are offering advertising design services in addition to end-to-end advertising services.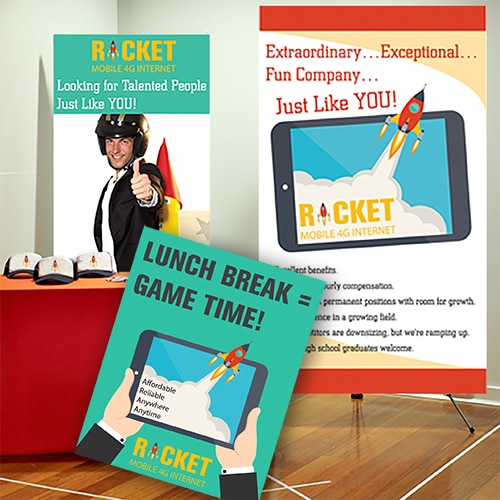 Student work by Cynthia Keith
In the Associate of Occupational Studies (AOS) in Advertising Design program you will develop a solid foundation in design with course work in areas such as typography, print production, color theory, and concept development. To complement and build on your solid understanding and application of design concepts you will learn core advertising design principles such as copywriting, psychology, and marketing.
The design and marketing courses in the program along with the portfolio development and capstone project will enable you to hit the ground innovating. Program graduates will be well prepared to enter the field of advertising as freelancers or in positions such as graphic artist, junior advertising designer, junior advertising artist, or junior marketing designer.
– Kristen Becker, Advertising Design Department Head