Military Student Programs
Can The GI Bill Transfer to Spouses or Family?
If you an active duty servicemember eligible for GI Bill ® education benefits, the Post-9/11 GI Bill may allow you to transfer your benefits to your spouse or dependents. The transfer program was created to help mid-career servicemembers remain active when they are needed while allowing them to take advantage of their full GI Benefits. (That's why a member of the armed forces is required to still be in the military to be eligible.)
In order to transfer benefits to a spouse or family member, a servicemember must file a Transfer of Entitlement (TOE) request. If the Department of Defense (DoD) approves the benefit transfer, the designated family member can then apply for benefits directly from the Department of Veteran's Affairs.
This page explains some of the basic requirements. Bear in mind that the DoD will ultimately determine whether you can transfer your entitlement.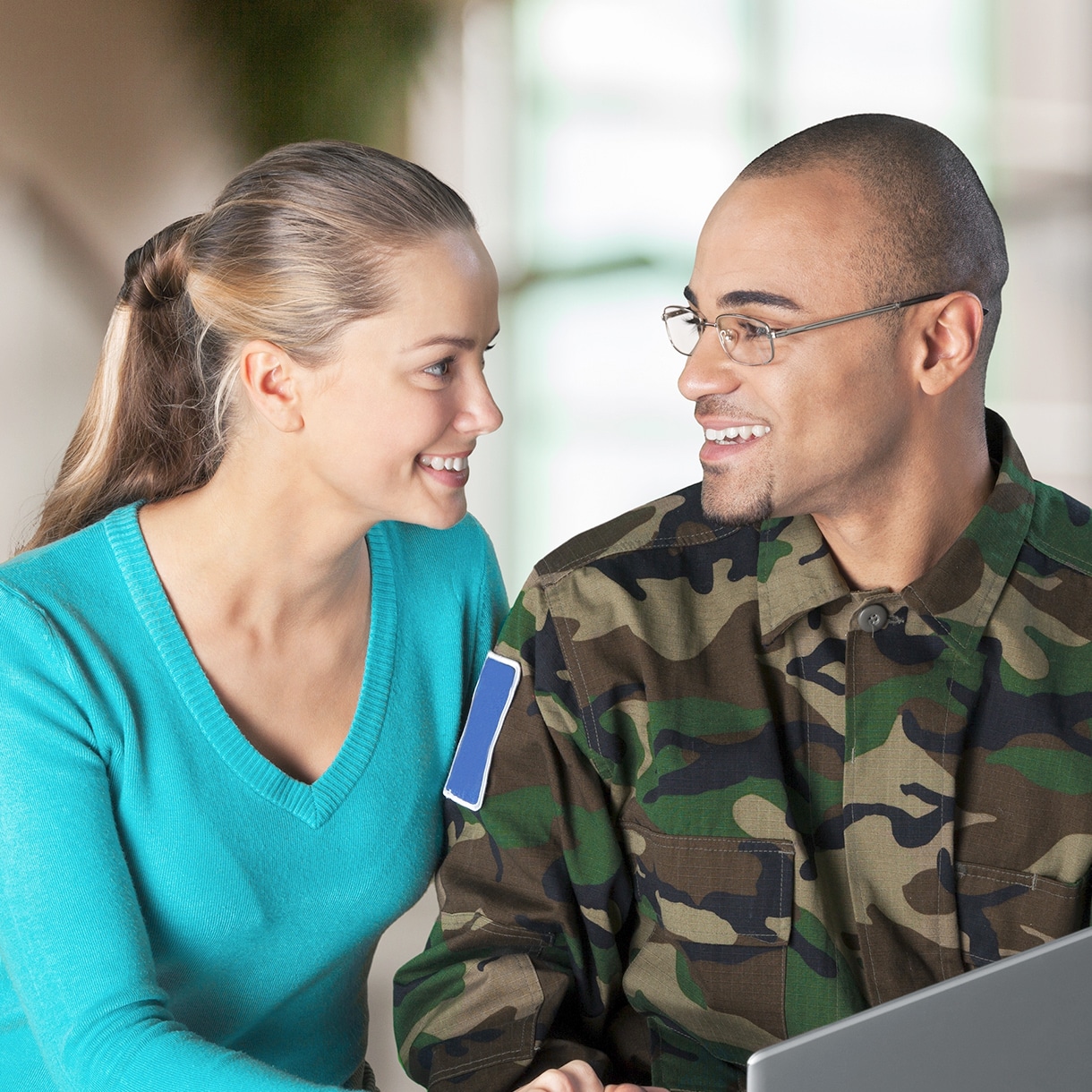 Which Servicemembers are Eligible for GI Bill Transfer?
Not all servicemembers who qualify to receive the GI Bill can transfer their benefits. In order to be eligible for a post 9/11 Gi Bill transfer, you must be on active duty or in the selected reserves, officer or enlisted, in addition to meeting Post-9/11 GI Bill requirements.
At least one must be true:
You have completed six years or more of service on the date your request is approved and you must agree to add four more years of service, OR
You have completed ten years of service or more on the date your request is approved, can't pledge to add four more years of service because of either a statute or policy, but you agree to serve the maximum time allowed.
Additionally, the person getting benefits must be enrolled in the Defense Enrollment Eligibility Reporting System (DEERS) and be approved to be eligible for benefits at the time when the benefit transfer occurs.
Who is Eligible to Receive GI Bill Transfer Benefits?
Just as not all servicemembers are eligible to transfer their benefits, not all family members are eligible to receive a transfer of benefits. The program is designed for immediate family members. Eligible servicemembers may transfer their benefits to:
Their spouse.
One or more of their dependent children.
Any combination of spouse and dependent child.
Both spouses and children have specific conditions that apply to their eligibility. Make sure you check out any rules for spouses and children before you apply.
As a reminder, family members must enrolled in DEERS and be approved to receive benefits at the time of the transfer.
What Benefits Can Family Members Receive?
Using the transferability option under the Post-9/11 GI Bill, servicemembers can transfer some or all unused benefits to their qualifying family member.  If the Transfer of Entitlement (TOE) is approved by the DoD the spouse or children may be able to get funds for up to 36 months of training at approved schools and colleges.
For eligible family members, this may provide financial support for:
Tuition and fees
Housing
Books and supplies (dependents only)
"Perfect school with the utmost attention to services & resources in their courses and staff! I am a very busy military wife and mother of 3 (5yr, 2yr, 8 mos) and Sessions is perfect for my busy life. I have learned so much in the Graphic Design program."
How Do I Transfer the Post 9/11 GI Bill to Spouses or Dependents?

Register
Typically, family members are already enrolled in DEERS. If yours are not, register them in the DEERS database before requesting transfer of benefits.


Apply
Once approved, your family members may apply to the VA to use transferred benefits. They can apply online or fill out a VA Form 22-1990e and send it to your VA Regional office.
What Other Military Spouse and Dependent Benefits Are Available?
In addition to the transferring of GI Benefits, there are other opportunities for military dependents and spouses. Some can be used in addition to GI Bill benefits, also. Plan your finances right and ensure you are getting the most help possible.
Here are some additional educational benefits for military family members:
MyCAA Scholarship for Military Spouses
Dependent Education Assistance Program
The VA offers the Survivors' and Dependents' Educational Assistance (DEA) program to eligible dependents of vets who are totally and permanently disabled due to a service injury.