How to Become a Graphic Designer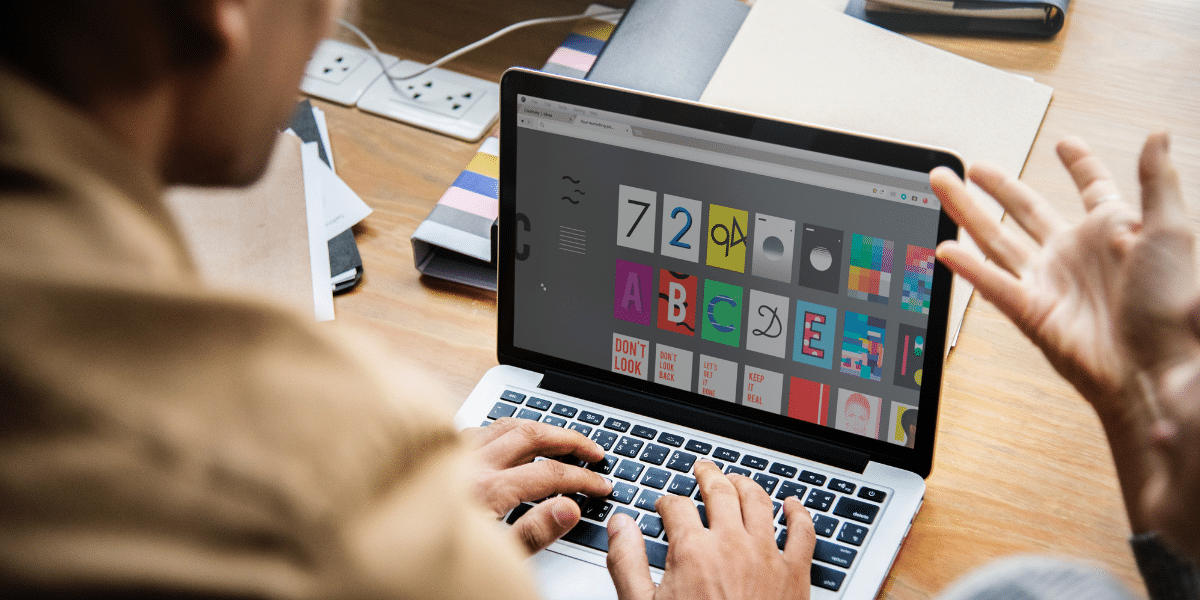 Graphic Designers are the creators and authors of much of the visual world we see every day. They develop aesthetically diverse advertising, entertainment, news, art and more across a variety of mediums including print, video and digital imagery. The visual aspects of magazines, newspapers, websites, ads, video games and more are all imagined, designed, and created by graphic designers.
How does one become a graphic designer? What training do you need? Here we'll go over some of the steps to becoming a graphic designer and how to develop the skills and knowledge you'll need to start a career.
What is a Graphic Designer?
First things first. What exactly is a graphic designer? According to AIGA, the professional association for design, graphic design is "the art and practice of planning and projecting ideas and experiences with visual and textual content." Essentially, it is the practice of creating the visually-interesting imagery that defines the spaces around us and in our digital worlds.
In a more practical sense, designers use theirs skills to make visual concepts for organizations. They design original content to be used in advertising, social media and other forms of communication. It's about taking a message or concept and translating it into imagery that is consistent with an organization's or client's branding.

What Does a Graphic Designer Do?
As visual communicators and thinkers, designers are widely needed across a number of areas. Our modern world is engulfed in digital and print imagery created by designers. This trend is not likely to change in the near future.
You can find graphic designers involved in a number of things. Here are just a few:
Illustration
Video game design
Multimedia specialist
Computer animation
Interior design
Production design
3D animation
Visit our Graphic Designer Career Center page for more information regarding careers.
What Education is Required for Graphic Designers?
What kind of education does it take to become a graphic designer? There isn't a simple answer to this because people take different routes through their career journeys. Some designers have decades of education, while others may have very little outside high school.
An associate degree or professional certificate from a reputable design school is usually required to start a career in graphic design, though some may be able to enter the field without a credential. Higher level employers and design firms will ask for a bachelor's degree. High school students who may be interested in design should take art and design courses. Some degree programs may require the completion of art or design courses before being admitted. Sketches or other examples of other work may be required as well.
Is Design School Necessary or Not?
Do you have to go to design school to be a graphic designer? People looking to enter the field often think they don't need a degree to compete, which may be true in certain rare instances. Can you readily and easily demonstrate your skills to a potential client or employer?
A degree or certificate does just that, without needing you to say a word. They are validations of at least some portion of a person's talents and abilities. A certificate or degree speaks for you in a way that others can understand and trust.
Why is a Graphic Design Degree Important?
A degree is just a piece of paper, right? It isn't the degree or certificate itself that is valuable, though they are powerful symbols of a person's skills. The value is in the education itself. Experts in the field have assigned specific tasks and every graduate completed them in a way those very experts have deemed acceptable, if not spectacular. This information is of upmost importance to employers looking to make a hiring decision.
Most people have difficulty proving their competence without appealing to an authority of sorts. A certificate or degree in graphic design from a reputable institution is a strong appeal that is recognized globally.
Keeping Up with Design Software
One very important aspect of being a graphic designer is having to keep up with updates in the software and tools required to do the work. Adobe software is widely used in the field and has massive updates yearly or more. In order to keep up with the changing tools and maintain industry standards, one has to continually learn.
A formal learning environment is a great setting to learn the newest design programs and techniques for those entering the field or seasoned professionals looking for a refresher course. People who are immersed in this universe are the best resources for quickly building comfort with new software and concepts.
7 Steps to Becoming a Graphic Designer
We've gone over what a designer is and what they do, now it's time to lay out how to become a graphic designer in seven steps.
1.      Work on Building Your Design Skills Early
In order to develop any skill, you need time. If you start early in life, you will give yourself more time to build your abilities. As early as you can, take courses in design and art. Graphic designers need to have a keen eye and a creative brain, but they also need to develop skills and software fluency. Practice will help you become comfortable in a number of areas.
2.      Earn a Degree or Certificate in Graphic Design
Not long ago, a strong portfolio and some determination was all a person needed to pursue a career in design. That time is over. Employers want to see evidence of a well-rounded education in prospective employees.
Great designers and artists draw from more than just a knowledge of their own crafts. They pull inspiration and influence from the experiences and knowledge they gained over their lives and use their skills to interpret it for their projects. Design always communicates something.
3.      Find Your Style and Space
Competition for design jobs has increased in recent years. In order to be successful, designers need to define themselves in a niche or specialization.
Here are some areas of specialization you may want to consider:
Web design
Logo design
Multimedia design
Aside from a specialization, designers need to develop a style that is consistent and sets them apart from others in the field. Clients and employers like to know what they can expect and will seek out designers who can bring their vision to life.
4.      Create a Portfolio
A strong portfolio may be the best way to demonstrate your abilities to a future employer outright. Often students are required to complete a portfolio before graduating.  When building a portfolio, take time to choose the best of your work. Consider pieces that demonstrate your style and abilities.
5.      Complete Design Internships
Internships are a great way to get real-world experience at an entry level and create professional relationships. Some internships are even paid positions! If you can, take advantage of internship opportunities. Think of them as stepping stones in the beginning of your career path.
6.      Remain Current
Few fields change as often as graphic design. The software and tools are constantly updating and evolving. Designers have to keep up with the changes to be competitive and ensure they have the best and newest tools at their disposal. Trends need to be recognized and understood to be successful. Graphic designers must have resources to stay on the pulse of their field.
7.      Continue Your Education
One of the best ways to continue advancing your skills is to continue your education. Additional certificates and degrees will broaden your knowledge and provide additional tools to create. Acquiring degrees in adjacent fields can increase your employability and influence your future designs.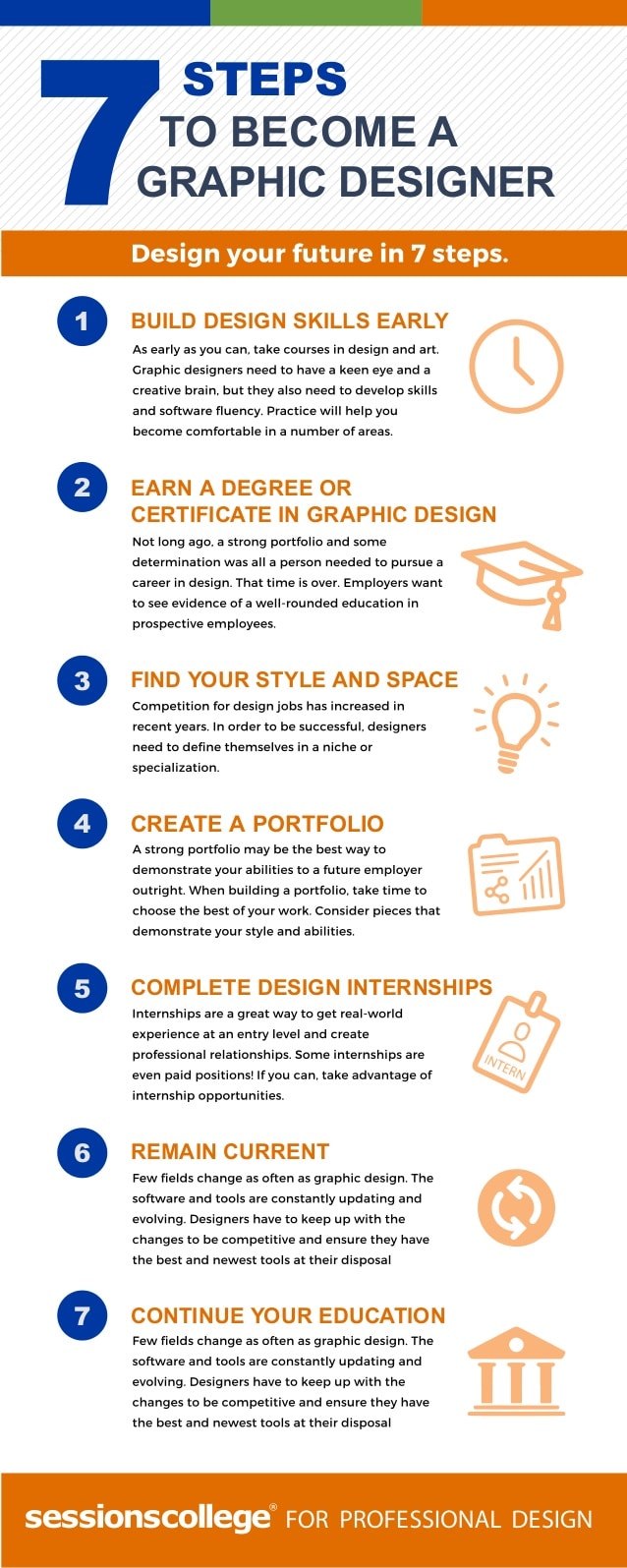 Download Full "Seven Steps to Become a Graphic Designer" Infographic Here!
Software and Tools of Graphic Designers
As mentioned, there are many types of software and tools graphic designers use and each is updated regularly. Great designers have great tools they know very well and they vary depending on the designer's specialization.
Digital Designers
Those designers whose end product is digital will benefit from having knowledge in the following programs:
Adobe Illustrator
CorelDraw Graphics Suite
Digital Online Designers
Digital graphic designers who create online websites and interfaces or do web coding will benefit from knowing these programs:
Sketch
InVision
Adobe XD
Adobe Dreamweaver
Brackets
Atom
Print Designer
If you'd like to be a designer who creates printed work, some programs you should learn are:
Motion Graphic Designers
Designing moving graphics is different from print, obviously. If you'd like to excel in this field or do 3D work, you should get to know these types of software:
Adobe After Effects
Autodesk Maya
CINEMA 4D
MoGraph
3D Studio Max

Choosing the Right Design School
You've decided you're going to take the fast track and go to school, so there is one thing left. How do you choose the best graphic design school for you? There are many things to consider. Accreditation is important. Make sure any school you are thinking of attending has accreditation.
Do you need to attend online because of work or commuting issues? There are reputable online schools you can find to attend that will allow you to complete courses on your own schedule.
Degree Programs
As you may already know, degree programs tend to require a bigger investment of both time and money. A degree in graphic design will demonstrate more experience and knowledge in the field than a certificate, because the course hours tend to be much longer. More hours with course instructors allows for more knowledge to be imparted!
If certificates can be viewed as stepping stones, degrees are destinations. Though a single degree is often enough to gain employment, many professionals find they advance faster if they continue their education.
Vocational Certificate Programs
Often referred to as professional certificates, vocational graphic design certificates are another great way to quickly start or kick start a career. These programs are typically shorter and less expensive than associate or bachelor programs.
Students may be able to complete a vocational certificate program is nine months or less. Many people find certificate programs to be great stepping stones to lasting careers.
Career Outlook
Positions for graphic designers are more prevalent now than they ever have been. Though the space can be competitive, the future will need designers for as long as anyone can predict. Digitization and design are taking over our world and with that comes the need for digital creators and designers. The job outlook is likely to remain good for some time.
Graphic design is an exciting creative career that has proven to be rewarding for many people. If you are interested in starting your career, start working towards that goal today.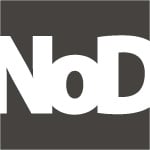 This post was authored by NoD staff. Notes on Design is a design industry blog sponsored by Sessions College for Professional Design.
If you are interested in developing your graphic design skills, Sessions College offers a range of graphic design courses for students at all levels. Contact Admissions for more information.