Top 10 Portfolio Sites for Designers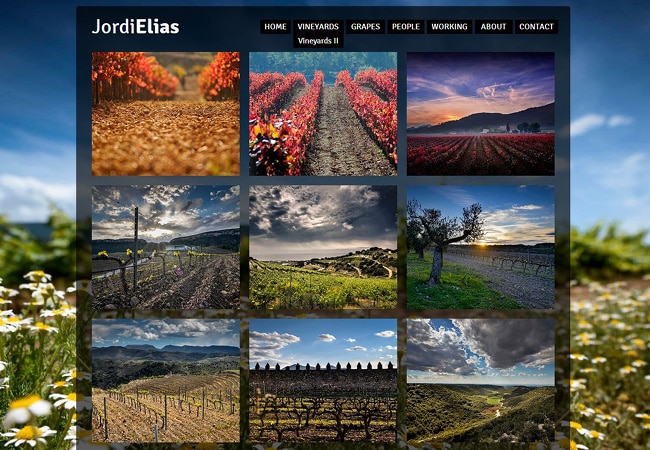 In the age of social media, more designers are turning to hosted portfolio sites to share their work. Likewise, more clients are using portfolio sites to connect with the designer of their dreams. While there's some debate as to whether personal portfolio sites are going out of fashion, hosted portfolio sites offer the inarguable benefits of increased visibility, rapid networking, and simplicity.

Back in 2014 we shared our Top 8 Portfolio Sites for designers. Here's an updated list for 2015.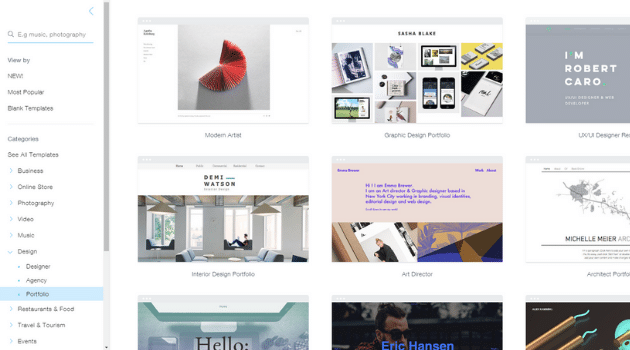 Now you can create a stunning visual website to display your work. With Wix's easy-to-navigate template features, it's easier than ever to showcase your designs for prospective clients.
Choose from hundreds of fully-customizable free templates online, or upgrade to a paid membership for additional benefits.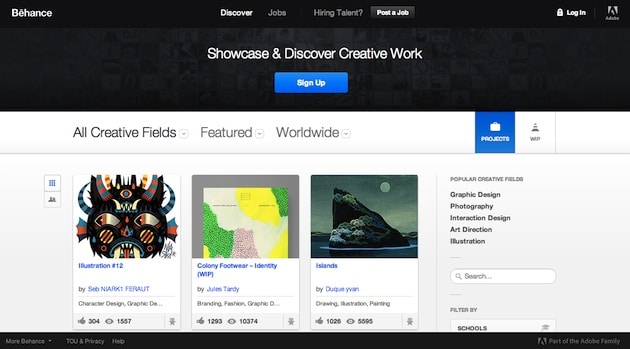 Behance, which is owned and operated by Adobe, was founded on the premise that designers should devote their time and energy to creating work, not maintaining and promoting it.
Behance attracts millions of visitors around the world, helping top designers share their work with a global audience. Designers can sign up with an Adobe ID, and Adobe CC users can post work directly to Behance from the Creative Cloud.
Search Behance by creative field (there are hundreds of them), or filter results by a specific country, school, creative tool, or favorite color. Designers can also make use of the Behance job list to search for creative and freelance jobs.
Membership – Free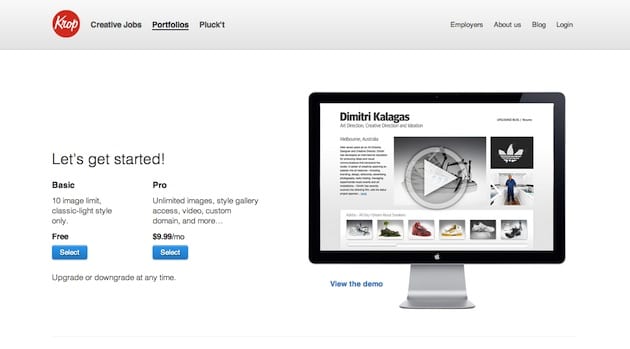 Krop offers creative professionals the opportunity to share their portfolios and resumés with top design companies around the world. As quoted on their About page: "A creative industry standard, Krop.com is visited over 1 million times a month while still owned by the same designers who started it."
In addition to portfolio hosting, Krop offers an extensive job board and a special selection of hand-picked portfolio pieces, which is updated daily.
Membership – Free version limited to 10 images; Pro version $9.99/month with unlimited images, custom gallery styling, video, and a custom domain name.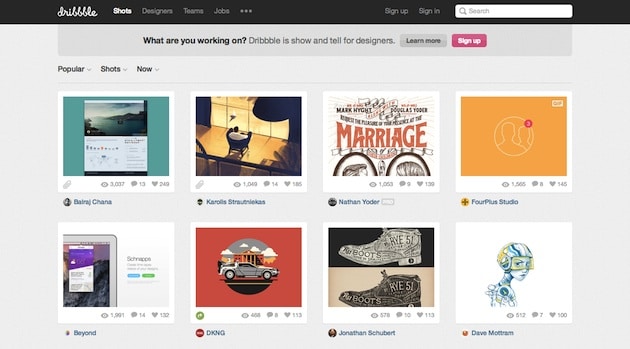 Dribbble is a show-and-tell community for designers. The site began as a small side project, and has evolved into a profitable company that helps designer's share their work and find jobs. Designers on Dribbble share small screenshots of their projects. In-progress projects are welcome, so visitors can get an inside look at the design process.
Dribbble has a more lighthearted, community-oriented feel than some of the other hosted portfolio sites. Because designers are sharing thumbnail images of their work, it's easy to quickly browse through many design pieces. Dribbble also has a job board, an online store, and active meetup groups across the country.
Membership – Dribbble is free for designers, but the ability to upload screenshots or leave comments requires an invitation from an existing community member.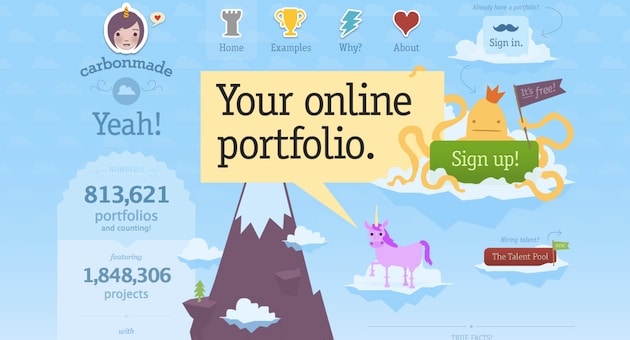 Carbonmade takes the arduous process of creating an online portfolio and submerges it in a world of unicorns, mustaches, and magic octopuses (or is it octopodes?). Carbonmade promises a platform that's easy to use, easy on the eyes, chock-full of features, and requires no coding knowledge.
The site delivers top-quality portfolios from designers around the world, with the added benefit of an interface that's just plain fun. Carbonmade currently features over 800,000 portfolios, and designers can personalize their portfolio pages to match the look and feel of their work.
Membership – Free version limited to 5 projects with 35 images; Upgrade for $12/month to 50 projects, 500 images, 10 videos, and other flashy features.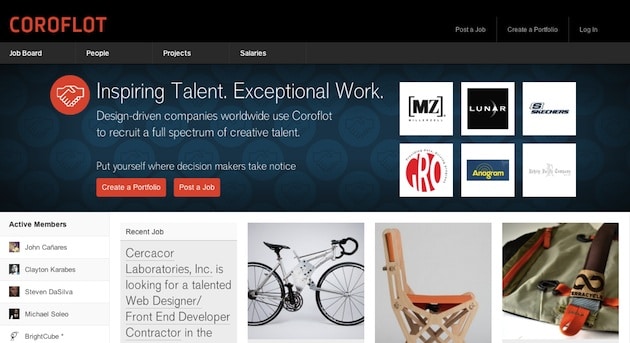 A quick look at the Coroflot home page reveals that this isn't just a site for graphic and web designers. The design portfolios of Coroflot feature everything from 3D printing prototypes to rock climbing gear and candy wrappers.
Originally launched in 1997, Coroflot hosts more than 2 million images and over 150,000 design projects from students and professionals around the world. Where some hosted portfolio sites place an emphasis on graphic design, Coroflot celebrates all facets of the design world. The site also offers an active job board and an up-to-date design salary guide.
Membership – Free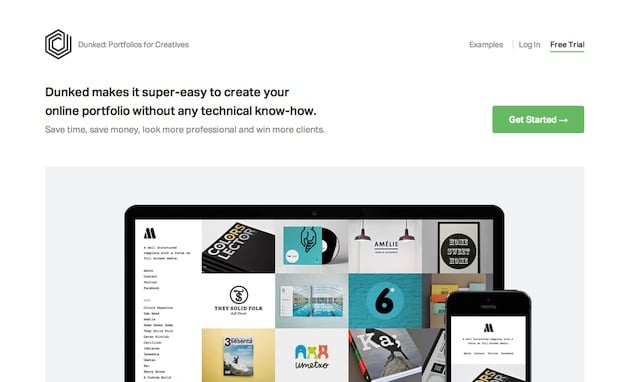 Dunked offers designers an easy solution for creating and maintaing an online portfolio. It's a nice option for those without a lot of technical know-how, as no custom coding is required. In their own words, "Dunked is for anyone without the time or skills to develop a portfolio from scratch."
The site features over 80,000 creatives, from designers and illustrators to models and architects. Designer portfolios are clean, straightforward, and responsive. Choose between a small selection of portfolio themes, customize fonts and colors, and start sharing your work with the world.
Membership – Free 10-day trial; $6/month Freelancer Plan, $8/month Studio Plan, $19/month Agency Plan. All plans include custom domains, HTML and CSS editing, Google Analytics, password protection, and additional templates.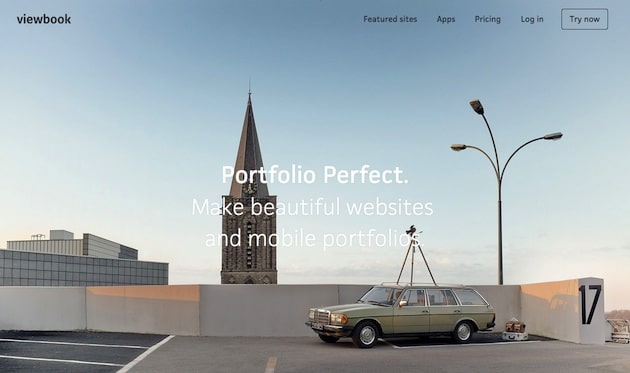 Viewbook lets you develop your own portfolio website through a simple design interface. The site seems to cater largely to photographers, though all designers are welcome to showcase their high-quality images. Viewbook is fully responsive and promises that your portfolio will look just as good on a desktop computer as it does on an iPad or phone.
The site offers a variety of different ways to display your images, including mini portfolios and projects that can be featured alongside your main site. Viewbook also syncs with Lightroom® and Aperture® for easy image exporting.
Membership – 30-day free trial; $19/month or $190/year for a custom domain name, cloud hosting, and dedicated support.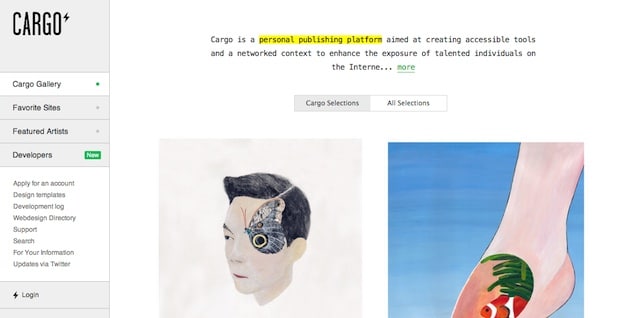 Cargo evolved from the system that runs SpaceCollective, a community-driven website for exchanging ideas about the current state of our species, planet, and the universe. The founders of the Cargo Collective website come from backgrounds in art and design, and the site exhibits a commitment to supporting creative culture.
The Cargo platform feels less like walking into a design studio and more like wandering into a hip art gallery. The front page offers continuous scrolling through an endless showcase of photographs, illustrations, magazine pieces, and other top-notch design work.
Membership – Free basic service limited to 12 projects with 3 pages and 100MB storage; Upgrade for $66/year or $9/month for unlimited projects and pages, unlimited bandwidth, and advanced CSS and HTML editing.
Perhaps one of the most user-friendly and yet designer-friendly sites out there to date is Format. You can publish and manage your online galleries of design work with just a click of a button, and integrate beautiful design templates to showcase your work. All types of content are welcome, and you can easily customize your theme so that it speaks to your client-base.
There are themes integrated for mobile users, as well. Photographers will enjoy the benefits of facial recognition and photo protection, so that visitors can't simply right click and copy your work. Line-height and letter spacing can even be edited with a few simple clicks – something not typically seen in your every-day portfolio website, especially when you can try it for free!
Did we miss anything? Feel free to comment with your favorite design portfolio website!

Hannah Shaffer is a Web designer and game designer with a love for community-based learning. Hannah was the NOD Managing Editor in 2014.