Adobe Illustrator is a powerful and versatile tool for creating illustrations, logos, and graphics for print and the web. You can learn to produce detailed and scalable art in this online Illustrator course. Working with an expert instructor, you'll build a strong foundation, exploring shape tools, drawing tools, layers, the Pen tool (a lesson unto itself) as well as transformations/distortions, type tools, and modifying paths and shapes. Hands-on illustration projects include creating a robot, a series of album covers, a marketing postcard, an advertisement vehicle wrap, and a company logo.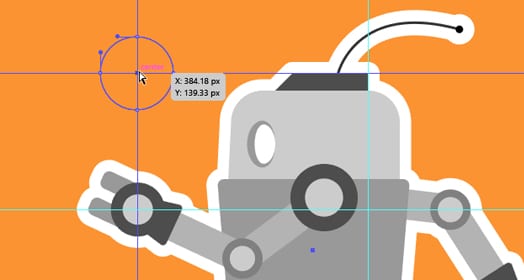 Enter the exciting world of Adobe Illustrator
100% online
Project-based
Instructor-led
Study at your own pace
Complete this course in 6-8 weeks
Instructor(s)
The course is taught by the following instructor(s):
Course developed by: Michael Hamm
Take this course as a standalone or as part of the following program(s):
Getting to Know Illustrator

Let's unpack the goodies in the Illustrator toolkit. In the first week, you'll learn how to navigate the program's interface, working with different views and magnification and setting up your first project, access panels and drawing tools, create images with basic shapes. There's an overview of fill and stroke controls, applying colors and gradients, and how to save your artwork. Lesson One also features supplemental tutorials to reinforce what you learned.

Selection Tools, Organization Features & Freeform Tools

True Illustrator mastery comes from the ability to quickly select and manipulate any detail in your artwork. This session equips you for this task with a focus on direct selection, anchor points, and other specialized selection tools. You'll learn how to work with multiple objects and artboards, how to use drawing aids such as the ruler, guides, and grids. Drawing tools including the Pencil, Smooth, and Eraser tools are explored along with the handy Paintbrush and Brush Libraries. The lesson ends with a supplemental tutorial on different techniques used for shading objects.

Transformations and Distortions

Transformation tools give you the ability to scale, rotate, reflect, and shear your artwork, creating 3-D effects. This week, we will explore a variety of tools for transforming and distorting your designs. We'll discuss how to transform and reshape your artwork creating very unique designs and objects. Lesson Three also features a walkthrough on how to use Illustrator's Puppet Warp tool to easily give motion to your artwork.

Precision Drawing

It's time to tackle the mighty Pen tool, which presents a daunting learning curve for Illustrator newbies. This week, you'll learn how to draw all types of paths, straight or curved, open or closed, adding and manipulating anchor points to create specific effects. You'll learn tips and techniques for smooth curves, adjusting imperfect curves, and using the Anchor Point tool. The Scissors and Knife tools are explored for cutting and carving to give you flexibility in editing and creating detail in your designs. Lesson Four also features a tutorial to enhance your skills using these tools.

Type Tools and Typography

Sooner or later, most of your designs will incorporate the written word. This week we will give you a grounding in the tools that make Illustrator a great text layout application. You'll explore the Type tool, learning how to create text boxes, resize type, wrap text around images, create vertical columns or fill shapes with text, adjust leading and kerning, and make your type follow paths. Just watch it go! You'll also learn how to use the Character Panel and access special characters and glyphs. Illustrator allows you to convert text to outlines so you can create amazing typographical designs. Lesson Five also features a tutorial showing you how to draw within a word.

Advanced Shape Creation

How's your alignment? In Illustrator, alignment tools are key to adding a final gloss and polish to your compositions. Our final lecture kicks off with an exploration of how to arrange objects and anchor points on your artboard, grouping and spacing elements. Different options in the all-powerful Pathfinder panel are discussed as a means of creating complex new shapes out of simpler lines and objects. You'll also learn how the Shape Builder tool modifies and combines paths and shapes leaving you with options to edit and shape any aspect of your artwork. And a final discussion of mobile apps that keep you connected with Illustrator when you're on the go.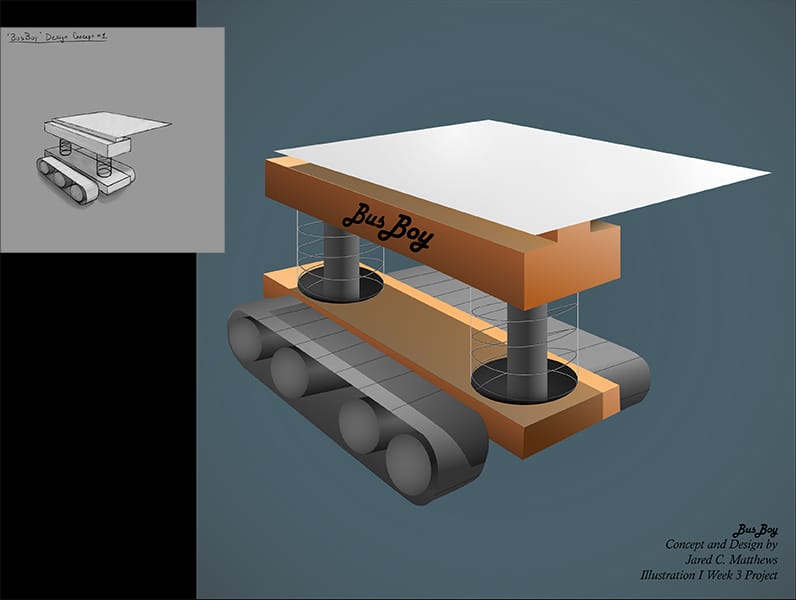 by Jared Matthews
What Are The Course Projects?
Apply your Illustrator skills to appealing graphic projects including character design, album art, promotional postcard, silhouette renderings, outdoor ads, and identity design.
What Software or Supplies Do I Need?
Computer with Internet connection.
Adobe Illustrator CC.
What Will I Learn?
Students in this course can expect to learn to:
Work efficiently in the Adobe Illustrator environment with various modes, panels, and settings.
Use the full range of shape drawing and freehand drawing tools to build illustrations.
Apply fill and stroke colors to objects created with the drawing tools.
Develop attractive illustrations using advanced selection, organization, and drawing tools.
Use the full range of transformation and distortion tools to accurately modify objects' shapes.
Draw accurate vector objects using the Pen tool and its associated features.
Use the various type tools, and apply wrap, flow, shape, and path modifications to typography.
Design an advertisement using appropriate typography, drawing tools, and a clipping mask to contain the art within a shape.
Align multiple objects with the Align panel and create complex shapes from simple objects with the Pathfinder panel and Shape Builder tool.
Design a logo using the appropriate tools and features covered throughout the course.
Enroll today, start tomorrow
Study at your own pace
Complete within 3 months
| Course Tuition and Fees | |
| --- | --- |
| Tuition | $949 |
| Registration Fee* | $50 |
| Total Course Price | $999 |
Registration fees are nonrefundable after 5 days from enrollment. All tuition includes a digital materials fee for course content.
Course Registration Form
To register for this course, use the form below to enter your information and desired start date. An Admissions Advisor will contact you to arrange payment and provide you with an Enrollment Agreement.
Frequently Asked Questions (FAQ)
What Are The Courses Like?
Our courses are project-based. There are no set logins, so you can study at your own pace. In each course you'll complete a series of lectures and projects designed to stretch your creative skills.
How Much Time Do I Need?
This course can be completed in 60 hours or less. You'll have three months from enrollment to complete the course studying at your own pace. Extensions are available for those who need more time.
Who Are The Instructors?
Our courses are developed and taught by our faculty of professional artists, designers, and photographers. This means that you'll learn in-demand skills, get feedback on your work, and build a portfolio of creative work.
Is Sessions College accredited?