Online Advertising Course
Advertising Design I
Ready to put on your Madison Advenue shoes? In this online advertising course, you'll learn the principles of the advertising design from both a creative and a business perspective. Case studies from print, Web, and TV showcase advertising concepts at work: persuasion, color psychology and composition, copywriting and typography, and brand communication. Class projects include ads for newspapers, magazines, subways, and transit/outdoor applications, and a final project in which you create an entire ad campaign.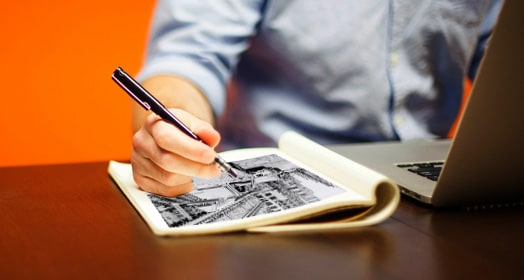 How to get ahead in advertising, by design
Instructor-Led Course
Feedback from design professionals
Creative Projects
Stretch your skills, grow your portfolio
Learn at Your Own Pace
Self-paced and scheduled programs available
Course Outline
1 - Intro to Advertising
Lesson One builds a firm foundation for your ad design career. You'll trace the evolution of advertising in the United States, and learn about the different roles and departments in an ad agency. Thinking about going it alone? You'll look at some of the key attributes required for success as a freelancer. The fundamentals of form, function, and consumer behavior are discussed, as well as persuasion techniques such as motivation, organizing your message, communicating with images, tapping into connotations, associations, and context.
Project - B&W ad
2 - Designing for Advertising Media
Where does the ad designer place his work? Lesson Two kicks off with an overview of different advertising media (newspapers, magazines, outdoor/transit, Internet, television and beyond) looking at some of the unique demands of each medium. Following that, you'll study principles for effective ad design, including the role of concept and design, totality and integration, trendy concepts versus trendsetting ones, and the controversial topic of taste. The lesson wraps up with a discussion of tone: humorous, dramatic/informative, sexual, and scientific.
Project - Outdoor ad
3 - Color Psychology and Composition
How would you feel about a toothpaste ad in yellow and brown? Lesson Three explores the critical role of color in advertising. You'll explore the basics of color psychology, the associations between a color and a mood or a feeling and look at how the effective use of color, in light effects, hue, values and intensities, contrast and temperature, can support the overall message of an ad. The second half of the lesson explores the psychology of composition, how design elements such as texture, line, shape, space, distortion, rhythm, and depth can contribute to an ad's effectiveness.
Project - Food ad
4 - Copywriting and Typography
In advertisements, the written word should never be neglected. Excellent graphic design and copy must work together to deliver the message. Lesson Four explores the goals of ad copy, exploring some copywriting techniques useful for freelancer designers who may need to work with copy: active words, alliteration, onomatopoeia, irony, brevity, and Q and A. Agency designers learn some tips on working efficiently with copywriters and the lesson wraps up with some concepts for text layout.
Project - Outdoor ads
5 - Perception and Brand Communication
Branding, the art of creating a widespread positive recognition for a company's products and services, is based on an understanding of human perception. Lesson Five looks at how ads act on such human perceptions as vision, memory, and familiarity, and how this creates brand recognition. You'll learn the do's and don'ts of incorporating a brand into an ad or campaign, as well as the style guidelines typically required by large clients.
Project - TV show ad
6 - State of the Advertising Art
Lesson Six wraps up your course with four state of the art case studies from the world of advertising today. You'll look at print, Web, and TV ads, critically evaluating each ad's effectiveness based on principles you've learned in the course. Then you'll look ahead at some trends in the next generation of advertising: product placement, immediacy, targeting, and Internet ad regulation.
Project - Ad campaign
Course Outcomes
Students in this course can expect to learn to:
Develop an understanding of the history and evolution of advertising in America and the role of designers in ad agencies and the freelance world.
Design a persuasive black and white newspaper advertisement, working with copy and typography to create an eye-catching design.
Identify and apply principles for effective ad design in different media.
Create two subway ads for a cell phone provider, exploring different approaches to advertising tone.
Identify and apply design elements such as line, shape, and texture in advertising design.
Identify and apply principles of composition and layout including space, rhythm, and depth in advertising design.
Develop a consistent ad campaign using elements that differ based on season and placement.
Explore and apply tips and techniques for writing ad copy and using typography to enhance the persuasive power of advertising.
Design a billboard and bus shelter ad using typography to enhance a message.
Develop an understanding of the ways in which human perception influences ad design.
Develop a concept for ads in three different media, considering how to present the client's brand and the product's brand in each ad.
Identify and apply principles for incorporating a brand into a single ad and applying a brand over an entire campaign.
Draw lessons from case studies of ad campaigns and evaluate their effectiveness.
Design an integrated advertising campaign using a fictional client's requirements and specifications.
Course Registration
Interested in this course? Scheduled and self-paced enrollment options are available. Ask Admissions about taking this course as part of a degree or certificate program.
Course Level
Classes start
Registration Fee
Tuition
Degree course
3 credits, 15 weeks
Jan, Apr, Aug
$200
$510/credit
Vocational course
60 clock hours, 3 months access
Enroll today, start tomorrow
$50
$949
* Registration fees are nonrefundable after 5 days from enrollment. All tuition includes a digital materials fee for updates to course or program content.
Software and Supplies
To take this course you'll need:
Computer with Internet connection.
Adobe Photoshop, Illustrator, and InDesign.
Basic experience in the above software.
Course developed by Caroline Sposto
Enrolling online is easy and convenient.

Chat with our knowledgeable admissions staff to select course and program options.

Complete your registration entirely online.
Did you know? You can take this course as part of an award-winning certificate or degree program.