Online After Effects Course
After Effects I
Adobe After Effects is a powerful application for motion graphics and visual effects for film and video. After Effects is used for broadcast graphics, music videos, feature films, video rotoscoping, corporate presentations, and conferences. In this online After Effects course, you can study with a leading animator and learn how to use After Effects to create sophisticated motion graphics—using text and object animations, compositing videos and images, and adding audio and effects. You'll learn how to set keyframes on a timeline and work with transform properties, motion paths, masks, effects, and more.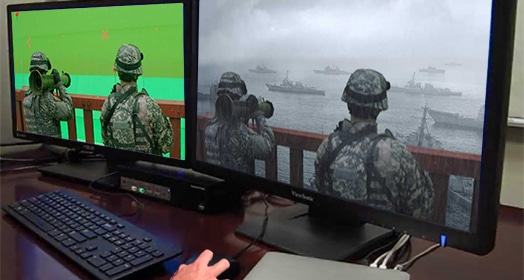 Put your graphics in motion
Master the art of motion graphics with After Effects
Instructor-Led Course
Feedback from design professionals
Creative Projects
Stretch your skills, grow your portfolio
Learn at Your Own Pace
Self-paced and scheduled programs available
Course Outline
1 - Intro to After Effects
Lesson One begins by familiarizing you with the many facets of the After Effects interface. After an introduction to some real-world After Effects applications, you'll dive right into using the basic features of the program. First you'll learn how to create, copy, and nudge keyframes in order to develop your first composition on a timeline. Then you'll learn the purpose of the transform properties (Anchor Point, Position, Scale, Rotation, and Opacity) and explore how to work with multiple layers.
Project - Weather animation
2 - Motion Paths and Interpolation
Lesson Two explores how to customize motion paths to create realistic-looking animations. By delving further into keyframe interpolation, you will learn to use easing and velocity to gain control over motion in your animations. You will also learn how to paste motion paths from other programs into After Effects and zoom in and out of panels to get a better view of your intricate keyframing handiwork.
Project - Bouncing ball animation
3 - Text and Effects
After Effects allows you to manipulate text with considerable control and finesse, which explains why it's a favorite for television and film titling. In Lesson Three, you will learn to use the Text tool along with text animation techniques such as motion blur and text effects presets. You will learn to import and manipulate text from Photoshop.
Project - 15-second TV preview
4 - Masks and Effects
If you're familiar with non-linear editing, you'll have heard about the power of After Effects as a compositing tool. You can combine video files, stills, and Photoshop and Illustrator art (and more) into a single animation. Lesson Four shows you how. You'll learn to use layer masks to full advantage, creating custom shapes, and pasting them from Photoshop and Illustrator, while using alpha channels to manage transparency. You'll also become familiar with such widely used effects as stroke, scribble, and 3D.
Project - Rotoscoping
5 - Blending Modes, Time Manipulation, and Painting
In this lesson, you will learn how to add original content or remove unwanted elements from your movies and beautify footage shot in less than ideal lighting conditions. You'll explore how to apply toning and blurring to your images or adjust their saturation and luminosity. You will also learn how to speed up and slow down time with time remapping.
Project - Compositing
6 - Video, Audio, and Layers
After Effects projects can range from very simple to quite complex. In this lesson you'll be introduced to keyframe assistants and various other panels and tools that will make your make your projects easier and more efficient. You'll see how After Effects fits into the video production workflow and learn how to organize your files for output.
Project - Integrating audio
Course Outcomes
Students in this course can expect to learn to:
Create an After Effects composition on a timeline utilizing keyframes and anchor points.
Apply transform properties: Anchor Point, Position, Scale, Rotation, and Opacity, and work with multiple layers of content.
Utilize three kinds of interpolation: linear, Bezier, and hold to define the relationships between keyframes.
Develop the skills to make original animations with text and objects.
Create and import masks, layer masks, and backgrounds from Photoshop and combine video and still images with Photoshop artwork.
Use blending modes to correct color, lighting, and sharpness in video footage and still images.
Implement the basics of rotoscoping to composite a video.
Slow down and speed up movie clips through time remapping.
Utilize painting and erasing tools to add or remove elements from a movie.
Gain techniques for introducing audio into After Effects projects.
Course Registration
Interested in this course? Scheduled and self-paced enrollment options are available. Ask Admissions about taking this course as part of a degree or certificate program.
Course Level
Classes start
Registration Fee
Tuition
Degree course
3 credits, 15 weeks
Jan, Apr, Aug
$200
$510/credit
Vocational course
60 clock hours, 3 months access
Enroll today, start tomorrow
$50
$949
* Registration fees are nonrefundable after 5 days from enrollment. All tuition includes a digital materials fee for updates to course or program content.
Software and Supplies
To take this course you'll need:
Computer with Internet connection.
Adobe After Effects CS6 or CC, and Adobe Photoshop.
Basic experience in Photoshop.
Course developed by Rachel Max
Enrolling online is easy and convenient.

Chat with our knowledgeable admissions staff to select course and program options.

Complete your registration entirely online.
Did you know? You can take this course as part of an award-winning certificate or degree program.