Online Design History Course
The Study of Graphic Design
Professional designers make choices informed by the present and the past. In this online design history course, you'll explore design movements from the early 20th century through today and gain experience in research, idea-building, and production of creative concepts. Working with an experienced art director, you'll learn how to use historical knowledge and cultural awareness as a springboard for your contemporary design projects.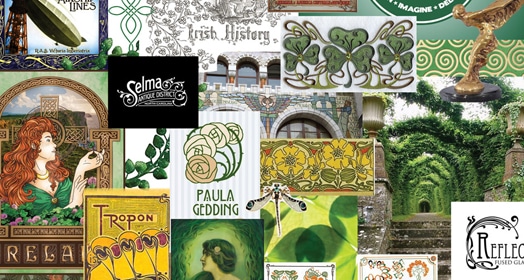 Infuse your projects with a knowledge of design history
Instructor-Led Course
Feedback from design professionals
Creative Projects
Stretch your skills, grow your portfolio
Learn at Your Own Pace
Self-paced and scheduled programs available
Course Outline
1 - History and Timeline
Lesson One begins by explaining the importance of research in the graphic design field. You'll learn why research is instrumental to good design, and explore historical art movements, starting with Art Nouveau. Movements and key artists are examined through the 20th century, and visual parallels are drawn between art movements.
Project - Design report
2 - Fields in Graphic Design
Graphic design is a large field, with numerous sub-fields and niches. You will explore major areas, such as poster, book, magazine, and album design, as well as smaller niches such as stamp, currency, and ticket design. Lesson Two presents historical design trends and inspirations, and their effect on modern pieces. Past and present magazine covers illustrate how art movements affect design.
Project - Inspiration boards
3 - Research and Inspiration
Finally, having accrued inspiration amongst a host of interesting art movements, you will learn how to apply that inspiration to current projects. Research is an integral aspect of graphic design, and cross-cultural research is of particular importance to avoid embarrassing gaffs. The course will wrap up with case studies of research-intensive projects and peeks into top designers' processes.
Project - Inspired by the greats
Course Outcomes
Students in this course can expect to learn to:
Appreciate the role of research and history in today's graphic design world.
Identify the origins of modern graphic design including Art Nouveau and other early 20th-century movements, artists, and designers.
Identify major graphic design genres and their historical foundations including poster, book, magazine, and album design.
Identify historical contributions to typography and to niche design genres.
Effectively research specific graphic design movements and use them as design inspiration.
Create an inspiration board that reflects a specific topic and movement.
Identify methods for researching design projects and identifying cross-cultural differences.
Use case studies to identify research and influence methods used by today's designers.
Emulate a historical designer through research and completion of a detailed design project.
Course Registration
Interested in this course? Scheduled and self-paced enrollment options are available. Ask Admissions about taking this course as part of a degree or certificate program.
Course Level
Classes start
Registration Fee
Tuition
Degree course
1.5-credit course, 7 weeks
Jan, Apr, Aug
$200
$510/credit
Vocational course
30 hour course, 3 months access
Enroll today, start tomorrow
$50
$619
* Registration fees are nonrefundable after 5 days from enrollment. All tuition includes a digital materials fee for updates to course or program content.

Software and Supplies
To take this course you'll need:
Computer with Internet connection.
Microsoft Word or equivalent application.
Adobe Photoshop and Illustrator or equivalent programs
Basic experience in the above software.
Course developed by Joss Parsey
Enrolling online is easy and convenient.

Chat with our knowledgeable admissions staff to select course and program options.

Complete your registration entirely online.
Did you know? You can take this course as part of an award-winning certificate or degree program.