Many people are afraid to draw, but the truth is that drawing is not as hard as it seems. If you can relax, get your mind around the task, and begin to understand what you see, you can draw. In this online drawing course, you'll learn how to analyze what you see in the world around you and communicate it on paper. Guided by a professional artist, you will explore the critical concepts of line, mass, form, perspective, value, and composition, building a solid foundation for all your art and design work.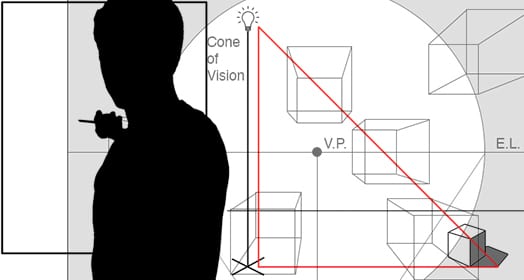 100% online
Project-based
Instructor-led
Credit-bearing: 3 Credits
Classes start January, April, and August
Instructor(s)
The course is taught by the following instructor(s):
Course developed by: Jordon Schranz
Take this course as a standalone or as part of the following program(s):
Learning to See

Drawing isn't as difficult as it first seems. In this course we will learn how to interpret what you see and translate it to paper. In the first week, you will explore the different types of drawings that you can create and the types of drawing materials you will need. We will examine compositional concepts for creating artwork and learn terms and concept for making marks.

Linear Perspective and Rectilinear Form

Perspective is a key area for any artist to master. This week we will learn about three tools artists use to create a sense of depth in a composition: overlapping, scale, and foreshortening. There will be a focus on important concepts in linear perspective: vantage point, eye level, and vanishing points. The class will learn how 1-, 2-, and 3-point perspective drawings are created.

Linear Perspective II, Elliptical Forms, Basic Forms

Perspective will continue to be a focus in this week's lesson, where we will learn how to multiply and divide rectilinear shapes or forms and explore hard and easy ways to draw circles and examine how to draw an ellipse in 1- and 2-point perspectives.

Complex Forms and Drawing From Observation

In this week's class we will broaden our scope to explore how to draw geometric forms and objects with complex forms. To unpack this topic, we will utilize different techniques to create a drawing, including locating eye-level, triangulation, and gesture drawing. Areas of exploration will include guide lines, measuring points, enveloping, plumb lines, and checking proportions.

Volume, Shadows, Notan

The proper use of value is essential to representing the mass of any drawing subject. The week we will explore how value is used to show the light and dark parts of an object. We will examine how the location of the light source affects on the shape of the shadow and how various effects can be created based on the placement of your light source. A special topic will be how to create a Notan, a Japanese composition that uses a distribution of light and dark.

Value and Working With Charcoal

Our final lecture will deepen our understanding of value in drawing. We will look at how to create and use a value range and value scale and learn the difference between high contrast and low contrast. We will examine all the components of a shadow cast by an object and discuss the technical aspects of drawing with charcoal.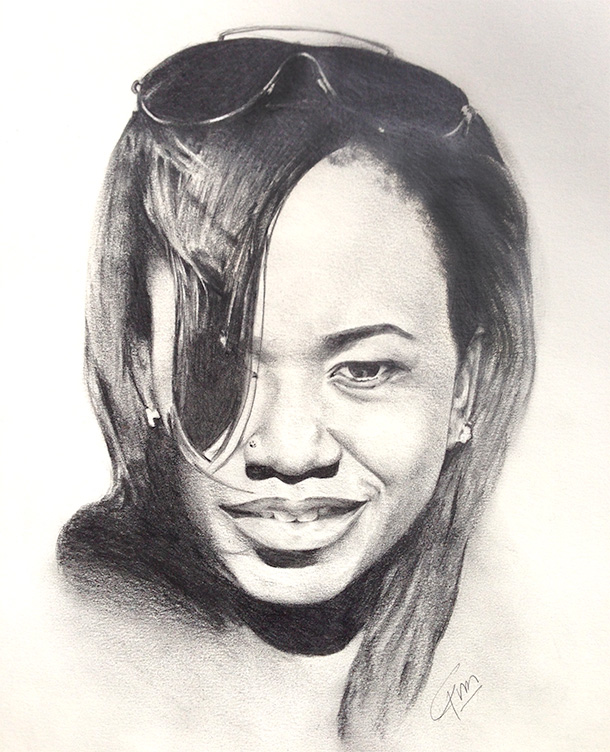 by Tresor Mussa
What Are The Course Projects?
Creative projects range from technical explorations of line and form, 1 and 2-point perspective, to still life drawings exploring positive and negative space, complex forms, and the naturalistic use of lighting.
What Software or Supplies Do I Need?
Computer with Internet connection.
Basic drawing materials such as pencil, paper, charcoal, and easel. More detailed information on supplies available at course syllabus page.
Access to a digital camera for photographing your artwork.
What Will I Learn?
Students in this course can expect to learn to:
Build a foundation in drawing skills by creating a wide range of still life drawings.
Develop best practices for drawing by setting up lighting and choosing and handling materials appropriately.
Identify and represent in drawing the basic elements of form (line, plane, mass) and the fundamental geometrical shapes of subjects.
Employ both gesture and contour drawings to capture the mass and structural lines in drawing subjects.
Make use of measuring points and thumb measures to keep the different areas of a drawing in perspective.
Apply approaches to creating the illusion of depth or effective composition.
Examine the effects of lighting location, angle, and direction, in creating shadow and value contrast in drawing subjects.
Separate a drawing into light and dark areas and represent the overall lighting using a cast shadow and shadow edge.
Choose and represent in drawing six different levels of value: highlights, mid-tones, shadow edge, casting shadow, core shadow, and reflected light.
Use charcoal, graphite, mixed materials, and ink wash to represent value in drawing.
Experiment with basic color interactions and mixing techniques for use in drawing.
Identify and apply stylistic approaches to drawing including photo-realism, photomontage, and abstract expressionism.
Classes start January, April, and August
3 Credit Course
Project-Based: Exercises, Discussions, and Critiques
| Course Tuition and Fees | |
| --- | --- |
| Tuition | $510/credit |
| Registration Fee* | $200 |
| Total Course Price | $1730 |
Registration fees are nonrefundable after 5 days from enrollment. All tuition includes a digital materials fee for course content.
Course Registration Form
To register for this course, use the form below to enter your information and desired start date. An Admissions Advisor will contact you to arrange payment and provide you with an Enrollment Agreement.
Frequently Asked Questions (FAQ)
What Are The Courses Like?
Our courses are project-based. In each course you'll enjoy a series of lectures, projects, discussions, and critiques designed to stretch your creative skills, earning college credit for your completed course.
How Much Time Do I Need?
Classes start January, April, and August, and this course can be completed in a 15-week term. College credit from this course can be applied to a range of degree and certificate level programs at Sessions College.
Who Are The Instructors?
Our courses are developed and taught by our faculty of professional artists, designers, and photographers. This means that you'll learn in-demand skills, get feedback on your work, and build a portfolio of creative work.
Is Sessions College accredited?