FOR IMMEDIATE RELEASE
SESSIONS COLLEGE FOR PROFESSIONAL DESIGN UNVEILS NEW WEB DESIGN COURSE OFFERINGS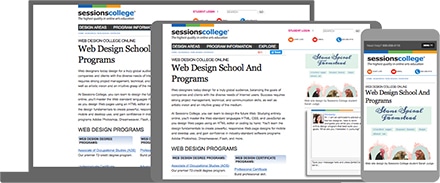 Tempe AZ - June 6, 2016)
With the explosive growth of smartphones, more people are now surfing the Web on mobile devices than on desktop computers. This has changed the face of the Web, as responsive Web design (RWD) has emerged as the solution for providing sites that can accessed and viewed across a wide range of devices.
Sessions College for Professional Design is excited to announce the expansion of its program and course offerings to include two new courses - Advanced CSS and JavaScript for Designers - that focus on the latest responsive design technologies.
The Advanced CSS course, authored by award-winning instructor Piper Nilsson, concentrates on flexbox, a CSS framework that adapts to different screen sizes and different sizes of content, providing limitless, robust ways to structure page content. The JavaScript for Designers course, created by Sessions veteran Geoph Essex, covers JavaScript, jQuery, and Bootstrap, three interactive technologies that use frameworks to enable developers to access a vast array of functionality for modern, responsive sites.
Sessions College President Gordon Drummond, says "These new courses reflect a new emphasis on responsive, modern design throughout our programs. More than ever, Sessions College is becoming a place where you can learn to design and develop for the Web. Today's designers are expected to create sites that provide well designed experiences for users, however they are accessing your site."
The new courses are part of a Web Design degree program that combines training in design and software skills with a training in contemporary technologies such as HTML5, CSS3, JavaScript, jQuery, PHP, and WordPress. Students develop a solid foundation in design and gain experience in applying those skills to a range of interactive design projects. The career focused Associate Degree in Web Design can be completed in two years or less, and certificate programs are available.
"We're proud of the way in which these new courses, in conjunction with our HTML/CSS course, make coding for the Web accessible, easier to understand, and fun. They provide an excellent foundation for anyone interested in learning how to build today's Web sites." For more information about our Web Design programs and other award-winning programs, visit Sessions.edu.
About Sessions College
Sessions College offers accredited visual arts online degree and certificate programs as well as individual courses. Its mission is to prepare art and design professionals for successful careers by providing the highest quality of online design education. Students gain a thorough training in the technical, creative, and critical-thinking skills that are required for a fast-changing industry.
Back to The Newsroom