December 2021 Student Gallery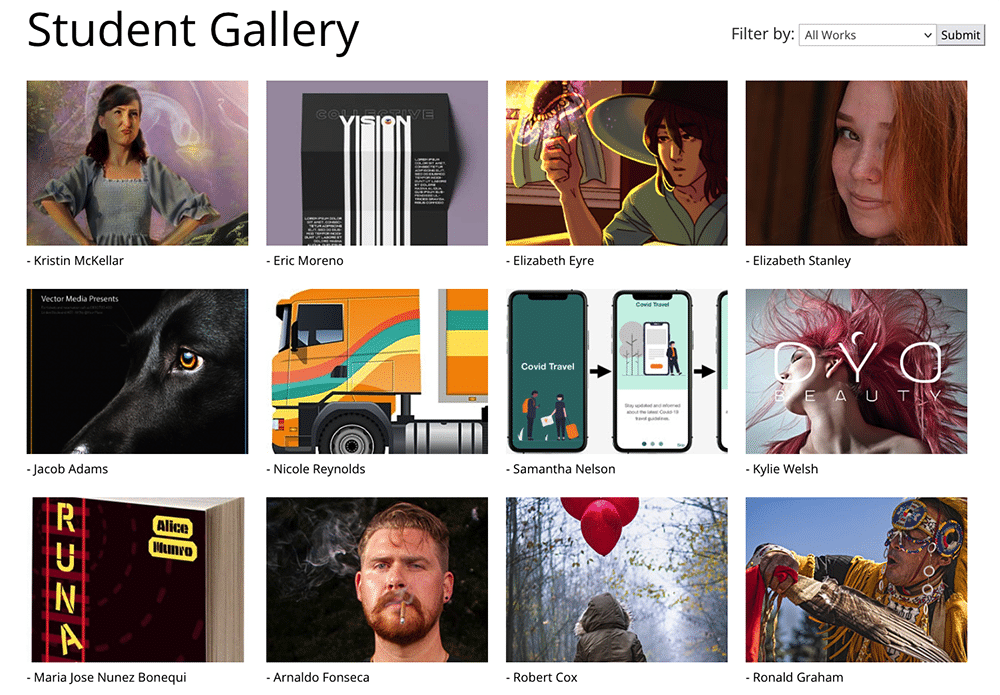 Happy holidays, one and all! The Sessions College Student Gallery has been updated during our December break with creative work from all majors created during the August 2021 term.
It's truly exciting to see such breadth of excellent work in art, design, digital media, and photography this year.
Below are some of the outstanding students whose work was selected. Congrats to you, and keep up the great work!
Abby James
Anthony Haro
Arnaldo Fonseca
Brooke Alt
Danielle James
Dhani Mouttet
Elia Giuliani
Elizabeth Eyre
Elizabeth Stanley
Eric Moreno
Jacob Adams
Jared Kelly
John Olson
Karen Sorano
Kristin McKellar
Kristy Ren-Hayzlett
Kurt Balcom
Kylie Welsh
Lauren Steiner
Maria Jose Nunez Bonequi
Marissa Sasscer
Nick McCorkle
Nicole Reynolds
Percy Cortez
Randy Calhoun
Robert Cox
Robin Imse
Ronald Graham
Samantha Nelson
Shanna Colegrove
Tracey Abbott
Tyler Klodnicki
Zachari Haselow
To learn more, visit the Student Gallery page. Our thanks to all faculty members who nominated student work to the gallery, and to our Creative Director Patricio Sarzosa for curation and production.
Please continue to help us celebrate excellence and creativity!!!

Sessions Staff is a restless soul who loves to share Campus News stories with current and prospective students.