Fall 2022 Degree Scholarships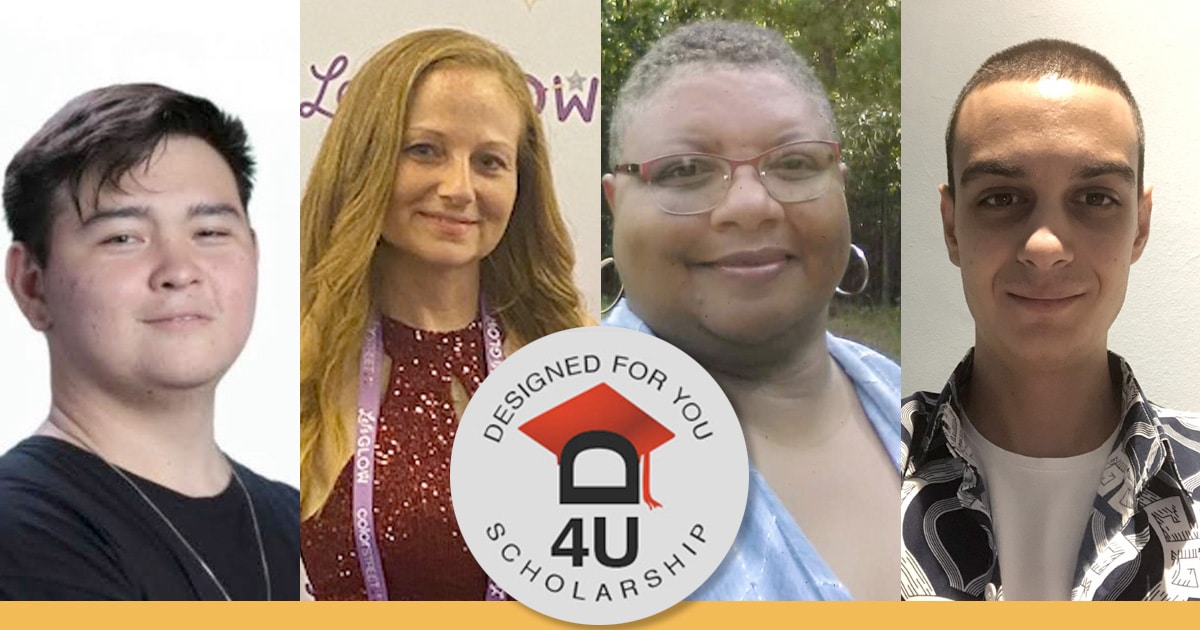 We are proud to announce four scholarship winners who entered the Sessions College degree program in Fall 2022. Our Degree Scholarship Program for new BFA and Associate Degree applicants offers financial awards in six adult learner categories.
The Acceptance Committee would like extend its thanks to all who applied! The committee's job is never easy. The winners are:
Lucas Cosseboom – BFA in Illustration
Sharla Fossen – AOS in Digital Photography
Kathy Martin – AOS in Graphic Design
Konstantinos Marmaridis – AOS in Graphic Design
We're delighted to have these students in the degree programs. Here are some highlights from applicant essays:
Lucas Cosseboom – Bridge Student
Last year, our family got transferred yet again to Japan. (I was more than excited for this move, particularly because it is the home of anime and manga, and also because of electronics and video games and good food.) Before the move here, I started looking online for a program that offered a non-traditional approach to some kind of degree in art. I wanted to hone in on my skillset and also be able to connect with instructors to determine if they felt I had the ability to improve and make a living from it. It was a true blessing to have found Sessions College, with its wonderful advisors who are there every step of the way, and instructors who are so knowledgeable and responsive with real-life experiences in the field.

Sharla Fossen – Entrepreneur

I am a business owner and I'm always looking for ways to expand and improve my businesses. I own two businesses; one in direct sales and one in affiliate/referral marketing. I would like to use my photography skills to take quality photos of the products I'm promoting. I know first impressions are crucial in today's market. Especially for social media marketing, your information needs to capture the attention of someone's scroll within three seconds or they will scroll past your advertisement. Taking quality photos definitely increases the chance of capturing a prospective customer's or future business partner's attention. Completing a degree in digital photography will benefit in advertising the businesses and products I'm promoting, showcasing my travels, and creating additional forms of income.

Kathy Martin – 24/7 Parent 
Winston Churchill once said, "Success consists of going from failure to failure without loss of enthusiasm." I am a fifty-one year old mother of a 16 year-old son who has multiple disabilities. He is my first and foremost important reason I decided to return back to school. Another reason I decided to return back to school was for personal and professional reasons, with the intention of gaining the knowledge and skills to be a successful graphic designer in hopes that one day I will have my own design business. I have designed invitations here and there for graduations, weddings, and flyers, brochures, funeral programs and other things, but no one was taking me seriously yet as a designer so I decided to enroll in Sessions College, because it offered what I was looking for, to give me skills and ultimately gain a career in my area.

Konstantinos Marmaridis – International Student

Ever since I can remember I always had an eye for details, building landscapes, sculptures, and art… I would often catch myself brainstorming and thinking about unconventional shapes and how such could eventually be incorporated within my city, Thessaloniki, Greece. Growing up I was fortunate enough to be given the ability to travel across the world and thus extend my perceptions when it came to thinking outside of the box. I firmly believe that Sessions College courses will benefit me in achieving the knowledge that I could ultimately apply across various fields such as art, management, and marketing. By studying graphic design design, I can make the first step in making this big change, inspiring others to come with me on this revolutionary journey involving Thessaloniki and Greece.
"A warm welcome to you all. We're delighted to welcome these students with diverse learning goals and creative aspirations to Sessions College!" – Sessions College President Gordon Drummond.
To find out more about degree program scholarships at Sessions College, visit our Designed for You Scholarship page. Awards are available for eligible new program enrollees in a range of adult learner categories.  Scholarships may be combined with other forms of aid such as Federal Student Aid to make your program more affordable.

Sessions Staff is a restless soul who loves to share Campus News stories with current and prospective students.