Exploring a Rich Heritage in Pasifika Art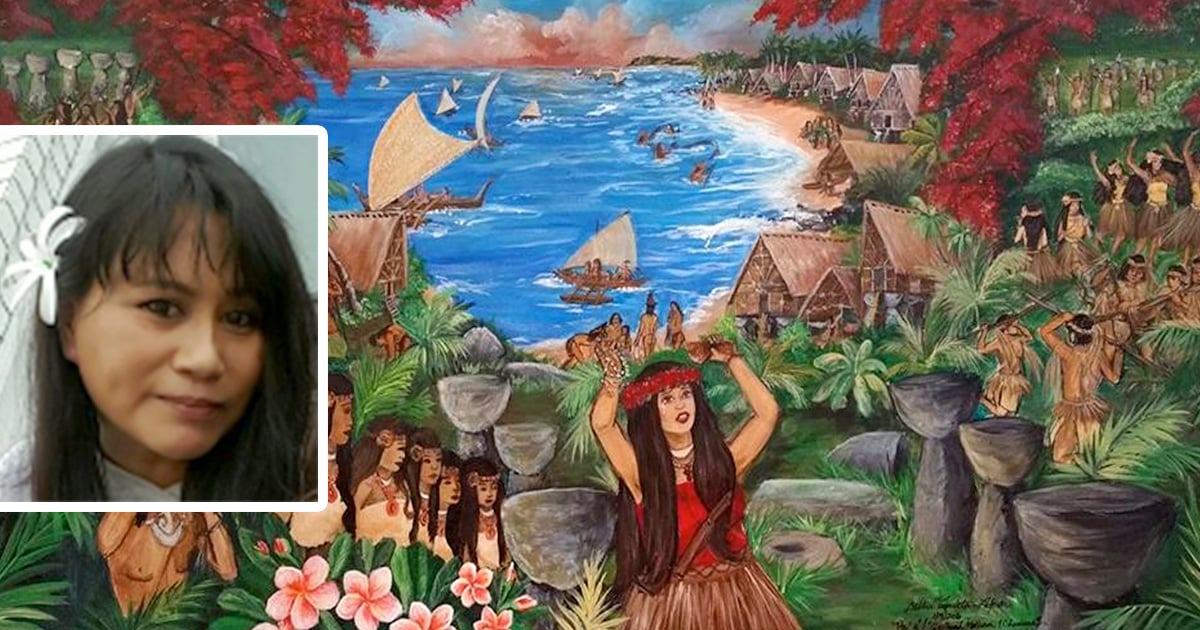 Founded in 1997, as a fully online institution Sessions College has had a rich history working with students from diverse cultural and artistic backgrounds from all over the world. Our students are always showing us something new, and one of the stars of our Illustration program is no exception.
When our recent Associate of Occupational Studies (AOS) in Illustration grad Deborah Lefever joined Sessions in 2020, it was clear she had a deep heritage in creating Pasifika Art, art created in the traditions of Polynesia, Micronesia, and Melanesia. As her military father, and later, her husband, served in Guam, Deborah immersed herself in the painting, drawing, costuming, and crafts of the Pacific Islands, becoming a recognized artist. Now living back in the United States, she continues to expand her art within her diaspora community.
For Deborah, studying at Sessions has represented a flexible way to learn digital and traditional art techniques, and expand her commercial viability. Currently taking of a leave for a book tour, we look forward to welcoming Deborah back to our BFA program in January 2023.
Q: Deborah, your work stands out for its focus on Pacific island nation themes and tropical scenery. Can you tell us about your life as an artist and how your experiences have inspired your work?
One thing I have learned over the years is you need to know who you are, your identity, and where you came from, as an artist and a person. My father who was in the army, grew up on the island of Guam, and so I was influenced with dual cultural heritages in my home: Italian and CHamoru. (The CHamoru are the native people of the Mariana islands.)
Growing up as a military brat, my parents taught me to understand myself through these two cultures. When my father retired from the Army and I moved back to the island at the age of 10, I learned more about my father's culture and traditions which I fell in love with, the surroundings, storytelling, legends, respect for the land, water, nature itself, and so many other things.
Besides still dancing my CHamoru culture at the ripe age of 62, I have also danced Polynesian since I was 5 (Tahitian, Hawaiian, and so on) and I was taught and learned about these heritages through song, dances, and legends.
I love different cultures and am curious to learn. I have many life experiences that have inspired me. The one that resonates with me personally is when I was chosen to be a delegate (dancer and visual artist) to several Festivals of the Pacific Arts which occur every four years. The festival is like an Olympics of cultural traditions and modern art, where Pacific countries come together to share and showcase their culture through song, dance, carving, and other art. This experience heightened my inspiration for Pasifika Art, which is art created by Polynesian, Micronesian, or Melanesian ancestry.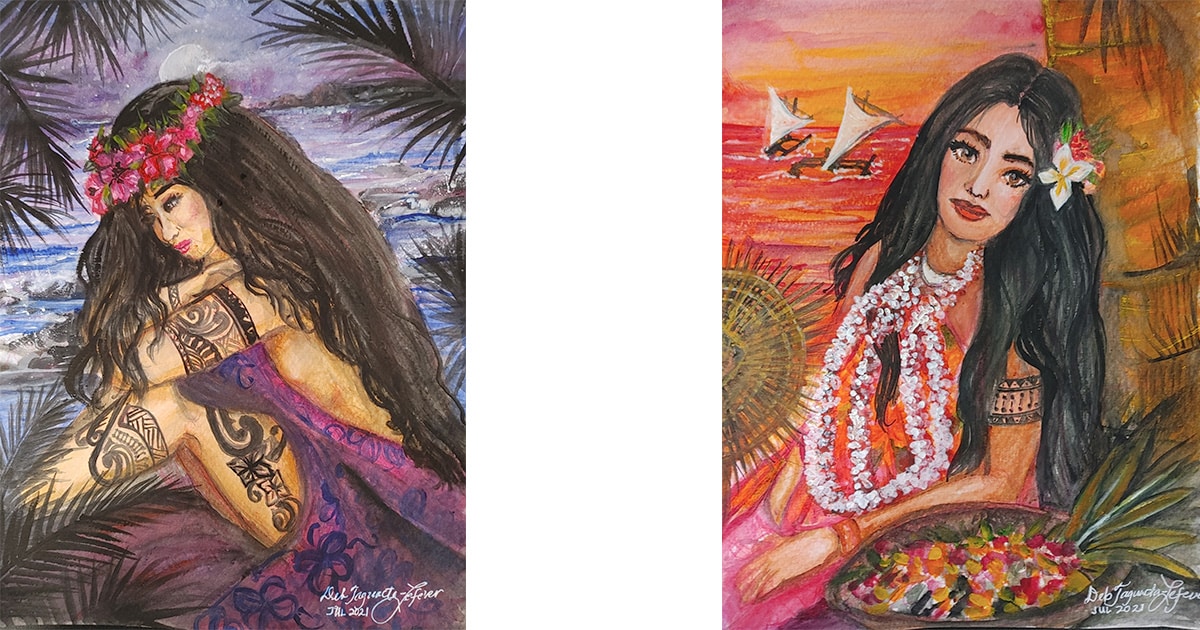 Q: How do you come up with your creative ideas? Can you walk us through your process on a favorite project?
My process is unusual. I carry a sketchbook with me always because I find that my surroundings, whether it be the environment at the moment, my research, going to cultural festivals, or dancing always inspires a creative idea. What I do is either write down or sketch something at that moment.
My artwork is influenced by the reflections, inspirations, love and passion of her CHamoru Cultural Heritage through a mixed media of art such as painting, illustration, watercolors, crafts, and other mediums.
I was selected as a Visual Artist Delegate for the 2016 Festival of Pacific Arts, hosted by the island of Guam (Guahan) showcasing my artwork at the Guam Museum; along with two virtual online art exhibitions called "Creative Hands: Selected Words by Pacific Artists." This exhibition shares a painting titled "Sakman" (proas/canoes) and "Aniten I Latte" (ancient latte stone-foundation of ancient homes, a symbolic icon) and these are showcased on the Isla Center for the Arts website from the University of Guam.
I have participated and showcased my artworks titled "Suruhana" (Medicine Woman) and "The Pacific Bearers of Life" with "Symbols and Images of the Femme". In addition, I was asked to be the illustrator for two books; "Margarita, the Girl Who Couldn't Hear" and "Let's Learn CHamoru Sign Language," which are children's books to enhance deaf awareness and to preserve CHamoru sign language.

My friend founded, and my family co-founded, Inetnon Famagu'on Guahan (IFG). Our mission is to teach our heritage through song, chant, dance, and art.
One favorite project is what I did with the dancers of this cultural dance group is I had them do a mural on a large drop cloth 12ft x 15ft with step by step instructional session in which I showed them how to paint from a grid drawing, use brush strokes and painting techniques, and explain the importance or meaning of the subject matter. Together we painted an important icon from our CHamoru Culture called a Latte Stone which represents the foundation or roots of our culture and also these megalithic monuments composed of a shaft stone on the ground (haligi) and capped by a stone (tasa), were used by ancient CHamoru people on the islands of Guam, Rota, Tinian, and Saipan, as pillars to support buildings. Some of these were over 10 feet high.
After 15 years the group is under a new instructor, and we have started a new dance group called "Hasso I Gima I Metgot Manggafa" (House of the Strong Family) where my vision is to perpetuate and share the rich CHamoru and the Pacific (Pacifika) Rim of our Cultural Heritage through dance, song, music, language, costuming, and art.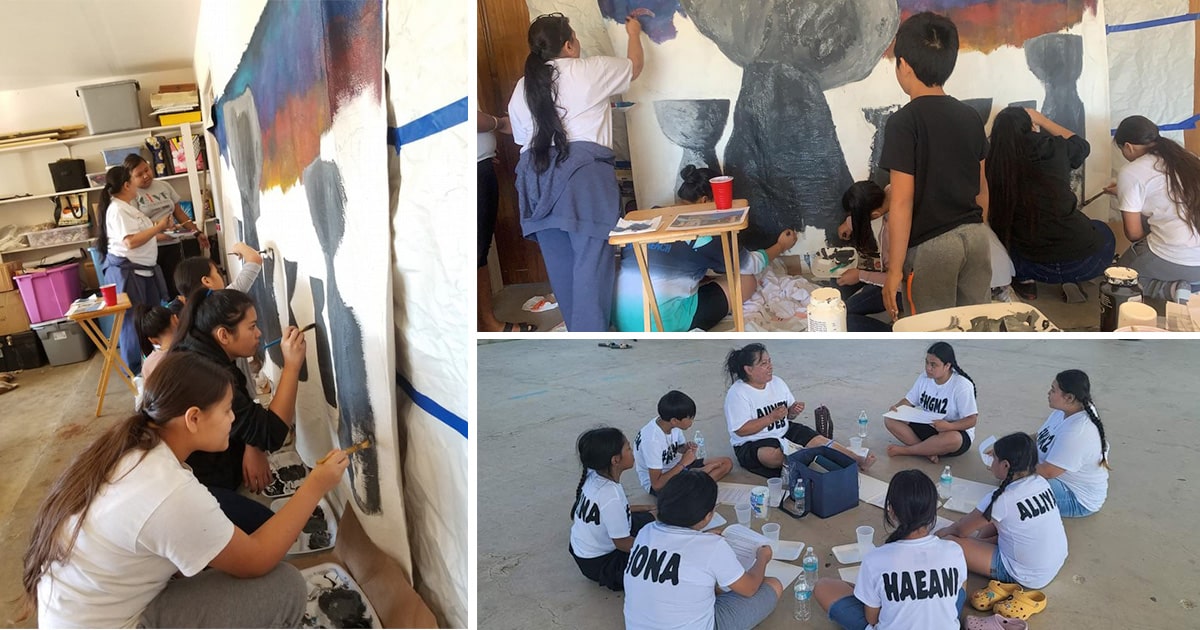 Q: What artists have inspired your work?
Paul Gauguin has inspired me so much. Gauguin emulated Oceanic (Pacific) traditions in his sculptures, paintings, and woodcuts with a rough-hewn look, created in the late 19th century.
Gaugin went through different styles of art movements such as Post-Impressionist, Synthetist, and Symbolist, as he was continually experiementing. Gauguin's final stylistic phase required his complete removal from Western society in search of a primitive ideal.
This primitive style was interspersed with more poetic images developed with arranged tonal harmonies as seen in the works "Where Do We Come From? What Are We? Where Are We Going?" His paintings of primitive art are characterized by flat forms and the violent colors belonging to an untamed nature. These would be transferred onto canvas. Despite this, his overall tones were muted, and quite close together.
I love all types of art movements; Post-Impressionism, Impressionism, Renaissance, Art Nouveau, Fauvism, Cubism, Pop, Contemporary, and more. Other artists that also inspired me are Da Vinci, Michelangelo, Monet, Matisse, Braque, Picasso, Warhol,  Van Gogh, and many more. I guess you can say that I am eclectic in art. I also like tribal and prehistory art such as the pictographs or hieroglyphs in various cultures.
I love all mediums and mixed mediums. Currently, I do a lot of acrylic painting on canvas. I do both traditional and digital art and I love to combine both. I am currently experimenting painting on tropical fabrics with different Pacifika subjects such as dancers in their different indigenous era costumes, and so on.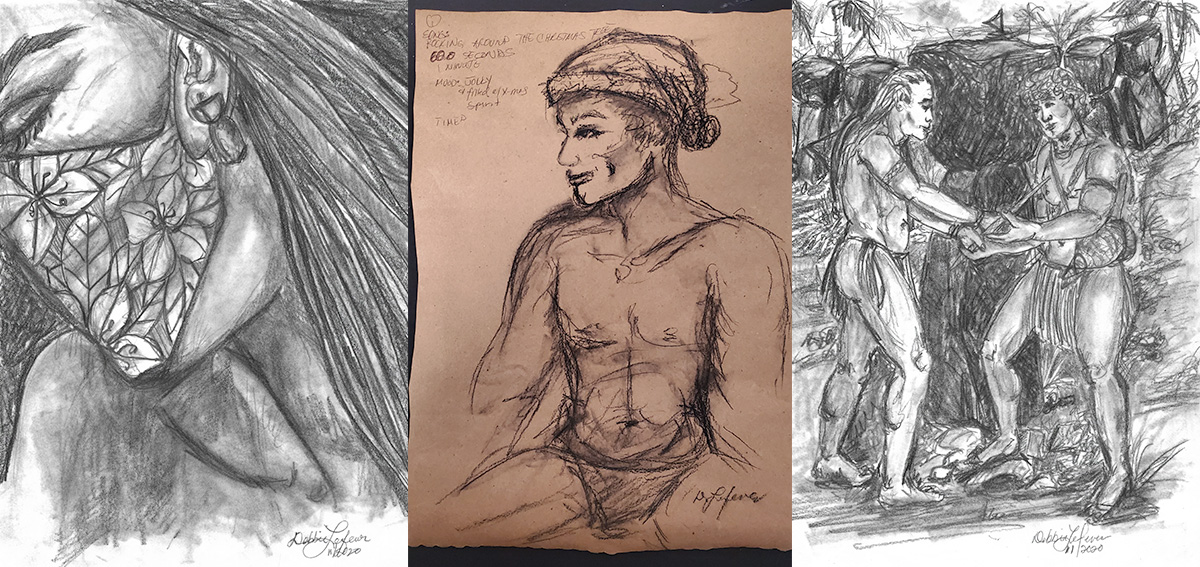 Q: What are the main takeaways from your time at Sessions and the benefits of studying online?
The main takeaways are the techniques and styles of art, digital art, getting clients, representing or branding myself. I have learned so much from all the classes and I will gain new tools, aides, techniques, and discovering my style of art, which has helped me be more confident and a better artist as an illustrator, and visual and cultural artist.
The benefit of studying online for me is that I can do school work around a schedule of my own choosing as long I submit on time. Attending an art school online allows you to pursue a career in art without attending a brick and mortar physical building, an ideal opportunity for many potential students. Whether you're brand new to art or you have extensive experience and want to learn something new, an online art school could be exactly what you need. Also, getting a degree online provides flexibility and variety. In addition, it allows the option to continue working while you go to school.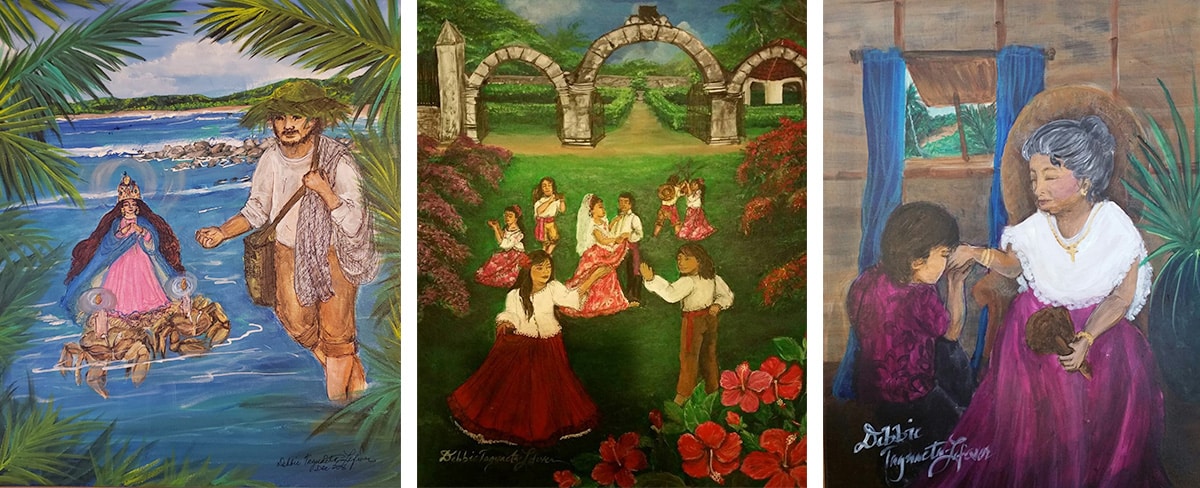 Q: You have just graduated with your AOS in Illustration – an amazing accomplishment! Do you currently have any new projects lined up?
I share my talent by painting CHamoru Cultural Dancers and CHamoru legends on Pacific Island fabric canvases. I am creating a program to teach local children about their CHamoru heritage. I am currently in the planning stages of doing a series of Pacific Cultural Legends in a style form of Sequential and Comic Book art where children and teens can learn their cultural heritage through pictures and words. So far, I have done a layout for CAHA (CHamoru Arts and Humanities) for review.
For the most part, I am a Visual Pacific Cultural Artist and will continue my education in the area as an illustrator seeking my Bachelors. I also want to be the next "Grandma Moses" who is one of my inspirations to set goals and dream of the future. I would love to use this as a stepping stone to continue to work towards to be a licensed Life Art Coach for the elderly and children with special needs so I may introduce art as a form of communication and so on.

For more information on Deborah Lefever's projects, visit her Instagram page or the Isla Center for the Arts. At the following pages, you can find information on the Inetnon Famagu'on Guahan (IFG) group or the book Margarita: The Girl Who Couldn't Hear. For more information about studying illustration at Sessions College, visit our  illustration majors page.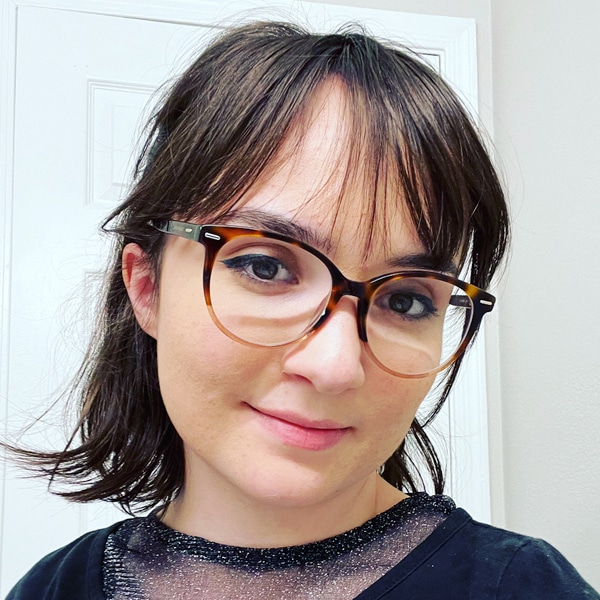 Lauren Hernandez is the Manager, Faculty and Curriculum Development at Sessions College. Lauren is an artist, educator, and former middle-school teacher with a passion for everything art-related. Outside of work, Lauren likes to take care of her plants and hang out with her bird.