Advisory Sessions: Answering the Call for Skilled Designers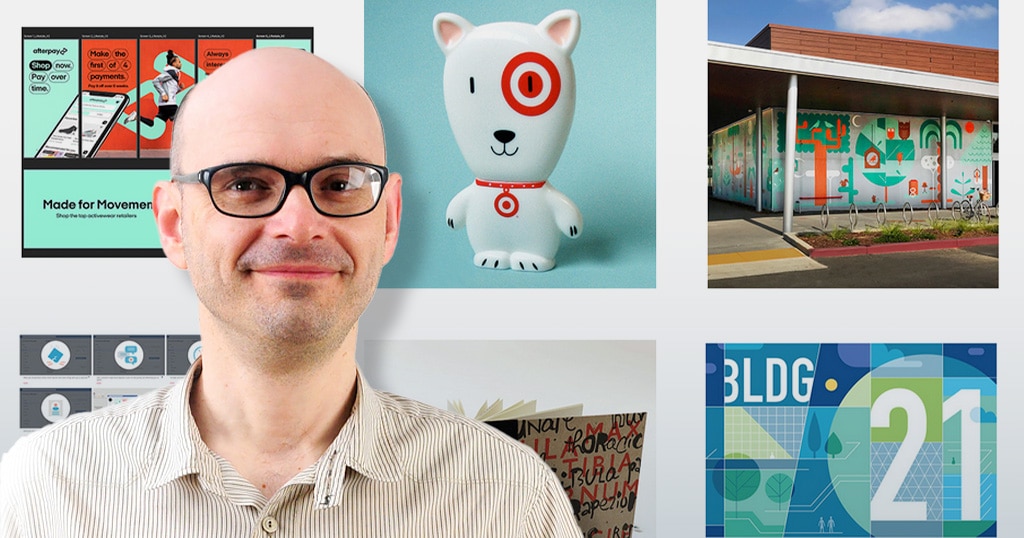 We are extremely delighted to welcome senior art director Michael Bartalos to our Advisory Board of creative pros for the 2023-24. Michael has held full-time Art Director and Senior Art Director positions at Meta, Brainrider LLC, and Visa, helping their in-house design teams reach their potential and deliver excellence to clients. He is former Chair of the San Francisco Center for the Book's Imprint Committee and currently serves as Co-Director of ArtMadeHere.org.
In this interview, we were fortunate to gain insights from Michael on the current needs of design industry employers. Michael provided our graduates some fascinating observations on the impact of AI on the design workplace.

Q: What type(s) of companies are hiring individuals in your industry?
In my industry (graphic design and art direction), individuals are being hired by small, medium, and large design firms, as well as by in-house design departments. The demand for skilled designers is high, in line with the nation's healthy pace of hiring overall.
Throughout all three of my full-time Art Director roles, we've relied heavily on outside agencies as well as independent contractors to fulfill our needs. Our needs were most often for specialists in studio photography, videography, video editing, and 3D & motion graphics.
Q: What advice do you have for an applicant regarding the job search and interview process? How can they stand out from the crowd?
First and foremost, applicants should have a robust online presence. This could be in the form of a website, online portfolio, or social media channels that showcase the work. Employers inevitably check out an applicant's LinkedIn page as well.
Regarding the job search, applicants can benefit greatly by researching firms before applying to them. (Which firms' work speaks to you? Do their values align with yours? Are they transparent about job description and salary?)
Applicants should also consider whether they prefer full-time office employment, WFH (work from home) freelance jobs, or a hybrid of the two—and apply accordingly. In the interview (most likely conducted over Zoom), applicants should be prepared to screen-share their portfolio, speak confidently about their work, and to relate anecdotes and experiences that convey their commitment and passion for design.
As for standing out in the crowd, a strong sense of individual style can be beneficial. So can a thank you note following an interview. Mailing custom-designed physical promotional cards is also an eye-catcher in this digital age.
Q: What software (such as Photoshop) or technical skills should an entry-level employee be fluent in for your industry?
A new design hire should be familiar with the Adobe Creative Cloud (especially Photoshop, Illustrator, InDesign, Premiere Pro, After Effects, and Acrobat.) It's also helpful to know Adobe Firefly and Adobe Express.
For documents and presentation, they should be able get around Google Workspace and/or MS Office Powerpoint and/or Keynote. For website and app prototypes, Figma and/or Sketch, and for image management software, know Adobe Lightroom and/or Lightroom Classic.
Q: What foundational skills should an applicant in your industry have mastered?
Here are some foundational design skills that are sought after: Concept development, brand design, logo design, presentations, and typography.
A new hire should be able to work with vector and bitmap graphics (and have a clear understanding of the two). They should be able to create basic UX designs, apply color theory, and handle RGB vs. CMYK. Skill in basic photo editing and illustration is essential and storyboarding and motion graphics are valued.
Q: What professional skills (beyond producing creative work), attitudes, and behaviors do you consider important?
In our industry, professionalism means collaborative skills, open communication, positivity, reliability, and confidence in one's abilities. It also means a willingness to learn, and a willingness to give and receive feedback. We look for team players who are punctual and able to support the company's mission.
Q: Does a graduate need to present a portfolio in order to be considered for a position?
Yes, graduates need to present a portfolio in my industry (graphic design). I prefer to view portfolios online for instant access and to observe the design of the digital portfolio itself. There are advantages to seeing portfolios in person of course, especially when they feature physical samples, textures & tactility, and novel print techniques. But given tight schedules and the prevalence of hiring remote workers, most art directors prefer to interview applicants and assess their work online.
Q: What types of portfolio projects do you expect to see in a portfolio? What types of projects should be included?
I expect to see brand and identity projects (including logo design), marketing design (such as online ad banners and social media ad design), basic UX / wireframes / product design, packaging and surface design. Illustrations, infographics, and storyboards are a plus. I'm basically looking for solid evidence of digital and print literacy.
Projects that are irrelevant to the job description shouldn't be included in the portfolio, regardless of their quality. A common mistake for entry-level applicants is to show a wide array of work in styles and media that exceeds the employer's request. Rather than being embraced as a jack-of-all trades, such applicants are perceived as misunderstanding the job description and the employer's specific needs. 12-20 pieces gives employers/interviewers a good idea of an applicant's skills and strengths. When judging an applicant's works, I consider the quality of technical execution and their proficiency in graphic communication.
Questions I ask include: How much conceptual and critical thinking is present in the work? How are the images sequenced? Do they tell the story of the designer's vision and process? Are the projects' objectives, challenges, and outcomes clearly presented?
Q: What specific advice do you have for future graduates who are developing cover letters, resumes, and portfolios?
I have three pieces of advice in this regard. First, it's important for grads to do their research. Seek out sample cover letters, resumes, and portfolios that inspire you. Why do certain approaches appeal to you? What can you leverage (without plagiarizing others' work) to make your own work shine?
Two, seek feedback. Reviews between designers and audiences can help identify what's working and what needs improvement. This extends beyond portfolio presentation. Nearly every professional workplace utilizes feedback opportunities to promote personal and professional growth among its employees.
Three, be persistent in your search for work. The process of finding the right job can be slow and trying. It often involves much research, lots of cover letter writing, several interviews, and changing up your portfolio to best show off your skills. But in my experience, the payoff is well worth the effort and commitment.
Q: Are professionals in your industry using AI tools? If so, please describe how.
Yes, professionals in my industry are using Midjourney and Wand.app (among others) to visualize new ideas, generate variations, and customize existing imagery.
My colleagues and I at Visa started using the newly-introduced AI features in Photoshop 2024 and Getty Images stock libraries this year. Photoshop's generative AI capabilities (powered by Firefly) aid us in adding, extending, deleting, and otherwise modifying visual content non-destructively. We use this tool on a daily basis as it's efficient, intuitive, and uses simple text prompts. Likewise, Generator AI by Getty Images (powered by Nvidia) provides us with customized renderings from text descriptions of desired imagery, drawing from Getty's vast stock library.
Q: Do you have concerns about the use of AI within your creative industry? If so, please describe your concerns.
I haven't run up against any ethical concerns just yet, but my colleagues and I are certainly aware of potential issues surrounding the new technology. AI tool developers seem to be aware as well. Getty Images, for example, seeks to gain users' trust by touting its generative AI tool as "commercially safer" than its rivals and providing its subscribers the right to perpetual, worldwide, nonexclusive use across all media with indemnification against copyright lawsuits.
Q: What do you think job applicants should know about the use of AI within your creative industry?
Job applicants should be aware of both AI's benefits and potential drawbacks. In our industry, AI already efficiently automates processes like layout creation, image resizing, color selection, and typographic options. Through machine learning, these systems 'understand' user behavior patterns and help designers create personal experiences for themselves and their clients.
There's no question that AI has facilitated our work flow and that it's here to stay as a creative tool. AI also has its limitations. It lacks true creativity, originality, and the ability to make subjective decisions involving aesthetics and emotions. This lack of inherent ingenuity renders it a mere design tool dependent on human input. This all suggests that experienced designers aren't likely to be replaced anytime soon. However, graduates should be aware that AI is already encroaching on routine tasks commonly assigned to junior designers.
Their challenge will be to use generative content not as end-all solutions, but as stepping stones to solve complex problems that human creativity is uniquely capable of. And all designers should be familiar with AI ethics in design. The three areas of present concern are fairness, privacy, and transparency / accountability. Fairness insures that AI systems avoid discrimination or reinforcement of existing biases, privacy protects users' personal data, and transparency provides disclosure about how AI systems make decisions.
I'd advise graduates to confront AI critically, but with positivity. With every new technology, fresh opportunities turn up. Designers will be needed who understand AI's new features and are able to use them. Specific AI-related design roles will emerge, allowing designers to focus on conceptual and stimulating tasks rather than on mundane ones. Driven grads will learn the skills to work with AI while making their own thoughtful design decisions in the process.
Q: Finally, what advice do you have graduated on starting and maintaining a new job?
Clear and open communication is key to starting and maintaining a new job. Employees should always strive to be on the same page as their employers and ask questions without hesitation. They should also be willing to learn and expand their horizons within the job. The more skills and experience they acquire, the greater likelihood for advancement.
It's also important to remain creative and push the boundaries in the design work. A "lesson learned" is that however limiting corporate style guides may seem, there's always room to experiment, delight, and surprise clients—as long as you're willing to explore and present various options.
To learn more about Michael Bartalos' design and illustration work, visit cargocollective.com/bartalos, bartalos.com, and dribbble.com/bartalos.

Sessions Staff is a restless soul who loves to share Campus News stories with current and prospective students.