Advisory Board Sessions: Breaking Through With a Blue-Collar Work Ethic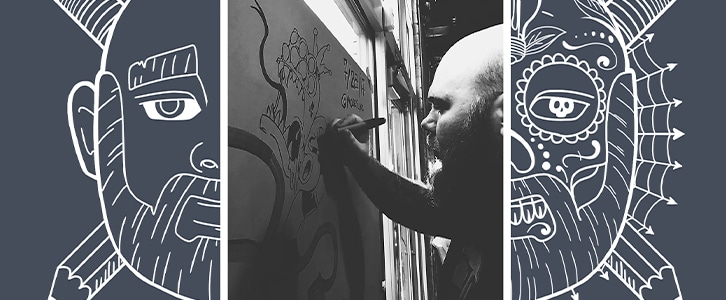 Sessions College Advisory board member Landon Armstrong isn't a fancy guy; he's just a super talented illustrator whose blazing work ethic has netted him clients far and wide. His combination of talent and pace has brought hundreds of consumer oriented illustrations to life for clients ranging from punk bands, to gaming companies, ad agencies, and internationally renowned brands such as Disney and Cirque Du Soleil.
As part of our annual Advisory Board program, Sessions College conducts a workplace assessment with design leaders and hiring managers in the field to find out what employers are looking for. Here, Landon gives us his insights into the field in this interview.
Q: How has employment for illustrators changed in the past 3-5 years?
Ad agency work has been growing, especially for freelancers. Most studio artists are expected to be jacks-of-all-trades, so when a project comes along that's out of the talent range of the in-house artist, studios have the budget to contract outside.
Apparel products were doing well before the COVID-19 crisis. Large and small retailers were actively seeking artists. And if your morals permit, the cannabis industry is exploding right now. Many companies are forming in that industry, and due to their clientele, the branding offers many opportunities for illustrators.
At the same time, I see some shrinking markets for illustrators. In the comic book industry, comic book companies have been accused of predatory business practices towards comic shop owners. People claim that comic books have become over-politicized over the past few years, alienating some fans. These factors have caused the number of US comic book retailers to drop from 5500 in 2016 to under 3000 in 2019-20, and comic book sales have declined over 7% each year for the past three years.
DC Comics has massively reduced its number of published books, leaving little room for the established artists and less potential for newcomers. Marvel is flooding the market with books, but their series have tiny runs due to lack of interest, so there's very little stability. Marvel also is not known for paying its artists the best rates, so it's hard to attract top talent. From what I've heard, comic conventions have experienced a combination of fatigue and over-saturation.
The most significant success in comic books over the past few two years has been crowdfunding. Some artists have been able to raise over six figures for one comic book issue, but this also requires the artist to take on all of the duties provided by a publisher. The music industry has dropped off lately as a market for illustrators. With most albums being sold digitally there is less emphasis on album packaging. Designing for merchandise still is doing well but typically leaves a small budget for the artist.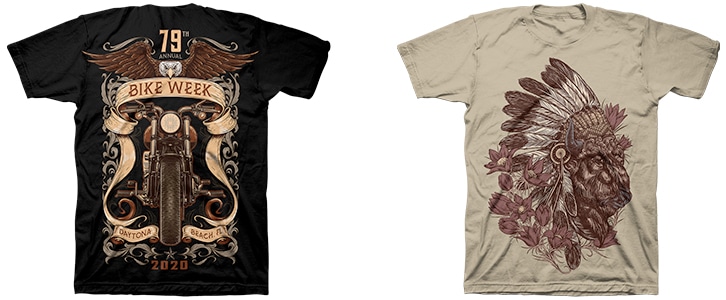 Q: What does an illustrator starting out need to have to break through in your industry, and why?
In most cases, it's all about the portfolio. I have worked with many art directors with less education than I have who were fantastic illustrators. The creative industry as a whole is shifting more to focus on experience and ability rather than knowledge. For jobs in a corporate setting, an Associate's Degree is fine.
Q: What's required in an illustrator's portfolio?
If you apply for a position, and you don't link to a portfolio, employers may not even look at your resume. A good online portfolio will always do the trick to at least get you an interview. Once you have an interview, your print and digital portfolio becomes a big deal. In my personal experience, I always show up to interviews with prints or an iPad portfolio to show off new pieces that are not public yet or work that's relevant to getting the job.
Always include mock-ups in your portfolio. Show potential clients what products they can stick your artwork on and how they can make money. If you want to do T-shirt designs, you better show some mock ups of your work on T-shirts. The type of projects depends on the jobs you're going for.
DO NOT INCLUDE LIFE DRAWINGS! Employers can tell the quality of your life drawing skills by the quality of your drawings.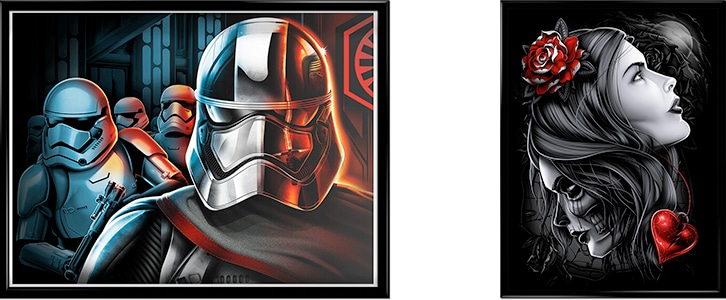 Q: What art/design skills does a job applicant need to have? What software skills?
It's very important for an entry-level illustrator to have some traditional art skills. Many traditional techniques carry over to digital. Also, just like with the music industry and vinyl records, an artist can use traditional methods as a selling point for some products and also create value through exclusivity. One example of this is a poster artist hand-embellishing a limited run of posters they designed.
Some things an illustrator should be skilled at include: life drawing, color theory, composition, storytelling, character and caricature drawing, 1-, 2-, and 3-point perspective, typography, and custom hand lettering. They need the ability to create commercial quality art in as many styles as possible.
As far as software goes, I look for an illustrator to have good Photoshop and Illustrator knowledge. Clip Studio Paint, Painter, Sketchbook Pro, After Affects, and Adobe Character Animator are also beneficial. From a technical perspective they should understand storyboarding and printing processes such as screen printing.
Q: How can job applicants stand out from the crowd?
Be humble and be honest. Don't oversell yourself. Let the quality of your work and a positive attitude do most of the talking. Once you've gotten your foot in the door, be willing to learn, be dependable, be the hardest worker in the room, and don't try to change things within the company until you have built up some clout.
People skills are important in this industry for obvious reasons. In most cases, you represent not only yourself but also your employer. Basic writing skills are important too (and if you lack those, Grammarly will help you with that.) Most communication is through email and text due to how hectic life seems to be for everyone. Finally, listening is key, got that? 🙂 Always go into a conversation expecting the other person to explain to you something you don't know.
And again, for a third time… Be humble.
Landon Armstrong is an illustrator and digital artist with over fifteen years of professional experience. His expertise has made him a sought-out educator and speaker by the likes of Adobe and the Art Institutes and has garnered him recognition as an Addy Award winner. For more information on Landon Armstrong or to work with him, visit https://www.landonarmstrong.com/.
For more information on illustration majors at Sessions College, visit https://www.sessions.edu/illustration/. For more information on the Sessions College Advisory Board, visit https://www.sessions.edu/education/advisory-board/.

Sessions Staff is a restless soul who loves to share Campus News stories with current and prospective students.