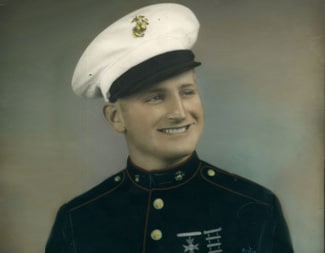 Louis H. Schilt continues to inspire through the memorial scholarship program.
Louis H Schilt Memorial Scholarship
Military Scholarship
Sessions College is delighted to announce the reopening of the Louis H. Schilt Memorial Scholarship for disabled veterans and spouses. Sessions College honors the service of veterans and active-duty members of the United States Armed Forces as well as their spouses. Retraining for a new professional career after the trauma of an injury can be a serious challenge. The Louis H. Schilt Memorial Scholarship offers recipients the chance to develop skills in the visual communications industry.
Eligible Programs: Professional Certificate
Who Is Eligible?
If you are a disabled veteran, or the spouse of an injured veteran, and you have artistic, creative, or technical skills, the scholarship program offers an exciting chance to get your start in a new career.
Professional Certificate programs are 6 months in length and delivered completely online. No books are required as all educational course materials are delivered through Sessions College systems and are accessible 24/7.
Programs are instructor led, project based, and include instructional lessons that incorporate multimedia, audio visual, and animated materials. All certificate students graduate with a portfolio of work that is a must-have in the design industry.
Two scholarships will be awarded for May and September cohorts. The Scholarship will cover all program tuition and fees. The recipient is responsible for providing a computer, with an Internet connection, any required software and supplies, such as Adobe Creative Cloud subscription.
"My software skills have improved a lot, but since it's been so incremental I haven't noticed it so much. The biggest differences seem to be an improved "eye for the design elements" and my workflow seems to be more efficient and productive. My confidence level has really increased also. Now I know: 'Hey I have the skills to do this.'"
Program Eligibility
The scholarship is open to disabled U.S. Veterans/active duty servicemembers and/or spouses. The scholarship is intended to benefit servicemembers who have undergone a life-changing experience as a result of a physical or mental injury. A life-changing experience is one that prevents you from returning to the life you knew, and challenges you to redefine yourself.
Candidates will need to submit copies of injury documentation (20% as defined by the VA) and must be over 18 years old and able to provide evidence of attaining a high school diploma, GED, or college degree.
Applicants will be selected based on evidence presented in their personal statement and their creative essay. Additional consideration will be given to ability to benefit based on prior academic achievement. Awards are made without regard to financial status, race, creed, religious preference, or sex.
How To Apply
Below is a guide to applying for the scholarship.
1. Account of Your Military Service
Write a brief account of your military service (no more than 500 words) and explain how your injury was incurred. Since the Scholarship is designed for injured veterans, your statement should describe why your injury was a life-changing experience
2. Creative Essay
Write a creative essay (no more than 500 words) explaining "Why I want to enter the _____ field". (Choose one of the certificate program subjects as the topic of your essay (ie. graphic design, Web design, multimedia design, digital arts, marketing design, or fine arts).
The purpose of the creative essay is to help the selection committee assess your ability to benefit from taking an online design program. The program is designed for creative students who have good computer and communication skills, and either some basic art/design skills or a passion for the visual arts.
3. Program Application
Submit your essays along with your program application and confirmation of your eligibility for the program to your Admissions Advisor. Your Admissions Advisor will ensure you have submitted all necessary materials and will ensure timely delivery to the Selection Committee.
4. Injury Documentation
Provide copies of your injury documentation via fax or email attachment to your Admissions Advisor.
Veterans: Submit copies of DD-214 forms to verify your Certificate of Release or Discharge from Active Duty. This will verify your armed service record.
Active Servicemembers: Provide copies of your government ID card with a valid expiration date to verify that you are currently in the Armed Forces. In addition, you must submit paperwork from the VA that identifies your % of disability. Copies of documents may be faxed or emailed as scanned attachments to your Admissions Advisor.
Notes for Applicants
Social Security numbers may be redacted (blanked out) if desired. Please include your full name and "Injury documentation" in the title of your fax or email.
All submissions to this scholarship program will be treated as private and confidential, and not disclosed to any third party. All official and medical records used to verify program admissions will be destroyed after scholarship winners are selected.
Submission of your prior artwork is not required, but you are welcome to submit up to three art/design works as scanned attachments to your Admissions Advisor. The works should be sent as attachments to one email and titled: "[Your Name]: Submission of work."
If you wish to nominate your spouse for the scholarship program, he or she must work with an Admissions Advisor him/herself, including personal statement and creative essay, as well as submit your injury documentation.
Application Deadlines:
May Cohort (February 15)
September Cohort (July 15)