In Conversation With: Maisie Benson
No items found
| January 14, 2022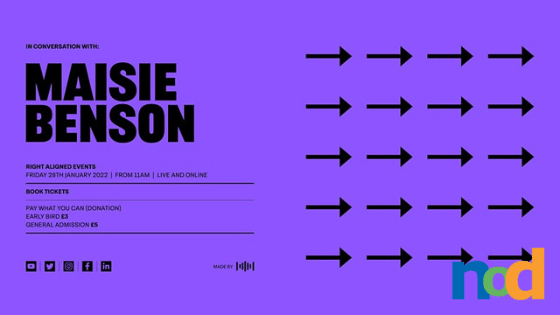 In Conversation With is a weekly online series organized by Right Aligned Events. Each installation features a speaker from some part of the creative industry, with past speakers ranging from recent graduates to founders. This episode features Maisie Benson, senior graphic designer at B&B studio. Each week brings something new, but always aiming to inspire, the discussions cover a wide range of topics surrounding creative professions. Whether simply just to connect with some like-minded folks or learn about a discipline you're unfamiliar with, In Conversation With presents a great opportunity to gain some behind-the-scenes insights you can apply in your work.
You can learn more about the event and purchase tickets here.
No items found
If you are interested in developing your graphic design skills, Sessions College offers a range of graphic design courses for students at all levels. Contact Admissions for more information.