Top Graphic Design Conferences to Attend in 2023
Design conferences are a great way for students and professionals alike to gain both inspiration and insights into the future of the design industry. Major conferences often feature keynote speakers from industry-leading companies that offer attendees the chance to tap into the emerging trends and technologies that will shape the design industry in the near future. These sorts of insights can help attendees to gain a competitive advantage by learning tools in advance before they become widely adopted by the industry.
Top Graphic Design Conferences in 2023
In addition to staying a step ahead of the curve in terms of trends and tools, another major pull of design conferences is the chance to learn from top-level pros directly in a workshop setting. Attendees are sure to leave overflowing with inspiration and with a few new tricks up their sleeves to bring to their own design practice.
These hands-on spaces also offer a great opportunity to mingle with other working professionals and build your personal network. You never know who you'll end up meeting at a design conference, or what sorts of opportunities it may lead to in the future.
If I've sold you on the idea of attending a design conference, here are some of the best annual events that should be on your radar.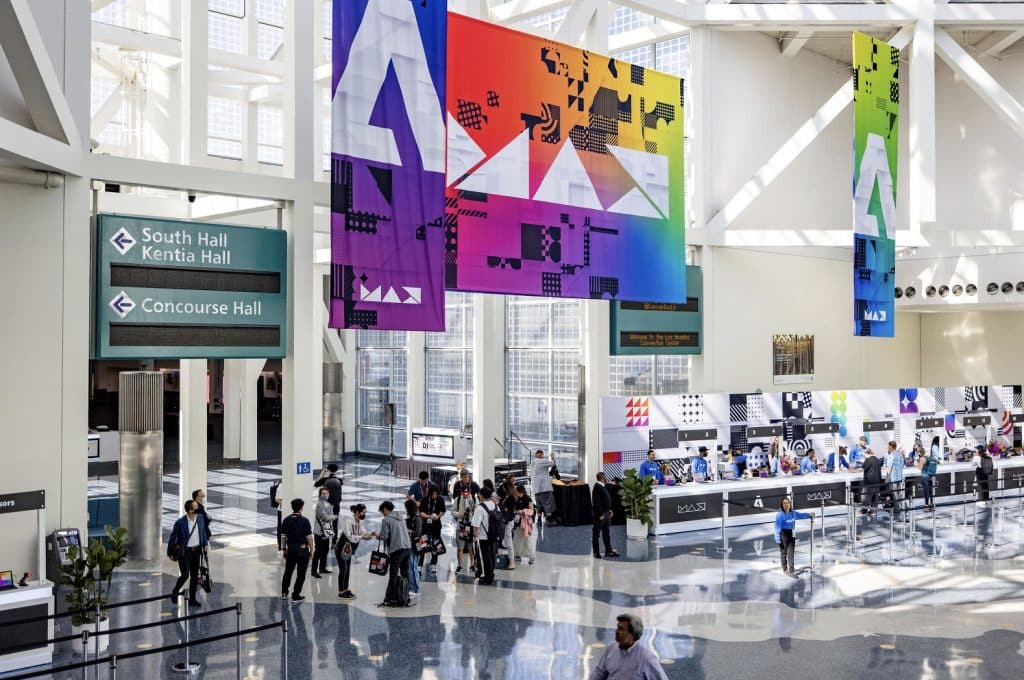 Adobe Max – The Creative Conference
The first, and one any Creative Cloud subscriber will already be familiar with, is Adobe MAX. This is one of the biggest design events of the year, and one every designer looks forward to as it's the stage Adobe uses to unveil upcoming features to its Creative Cloud products.
The event, which is taking place in Los Angeles from October 10–12 this year, usually features a star-studded panel of keynote speakers from all walks of creative life. Last year's event was hosted by Kevin Hart and featured keynote speakers like Jeff Koons and Steve Aoki alongside all-star creatives like Jalaj Hora, VP of Product Innovation and Consumer Creation for Nike, and Marty Buccafusco, who leads the creative video team for The Coca-Cola Company.
Adobe MAX is also one of the most accessible design conferences as viewers can tune into the livestream from anywhere in the world and many of the sessions are made available for free on-demand once the event ends. Between the sneak peaks at the latest in creative technology, hyper-focused workshops, and insights into the workflows and thought processes that power the creative output for some of the world's biggest companies, there's a lot to be excited about when Adobe Max rolls around, making it a more than worthy of a spot on your calendar. You can keep an eye out for updates regarding Adobe MAX as well as watch some of the highlights from last year's event here.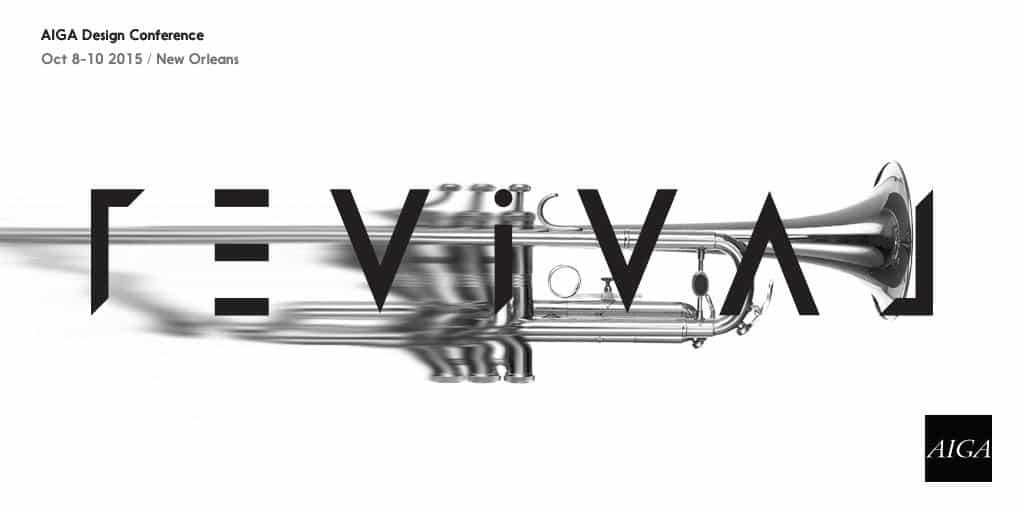 AIGA Design Conference
Another can't-miss design conference is AIGA Design Conference. For those unfamiliar, The American Institute of Graphic Arts, or AIGA, as it's more commonly known, is an organization of professional designers dedicated to design advocacy and education. Whether you're looking for insights into the latest trends in design, or trying to determine how much you should be charging as a freelancer, the AIGA website alongside some of its other properties, like Eye on Design Magazine, provides an invaluable resource for students and working professionals alike.
AIGA Design Conference, which will take place in New York City from October 12–14 this year, will be hosted by Debbie Millman, host of the popular design podcast, Design Matters. While the roster of speakers for the AIGA Design Conference may not feature any DJs with residencies in Vegas, it does feature a diverse collection of creatives who are all superstars in their own right.
Last year's event featured Arem Duplessis, Creative Director at Apple, Rick Griffith, Design Director at MATTER, and Lori Gross, GM for Brand at Microsoft. If you're lucky enough to attend the event in person, there are also plenty of opportunities to rub elbows with fellow attendees and speakers alike. You can learn more about the event here.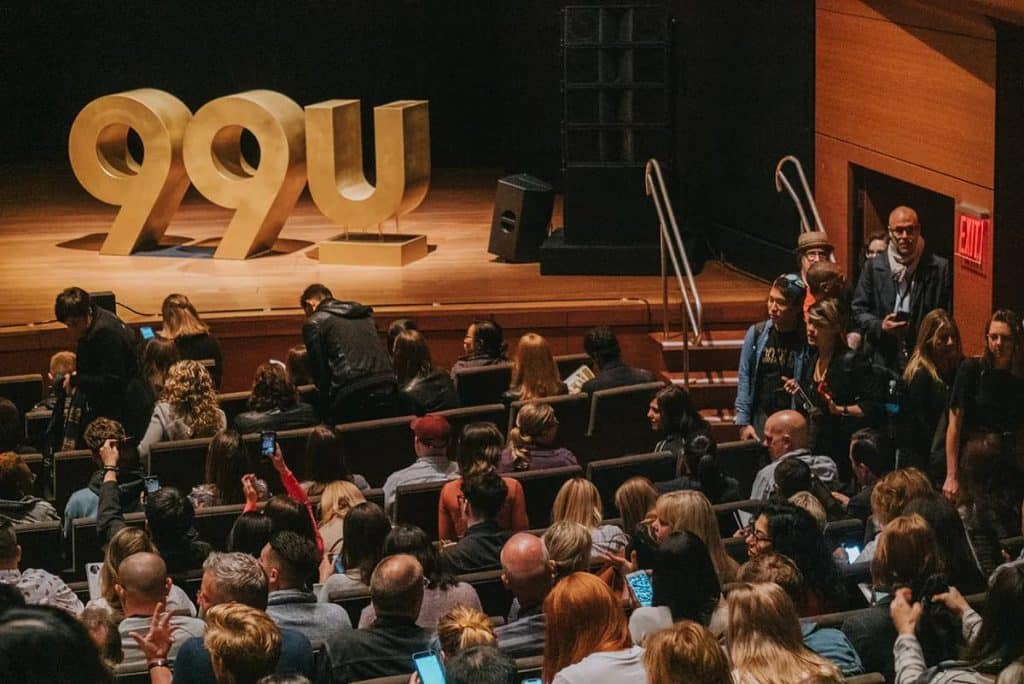 99U Conference
The last on our list is another event from Adobe, the 99U Conference. Unlike Adobe MAX, which tends to rely more on spectacle to get you excited about design and creative technology, 99U, which is a career-focused event, has a much more introspective tone. Keynote speakers at 99U often tackle subjects relating to design through a more personal lens.
Topics can range from larger picture concerns such as socio-political issues and power dynamics within the workplace to problems we experience on a more micro scale, such as self-worth and expressing gratitude. Like Adobe MAX, 99U also features workshops, though they tend to be more loose and conceptual, pertaining mostly to creative thought and process rather than the tool-based, tutorial-like workshops often found at MAX. You can learn more about the event and watch some of last year's keynotes here.
In addition to the major conferences covered in this article, there are many smaller, discipline-specific conferences that offer attendees the chance to dive more deeply into a specific area of focus, such as UI/UX or typography. These events offer much of the benefits of these larger events, such as networking and workshops, at a fraction of the price, so be sure to keep an eye out for any events that might be happening near you.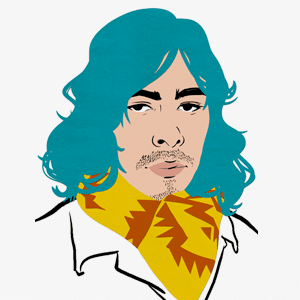 Taylor is the Managing Editor of Notes on Design. Taylor is a graphic designer, illustrator, and Design Lead at Weirdsleep.
Need to update your skills? Sessions College offers a range of online Creative Cloud courses in Adobe Photoshop, Illustrator, InDesign and more, as well as Certificate Programs in Web Design.
Are you interested in sharpening your business skills? Sessions College offers a wide range of advertising and marketing courses. Contact Admissions for more information.
If you are interested in developing your graphic design skills, Sessions College offers a range of graphic design courses for students at all levels. Contact Admissions for more information.