Online 2D Design Course
Design and Composition
What makes any image work, in graphic design or photography? Composition, literally the assembly or construction of elements, is the artful arrangement that guides the viewer's eye and unifies your work. In this online 2D design course, you'll develop your compositional skills by analyzing everything from Grand Masters to Madison Avenue ads to tubes of toothpaste. Through a series of artistic projects, you'll learn the principles of effective composition.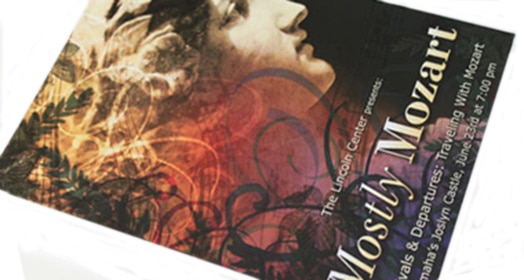 Poster design by student Julie Tork
Learn to apply fundamental 2D design principles
Instructor-Led Course
Feedback from design professionals
Creative Projects
Stretch your skills, grow your portfolio
Learn at Your Own Pace
Self-paced and scheduled programs available
Course Outline
1 - Shape and Form
Through composition, a design can be playful, serious, humorous, or moving. In Lesson One, you'll explore the concept of two-dimensional shape, a foundation principle in graphic design. You'll look at the way leading artists and designers use positive and negative space, creating intriguing effects through open, closed, and divided space.
Project - Spatial explorations
2 - The Elements of Design
Too big, too small, or just right? Lesson Two explores elements of design, looking at how unified compositions are created through proximity, repetition, continuation, and color. Balance and rhythm are explored as creative compositional strategies and you'll learn how to use the "Golden Section," discovered in 5th Century Greece, in contemporary compositions.
Project - Unity, balance, rhythm, and proportion
3 - Energy and Movement
How do designers attract the eye? By creating compositions with energy and movement. In Lesson Three, you'll learn how to create a strong focal point and move the viewer's eye along a chosen route in your work. You'll look at how overlapping planes energizes a layout through push and pull.
Project - Poster design
Course Outcomes
Students in this course can expect to learn to:
Develop an understanding of concepts in two-dimensional design, including positive and negative space, and how to test a composition for empty or crowded space.
Create three compositions showing an understanding of open, closed, and divided negative space.
Create a sense of unity in a composition with proximity, repetition, continuation, and underlying color.
Balance a composition by using color, value, shape, and position.
Incorporate repetitive, alternating, and progressive rhythm into a composition.
Create four compositions that demonstrate an understanding of unity, balance, rhythm, and proportion.
Create a focal point in a composition by using contrast, placement, or eye contact.
Identify how a viewer's eye is directed through a composition by line or organization of information.
Identify how a composition is affected by the visual push and pull of overlapping planes or the the viewing distance and angle of the work.
Create an ad design uses a focal point and movement to direct the viewer's eye through the ad.
Course Registration
Interested in this course? Scheduled and self-paced enrollment options are available. Ask Admissions about taking this course as part of a degree or certificate program.
Course Level
Classes start
Registration Fee
Tuition
Degree course
1.5-credit course, 7 weeks
Jan, Apr, Aug
$200
$510/credit
Vocational course
30 hour course, 3 months access
Enroll today, start tomorrow
$50
$619
* Registration fees are nonrefundable after 5 days from enrollment. All tuition includes a digital materials fee for updates to course or program content.

Software and Supplies
To take this course you'll need:
Computer with Internet connection.
Adobe Illustrator and Photoshop or equivalent programs.
Basic experience in the above software.
.
Course developed by Piper Nilsson
Enrolling online is easy and convenient.

Chat with our knowledgeable admissions staff to select course and program options.

Complete your registration entirely online.
Did you know? You can take this course as part of an award-winning certificate or degree program.