Online Art History Course
History of Art
What essentials do artists and designers just need to know? In this online art history course, you'll build a foundation in art and the artists who created it. You'll explore profound themes that have concerned artists for centuries: nature, the human body, society, religion, and politics. Through engaging lectures and projects, you'll learn how to identify the mediums, materials, and techniques artists use and discuss the styles of important artists, art movements, and historical periods from antiquity through the mid-20th century.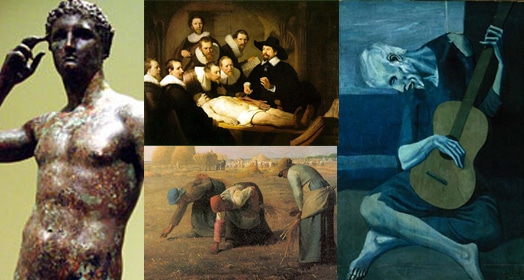 Learn about art in its social and historical context
Instructor-Led Course
Feedback from design professionals
Creative Projects
Stretch your skills, grow your portfolio
Learn at Your Own Pace
Self-paced and scheduled programs available
Course Outline
1 - The Language of Art
Lesson One begins by exploring the nature of art, the aesthetic experience, and the artistic process. You'll learn how to identify the visual elements in an artist's composition and study some of the important mediums, materials, and techniques used in creating art throughout the ages: drawing, painting, sculpture, and printmaking. To develop tools for thinking about art, you'll examine about some of the critical methodologies academics and writers have used to analyze art.
Project - Exhibition report
2 - Looking at Nature
Since the dawn of history, art has been influenced by natural world. Lesson Two explores how artists have looked at nature, beginning with cave art and early Egyptian, Islamic, and Chinese art, and extending through the Renaissance and Baroque periods to the 19th and 20th century. You'll learn how and why the representation of nature changed at critical junctures and explore the relationship between nature and abstractionism.
Project - Nature and abstract art
3 - Art and the Human Body
The human figure has always been a favorite subject for artists. Since ancient times, painters and sculptors have portrayed the most important people in their societies. In Lesson Three, you will study not just the treatment of the human body throughout the history, but also the motivations and psychological factors involved in portraying a human subject. You'll study the idealized figures of Classical Greece and Rome, and examine how this approach evolved in the Renaissance and Baroque periods and in 19th and 20th century sculpture. You'll also learn why the body of the artist plays such an important role in the contemporary art world.
Project - Men and women through the ages
4 - Art and the Social Realm
Art is a window on society. For centuries, art has been used for all sorts of social commentary: to express political beliefs, attack social ills, criticize war and poverty, send up kings and queens, and more. Lesson Four explores how representations of society have changed throughout the ages. Topics examined include the social and historical factors in Baroque art, Romanticism, Realism, Impressionism, Expressionism, Social Realism, and Pop Art.
Project - Representing labor
5 - Art and Religion
From Renaissance Rome to Africa, China, Japan, Central and South America (and beyond), artists have created art for religious and ritual purposes—or in modern times, grappled with spiritual and mystical themes. In Lesson Five, you'll explore the important role religion has played in art, studying ancient ritual objects, religious architecture, Byzantine mosaics, and even modern transcendental painting. The lesson will help you connect the traditional role of art in religion its modern-may manifestations, including myth, symbolism, and mysticism.
Project - Spirituality in art
6 - Art and the Politics of Power
Art with a social conscience can be political—a voice of protest, an attempt to spark awareness of an issue—or it can be documentary, a study of social relationships or a spotlight on a certain group of people. In Lesson Six, you will explore art's role in supporting or protesting against a specific ideology or political position. The lesson begins by examining art in Gothic cathedrals, which were once seats of political (as well as religious) power, and discussing the role of politics and patronage in Renaissance art. Then you'll learn how Dada and Surrealism emerged as art movements that challenged the values and power structure in art and study how Communists used art as propaganda. You'll wrap up with a look at Mexican revolutionary murals and modern Feminist art.
Project - Contemporary protest art
Course Outcomes
Students in this course can expect to learn to:
Develop an understanding of the materials and techniques used in drawings, paintings, prints, and sculptures.
Identify and discuss key turning points in the history of art and their impact on styles and techniques.
Knowledgeably analyze and discuss art with different historical periods and art movements including Classical Greece and Rome, Renaissance, Baroque, Romanticism, Impressionism, and early 20th century styles.
Identify distinguishing features of signature works of great artists.
Develop a critical vocabulary for discussing and analyzing art.
Develop an understanding of the theme of nature in art and its relationship to abstraction.
Develop an understanding of the representation of the human body in art and how it has changed in different eras.
Develop an understanding of the theme of realism in art and how artists throughout the ages have approached the subject.
Develop an understanding of the role of religion in art in the East and West through ritual objects, architecture, and artwork.
Develop an understanding of the role of power and protest in art from the Middle Ages onwards.
Course Registration
Interested in this course? Scheduled and self-paced enrollment options are available. Ask Admissions about taking this course as part of a degree or certificate program.
Course Level
Classes start
Registration Fee
Tuition
Degree course
3 credits, 15 weeks
Jan, Apr, Aug
$200
$510/credit
Vocational course
60 clock hours, 3 months access
Enroll today, start tomorrow
$50
$949
* Registration fees are nonrefundable after 5 days from enrollment. All tuition includes a digital materials fee for updates to course or program content.
Software and Supplies
To take this course you'll need:
Computer with Internet connection.
MS Word or equivalent program.
Course developed by Carolina Caycedo
Enrolling online is easy and convenient.

Chat with our knowledgeable admissions staff to select course and program options.

Complete your registration entirely online.
Did you know? You can take this course as part of an award-winning certificate or degree program.