Online Beginner Animation Course
Intro to Motion
How does animation actually work? In this online introductory animation course, you'll learn the 12 essential principles of animation including squash and stretch, anticipation, and exaggeration. Working with a professional animator, you'll explore how fundamental concepts in physics and motion are used to create sophisticated, convincing motion art in sequential art, video, 2D animation, and 3D animation, and more. Practical projects include stop-motion and flipbook-style animation.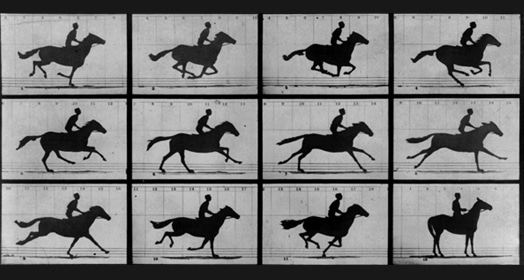 Discover how animation works
Learn the fundamentals of animation
Instructor-Led Course
Feedback from design professionals
Creative Projects
Stretch your skills, grow your portfolio
Learn at Your Own Pace
Self-paced and scheduled programs available
Course Outline
1 - Analyzing Moving Objects
All art is communication, and the struggle of motion art is to communicate the story of objects on the go. In the first lecture, we examine the pivotal concepts of physics that help us understand how to recreate real world motion in the minds of our viewers. We'll explore different forms of energy and force and the relationships between them. We'll also touch on Newton's three laws of motion, terminal velocity, and equilibrium.
Project - Motion capture
2 - The Motion Artist's Media
Once we start to understand how motion works, we face the choice of how to communicate it. In Lecture Two, we'll explore different categories of motion art, including motion in a single image, sequential art, low frame rate motion, and full motion video. We'll then look at techniques for achieving motion in those categories, highlighting the manipulation of position, scale, rotation, and distortion, as well as options for combining multiple techniques.
Project - Sequential art and stop motion
3 - The Shoulders of Giants
After studying why and how things move, and the different forms at our disposal for communicating movement in art, we will finish up the course by discussing time-tested principles for achieving believable and appealing motion art. We'll look at 12 canonized principles of animation, and we'll then examine how to apply these principles to actual animation workflows, with definitions and explanations of key terms and concepts like poses, blocking, key frames, breakdowns, and tweening.
Project - Flour sack animation
Course Outcomes
Students in this course can expect to learn to:
Relate concepts of physics (including energy, force, and motion) to the communication of movement in art.
Analyze the physics at work in examples of live motion.
Distinguish between four overarching categories of motion art: motion in a single image, sequential art, low frame rate motion, and full motion video.
Achieve motion on a 2D plane using the techniques of position, scale, rotation, and distortion, as well as combination techniques, such as parallax.
Use a webcam or digital camera to create single image, sequential, and full motion stop motion animation.
Build animated GIFs and full motion videos in MOV and MP4 formats.
Apply 12 traditional principles of animation in both 2D and 3D motion art.
Set up a pose-to-pose animation workflow with key frames, breakdowns, and tweening.
Create appealing and believable animations based on traditional techniques.
Course Registration
Interested in this course? Scheduled and self-paced enrollment options are available. Ask Admissions about taking this course as part of a degree or certificate program.
Course Level
Classes start
Registration Fee
Tuition
Degree course
1.5-credit course, 7 weeks
Jan, Apr, Aug
$200
$510/credit
Vocational course
30 hour course, 3 months access
Enroll today, start tomorrow
$50
$619
* Registration fees are nonrefundable after 5 days from enrollment. All tuition includes a digital materials fee for updates to course or program content.

Software and Supplies
To take this course you'll need:
Computer with Internet connection (broadband recommended).
Adobe Premiere, Photoshop, and Animate or equivalent programs.
Access to a webcam or digital video camera and ability to connect it to a computer to capture footage.
Basic experience in the above software.
Course developed by Greg Marlow
Enrolling online is easy and convenient.

Chat with our knowledgeable admissions staff to select course and program options.

Complete your registration entirely online.
Did you know? You can take this course as part of an award-winning certificate or degree program.