Online Color Theory Course
Color Theory
Color is an essential tool for any designer. Though each color has its own specific hue and value, the expression and perception of a color changes in different contexts. In this online color theory course, you'll learn how to work with color, discovering how to develop color schemes for your design projects. The course will range from fundamental color concepts and terminology to the practical application of color in typography and using color effectively on-screen.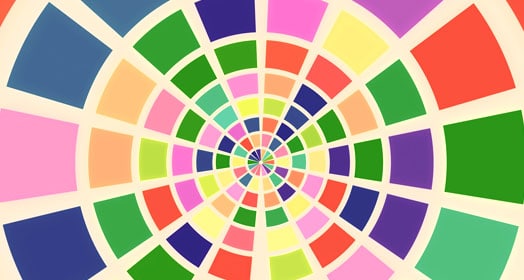 Hit the target with your color designs
Build a foundation in designing with color
Instructor-Led Course
Feedback from design professionals
Creative Projects
Stretch your skills, grow your portfolio
Learn at Your Own Pace
Self-paced and scheduled programs available
Course Outline
1 - Thinking About Color
To begin to understand how to work with color, we'll explore different ways of looking at it using the color wheel. The concepts of hue, saturation, and harmony will be introduced. Values and intensities of colors are explored using illustrations and real-world examples.
Project - Color relationships
2 - Color Interactivity
Colors can look very different depending on the other colors around them. Lesson Two explores how colors work with each other. You may be surprised by some of the effects and illusions that can be created by simple pairings of colors. We'll also look at light and how it affects the perception of color.
Exercise - Retro poster
3 - Color in Design
Designers use two very different "modes" of color in their work: color that is made of printing inks and color that is made from light in a monitor. The differences between these additive and subtractive color systems will be explored in Lesson Three. Other important topics covered include using color on the Web, combining color with typography, and incorporating color psychology in your designs.
Project - Book cover design
Course Outcomes
Students in this course can expect to learn to:
Identify fundamental color concepts including hue, saturation, value, and intensity.
Create color harmonies based on geometric connections of the color wheel.
Use color value and saturation to create moods relevant to specific products or design needs.
Create "mood boards" or color studies that illustrate specific types of color combinations.
Analyze how color presents an illusion of light in artwork.
Effectively apply the various illusions created by interactions of hue, contrast, value, and saturation.
Use color interactions to control which elements move forward or fade back in a design layout.
Identify the primary colors of light and pigment and how these colors are formed on screen and in print.
Use color to enhance the legibility of typography in different design scenarios including print design, Web design, and brand identity.
Define an approach to creating a color palette, applying it to design, and evaluating color effectiveness.
Course Registration
Interested in this course? Scheduled and self-paced enrollment options are available. Ask Admissions about taking this course as part of a degree or certificate program.
Course Level
Classes start
Registration Fee
Tuition
Degree course
1.5-credit course, 7 weeks
Jan, Apr, Aug
$200
$510/credit
Vocational course
30 hour course, 3 months access
Enroll today, start tomorrow
$50
$619
* Registration fees are nonrefundable after 5 days from enrollment. All tuition includes a digital materials fee for updates to course or program content.

Software and Supplies
To take this course you'll need:
Computer with Internet connection.
Adobe Photoshop or equivalent program.
Basic experience in the above software.
Course developed by Piper Nilsson
Enrolling online is easy and convenient.

Chat with our knowledgeable admissions staff to select course and program options.

Complete your registration entirely online.
Did you know? You can take this course as part of an award-winning certificate or degree program.