Online Visual Art Course
Intro to Visual Arts
What makes a painting work? What inspires a sculptor to create? Artists are influenced by the language of art and visual communication, historical and social forces, and the evolution of new modes of expression. In this online visual arts course, you'll deepen your art knowledge by exploring your own artistic creativity. You'll look at paintings, sculptures, experimental pieces, and more, learning to critique composition and decode their social or political purpose. Course projects include art themes and creating your own art pieces that demonstrate your grasp of course concepts in the medium of your choice.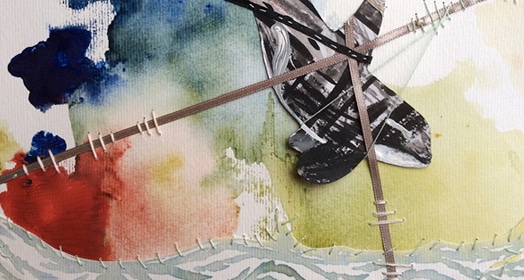 Student work by Samantha Mongardi
Explore the purpose and process of art-making
Instructor-Led Course
Feedback from design professionals
Creative Projects
Stretch your skills, grow your portfolio
Learn at Your Own Pace
Self-paced and scheduled programs available
Course Outline
1 - The Visual Alphabet
No matter the medium—paint, clay, photo, video, or beyond—the fine arts is based on a fundamental visual language. In the first lesson, you will be introduced to the foundations of fine art work including compositional and visual communication techniques. A wide range of essentials such as positive and negative space, balance and tension, and continuity and interruption are explored. In a feature interview, you'll be introduced to artist Raimond Chaves and his art and design techniques.
Project - Emotional/composition
2 - Historical and Social Function of Art
Some might say that all art is political in a way, reacting (or choosing not to react) to historical or social events. This lesson introduces classic and contemporary pieces created to illustrate, enhance, or protest historical, religious, and social events. You'll learn how art tells stories, records data, is used in rituals, makes social commentary, and even is used as therapy.
Project - Purpose in art
3 - Art as an Expressive Medium
Fine arts are all about expression, but there's more to it than just drawing, painting, and sculpture. In Lesson Three, you'll compare and contrast the traditional fine arts with other categories of the arts, including visual, applied, and experimental. Interdisciplinary arts that include contemporary dance, fashion, and more are explored, as well as game art through a feature interview with controversial game artist Anne Marie Schleiner.
Project - Interdisciplinary art piece
Course Outcomes
Students in this course can expect to learn to:
Identify the basic visual elements that form aesthetic experiences.
Identify fundamental composition and visual communication techniques.
Create art pieces that elicit emotion using specific composition techniques.
Identify historical and social purposes of art including religious ceremonies and rituals, storytelling, describing events, creating beauty, generating emotion, recording data, and art as therapy.
Identify historical and current uses of art as protest, propaganda, and commentary.
Create a composition relating to specific purposes for creating artwork.
Identify the relationship between the fine arts, visual arts, applied arts, and performance arts as components of the arts.
Identify types and movements of interdisciplinary arts such as fluxus and contemporary dance.
Identify trends in interdisciplinary practice such as fluxus and game modding.
Create a personal definition of the arts.
Create an interdisciplinary art piece demonstrating a specific theme.
Course Registration
Interested in this course? Self-paced enrollment options are available. Ask Admissions about taking this course as part of a certificate program.
Course Level
Classes start
Registration Fee
Tuition
Vocational course
30 hour course, 3 months access
Enroll today, start tomorrow
$50
$619
* Registration fees are nonrefundable after 5 days from enrollment. All tuition includes a digital materials fee for updates to course or program content.
Software and Supplies
To take this course you'll need:
Computer with Internet connection.
Basic supplies for an artistic medium of your choice (drawing, paint, video, digital imaging, and so on).
A digital camera (or ability to digitize film photos) to present your artwork digitally.
Course developed by Carolina Caycedo
Enrolling online is easy and convenient.

Chat with our knowledgeable admissions staff to select course and program options.

Complete your registration entirely online.
Did you know? You can take this course as part of an award-winning certificate or degree program.