Continuing Education – Web Design
Web Design Advanced Certificate
Enhance your web design skills or branch out creatively. In the Web Design Advanced Certificate program, you'll build a foundation in web coding, Adobe software, and visual design skills, and add area(s) of professional concentration.
As an Advanced Certificate student, you'll choose from a wide range of program options to meet your creative or career goals. For Web Design students, we recommend Advanced Web Design or Graphic Design. Pick your own path—customize your program for a deeper portfolio.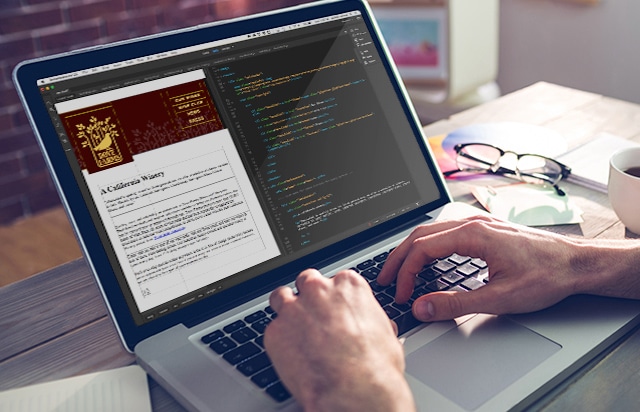 Add concentrations and expand your creative horizons.
Build a Deeper Portfolio in 12 Months
NEXT CLASS STARTS:
NOVEMBER 1ST
Gain A Foundation in Design Skills
Add Areas of Concentration
Complete Your Program in 12 Months
Program Outline
Professional Certificate - 9 months
Level 1
4218 Photoshop Basics
4017 Color Theory
5229 HTML And CSS Essentials
4221 Fundamentals of Typography
Level 2
5303 Bootstrap using Dreamweaver I
7110 Javascript For Designers I
5304 Bootstrap using Dreamweaver II
Choose a Concentration - 3 Months
Advanced Web Concentration
5415 Advanced CSS
5216 Web Typography
5013 Web Design I
5315 Wordpress Development
OR
Graphic Design Concentration
4228 InDesign Basics
4302 Advanced Typography
4013 Graphic Design I
OR
Customize your program by choosing one of 12 Available Concentrations.
"I loved everything about Sessions online courses. The instructors were all fantastic! They answered any question that I may have had during the course. I learned so much during the time that I was a student." - Virginia Lamp, Undergraduate Certificate in Illustration Design
Learn to design from a faculty of professional artists and designers.
Career Information
Graduates are prepared for entry-level positions in Web design and development. According to the US Bureau of Labor Statistics, web designers need "knowledge of both programming and graphic design."
Potential employers for Web design program graduates include specialized design firms (e.g. Web design firms), advertising agencies, publishers, computer systems design firms, and Fortune 500 companies. Job titles include Web Designer, Front End Designer, UX/UI Designer, and more.
Visit our Career Center for more information, or browse the Federal Occupational Handbook or O*NET database.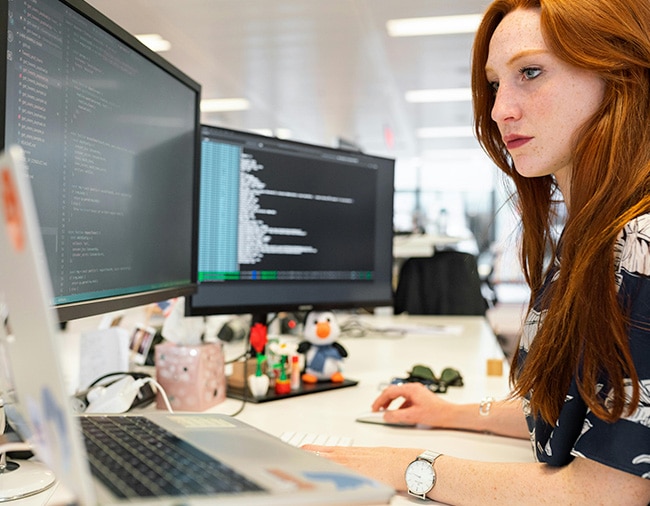 Enrolling online is easy and convenient.

Apply
Complete our free application form online.

Chat
Ask us about payment options and customizing your program.

Register
Confirm your payment and register online.
Open Admissions. The Advanced Certificate is open admissions, with classes starting each month. To apply for the program, simply complete our free, no-obligation application and select your program options. Applicants are expected to have graduated high school.
Twelve Month Program. Classes start at the beginning of each month. The program includes one Professional Certificate (9 months) and one Concentration (3 months). The program can be completed in 12 months studying on a part time schedule. Additional 3-month concentrations may be added. Students must complete the Professional Certificate in order to enter concentrations. If you need more time to complete, there is a painless extension policy for an additional 6 months of access for students who qualify based on academic progress.
To take this program, you'll need the following software and supplies. Student discount on Adobe Creative Cloud software is available to enrolled students.
Core Program
Mac or Windows computer with an Internet connection.
Adobe Photoshop, Illustrator, and Dreamweaver CC.
Your computer must meet software manufacturer requirements.
An ad-free Web hosting account (free services are available).
Concentrations.
Additional requirements will vary depending on your choice of concentration(s).
Effective May 1, 2020, tuition and fees for Advanced Certificate programs are as follows:
Advanced Certificate
Tuition
$4,025
Registration Fee
$200
Total Cost
$4,225
Paid in Full Discount: Total program cost is $3,999 for students who pay in full.
Enrollment in any certificate program requires a $200 registration fee (non-refundable five days after beginning of Orientation class or submission of first assignment). All tuition and fees must be paid on time, including those paid by third parties.
Payment Plan
Affording your education just got easier with our Payment Plan.
Pay for your Advanced Certificate with 13 monthly payments of $325.
Your first payment (which includes a $200 Registration Fee) is due at enrollment.