Creative Techniques: Oil Painting
Whether you are a designer, painter, illustrator or general crafts person you probably use a range of techniques in your creative projects. You may also have your go-to methods and modes of creation and have developed a personal style. Sometimes using a signature style is a very good thing but sometimes a style can become stale and a creative will need to bring in new elements to their process in order to create fresh work.
Artists and designers often do this by exploring different creative techniques. A creative technique can be one originating from within one's own creative field or have crossover application within multiple fields.
In this article series we'll look at a variety of techniques broken down by creative field, but applicable across mediums. First up, oil painting techniques:
Dry Brush
Dry Brush is a painting technique where the paint is applied with a broken uneven brushstroke so that the background surface is still visible. The Dry Brush technique is created using a mostly dry brush, which allows the paint to not go on smoothly in a wash of color. Dry Brush is different than other techniques because the brush is used at somewhat of an angle and dragged across the surface of the canvas or paper a bit.
In painting, the dry brush technique requires the motion of the brush to be confident and quick. The brush is pressed down so that the bristles splay out, creating multiple lines and patches of color.
Benoit St-Laurent's multimedia portrait of Christopher Walken uses a dry brush technique:
In applications like Adobe Illustrator and Photoshop, one can emulate this traditional painting technique and create interesting textures to incorporate within illustrations and digital art.
Handwriting fonts are also sometimes created with a dry brush method, and these fonts are notable as well for their broken, uneven brushstrokes. The Tooth & Nail font by Set Sail Studio is a great example of a dry brush font:
Stippling
Stippling is a painting technique where one can use a brush or other tool, like a sponge, to apply paint. Stippling is done with a quick, rapid application of the paint to the surface. The paint only barely touches the surface and the paint brush or sponge is directed vertically down on the surface, without any angle to the tool. In the featured image for this article, The Dessert: Harmony in Red by Matisse, stippling is used to color the white trees outside the window.
The stippling technique creates a texture with a more even application of paint than dry brush, but it still has a lot of visual interest through the somewhat random application of paint. The surface appears spotted and one can view subtle clusterings of paint.
Stippling is also emulated in applications like Adobe Photoshop and Illustrator. Artists often use stippling as a form of shading or commonly as a way to show facial hair.
Sara Barnett uses stippling as shading and to add visual interest to her Coldplay poster:
Often an artist or designer will choose stippling over a similar digital effect (like halftone) because it has a hand-made look. Illustrators use fine pens to create a stippling effect and scan these into applications like Illustrator where they can be traced and vectorized.
In Xavier Casalta's project Flowers and Fruits, stippling is used throughout as the main method of shading:
Stippling is also a painting technique that is used in interior design on walls and other surfaces. Potters and craftspeople also use stippling as a way to add textures to bowls, cups and other objects.
Scumbling
Scumbling is a lesser known oil painting technique that creates a hazy multi-tonal effect on a surface. Scumbling is created through the application of two layers of paint using a dry brush technique. Each layer is applied unevenly with some of the background surface showing through.
With scumbling, the brush is used lightly on the surface. Scumbling is a nuanced and fine technique that can be used to add a subtle layer of color to a base color or to mix two colors in a way where both colors have some defined areas and are not fully blended. Fuzzy or hazy areas can be created using scumbling — like animal fur, a wool coat, smoke or the surface of clouds. In the famous painting below we can see many areas of scumbling applied to the clouds, lake, and land surface.
A scumbling style effect can be created using Photoshop through the use of two PS layers, with areas of uneven color, and the Gaussian Blur filter applied. In the Color Beats digital art project by  Patryk Habryn blur and layering are used and emulate a scumbling effect:
Stay tuned for next week, when we look at photographic techniques and how they can be applied across mediums.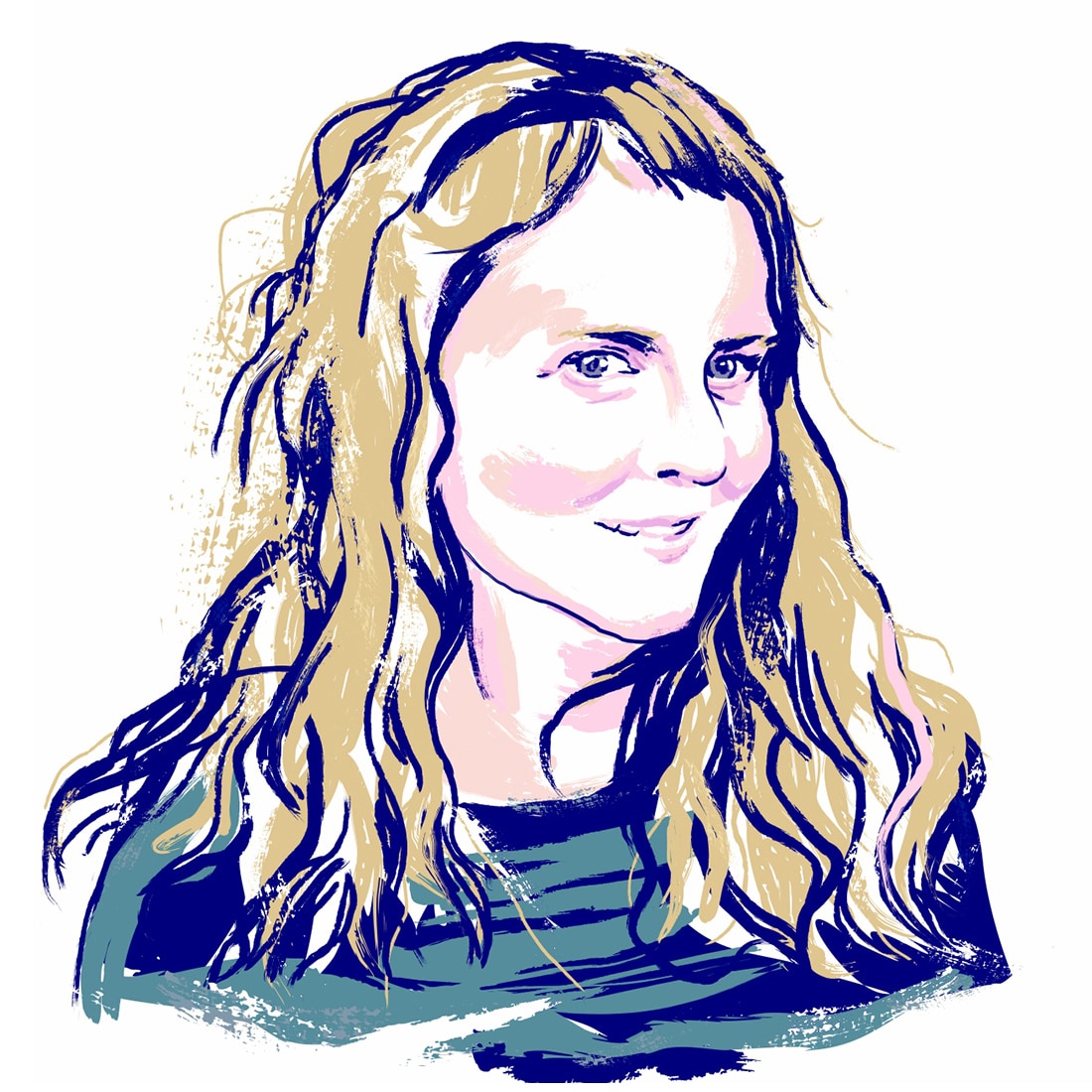 Margaret Penney is the Managing Editor of Notes on Design. Margaret is a teacher, designer, writer and new media artist and founder of Hello Creative Co.