Online Advanced Web Certificate
Undergraduate Certificate in Advanced Web Design
The Undergraduate Certificate in Advanced Web Design will provide experienced students with advanced training in the software and techniques essential to employment in the Web design industry. Students entering the program are expected to have a basic understanding of HTML and CSS and a working knowledge of Adobe Photoshop and Dreamweaver as they will be building upon the fundamentals and expanding into advanced tools and skill sets. Students will explore responsive design and advanced CSS frameworks, Wordpress, Web fonts, accessibility, and advanced Dreamweaver techniques. Classes in portfolio design and Internet marketing will help you promote your Web design services.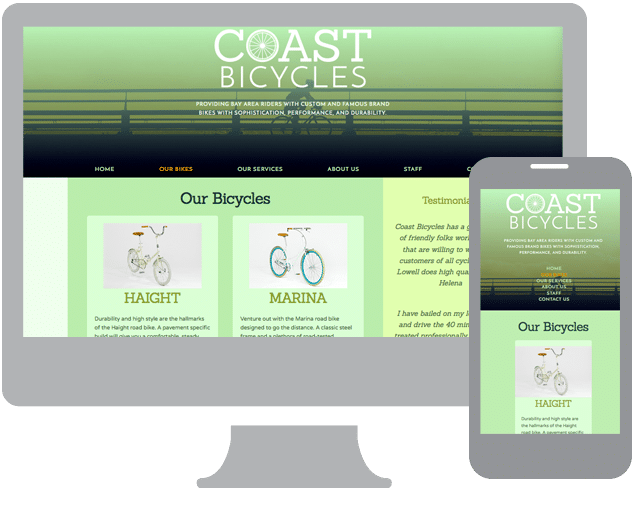 Student work by Dinesha Rosa, UC in Advanced Web Design
Hone Your Web Design Skills in Just Eight Months
NEXT CLASS STARTS:
APR 30TH

Creative Classes, Expert Instructors
Gain Software and Design Skills
Complete Your Program in 8 months
Program Outline
The Undergraduate Certificate is a 24-credit program completed in two semesters. Part-time schedules are available.
First Semester
WEB 209 Advanced CSS
WEB 232 Web Typography
WEB 212 Dreamweaver II
DES 222 Photoshop II
DES 102 Typography II
Second Semester
ILL 142 Illustrator II
WEB 206 Web Accessibility Design
WEB 233 Web Portfolio Design
WEB 207 Internet Marketing
WEB 240 Wordpress Development
Program Courses
The program builds current skills for entry-level Web design work or further study. All credits can be later transferred into the Associate in Web Design degree program.
WEB 209 Advanced CSS - 1.5 credits
Take your coding to the next level with flexbox, a new set of CSS properties that swoop in where floats leave off. Flexbox easily adapts to different screen sizes and different sizes of content, providing limitless, robust ways to structure page content, designing navigation, create column based layouts, and add sticky footers. The course also focuses on using scalable vector graphics (SVG). to create and animate images.
WEB 232 Web Typography - 1.5 credits
Students will learn contemporary techniques for styling text on the Web. Combining studies of both Web fonts and grid layouts, this course teaches students how to design for on-screen readability and effective vertical rhythm, as well as embellish text with CSS3 effects and build typography-driven information graphics
WEB 212 Dreamweaver II - 3 credits
In this course, Web design students will further their exploration of Adobe Dreamweaver, focusing on the use of CSS, templates, and library items to design consistent, multipage Web sites. Additional topics include using Dreamweaver behaviors and the Spry framework for Ajax to add image effects, animated content areas, and interactive navigation, and creating mobile and tablet layouts with CSS3 media queries.
DES 222 Photoshop II - 3 credits
Transcend the basic Photoshop skillset to learn vector illustration techniques, photo-realistic painting tools, high-impact typography approaches, and professional photo editing methods, all with attention to preserving the editability of your original images. Students will build proficiency with the Pen tool, select perfect color harmonies, use Smart Objects and Smart Filters to non-destructively edit images, and even create paintings with custom brushes and the Mixer Brush.
DES 102 Typography II - 3 credits
Learn advanced concepts in typography including type fusion, information hierarchy, expressive type, and 3D type applications. Assignments include advertising, product packaging, civic branding, and currency design. The focus of the course is on improving your design by learning to see type differently.
ILL 142 Illustrator II - 3 credits
Create photo-realistic illustrations, complex patterns, rich designs, and learn how to speed your efforts with helpful workflow features. You'll build on your existing Illustrator skills to tackle high-end projects with depth, dimension, and wow-power.
WEB 206 Web Accessibility Design - 1.5 credits
Web site content, navigation, and color schemes are often challenging for people with disabilities. This course gives students a basic knowledge of how to implement accessibility design practices on the Web. Students develop a broad understanding of current accessibility initiatives and how these guidelines impact Web designers, learning how to apply this knowledge in their work.
WEB 233 Web Portfolio Design - 1.5 credits
Students will learn to skillfully display and present their Web design work for potential clients. They will learn how to showcase their best work and build an attractive Web portfolio to serve as a platform for Web design services.
WEB 207 Internet Marketing - 3 credits
This course provides theoretical and practical insight into maximizing a company's marketing efforts online. Students will learn to create email marketing campaigns, optimize sites for search engines, build effective landing pages, manage social media presence, and conduct other online marketing activities. The course explores proven methods through case studies and practical exercises.
WEB 240 WordPress Development - 3 credits
Students will learn the fundamental principles and techniques of developing robust WordPress sites. After beginning with navigation and interface, students will progress to WordPress themes
Program Objectives
Create sophisticated, responsive layouts using CSS3, flexbox and SVG graphics.
Design and lay out typography for the Web utilizing Web fonts for readability, impact, or expression.
Develop a command of Adobe Dreamweaver to streamline the production of site layouts and interactive navigation and content.
Create vector drawings in Illustrator that demonstrate realistic and stylized techniques and that communicate complex concepts in digital form.
Prepare images for professional publication with Photoshop using illustration, photo-realism, and high-impact typography.
Develop an understanding of accepted standards for coding sites to maximize accessibility.
Identify current areas of strength and prepare and create a portfolio of your best design work for the Web.
Learn proven methods for optimizing a company or Web site's online marketing campaigns.
Learn the essentials of how to create customized Wordpress sites.
Financial Aid
Did You Know? Eligible students entering Undergraduate Certificate programs may be entitled to Federal financial aid. Grants and loans can help you cover the cost of your education.
"Every class I took during my time here has been a collaborative effort for everyone to learn the techniques and get better..." Kyle Gilbreath, Associate Degree in Graphic Design

Learn to design from a faculty of professional artists and designers.
Career Information
Graduates are prepared for entry-level positions in Web design and development. Potential employers for Web design program graduates include specialized design firms (e.g. Web design firms), advertising agencies, publishers, computer systems design firms, and Fortune 500 companies. Job titles include Web Designer, Front End Designer, UX/UI Designer, and more.
Visit our Career Center for more information, or browse the Federal Occupational Handbook or O*NET database. For Gainful Employment information on this program, visit this page.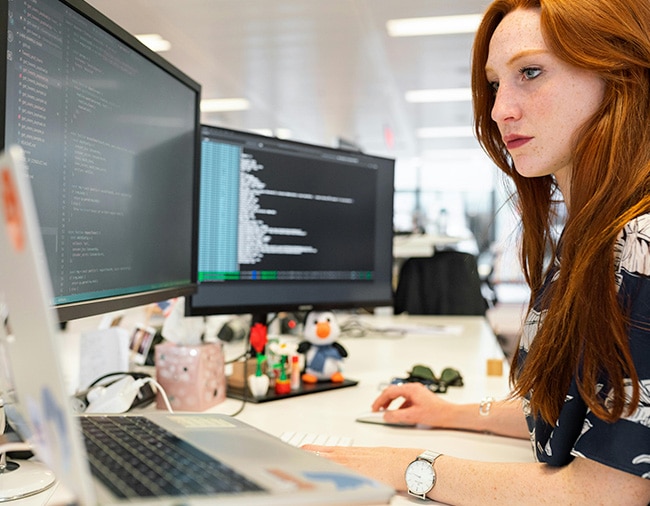 Take advantage of our award-winning programs. They're accredited, affordable, and delivered 100% online.
Enrolling online is easy and convenient.

Apply
Complete our free, no-obligation application form online.

Chat
Ask us about program options and financial aid.

Register
Select your start date and preferred study schedule.
Students entering the program are expected to have earned a high school diploma, GED, or state-approved home school equivalent. Any students under 18 years of age will need to provide the signed permission of a parent or guardian.
Classes start in January, May, and August, with early start options in February, June, and October. Our online application is simple and convenient, and there is no application fee.
NOTE: Students entering the program are expected to have a basic understanding of HTML and CSS and a working knowledge of Adobe Photoshop and Dreamweaver.
To take this program, you'll need the following:
Mac or Windows computer with an Internet connection.
Adobe Photoshop, Illustrator, and Dreamweaver CC.
Your computer must meet software manufacturer requirements.
A Web hosting account with an ad-free hosting service.
Webcam, headphones or speaker, VPN connection, and microphone connected to the computer for live proctored exams.
Student discount on Adobe Creative Cloud software is available to enrolled students.
The tuition for Undergraduate Certificate students is as follows:
Undergraduate Certificate Tuition
$425 per credit
$5,100 per semester
$10,200 total program tuition
Tuition for part-time students is $475/credit and paid by semester.
A $200 registration fee is required to process your enrollment in the program. Registration fees are nonrefundable after 5 days from the scheduled beginning of program orientation. (Active service members are exempt from registration fees.) See Undergraduate Certificate Tuition and Payment options.
Comparing programs? Browse some other degree or certificate programs you might like: