Art Careers: Wallpaper Design
Forest Yoga by Sarah Merenda 
Career options for the fine artist or illustrator do not have to be put into a traditional box. In this article we look at three artists that are producing their imaginative and provocative art as wallpaper.
The lucrative career path for these artists first meandered through the waves of creating book covers, logos, and textiles but now they appear as bold and original wallpaper designs. Geometric and brave alternatives to the ubiquitous floral and tiny print patterns adorning your mother's home have morphed, and are now making statements in the homes decorated by designers and fashionistas. The following artists are pushing the envelope and using various processes to create custom designs. This hot career is appealing to join as we see it endorsed by realtors and designers as an easy way to create a stylish and modern home.  
The large print wallpaper murals used to be cost prohibited but now digital technology advances make gorgeous custom looking panels affordable. For as little as $300 anyone can have a custom wall covering mural.  Home owners and renters alike have endless possibilities with this flourishing market.  
Wallpaper by Sarah Merenda has a hand drawn comfortable charm. Born in Chestertown Maryland she grew up with an entrepreneurial mother and a passion for art. "I always made art and helped my mother run her business," she says. "I used to go with her to crafts shows. It was from her that I got my work ethic and learned to do everything by myself. By high school, I was painting, drawing and spray-painting graffiti." Now with her own line of wallpaper at http://www.merendawallpaper.com/  Sarah's artistic drawings are sold by the roll for up to $300 each. She finds inspiration all around her, even finding the manhole covers of Brooklyn as visual gems.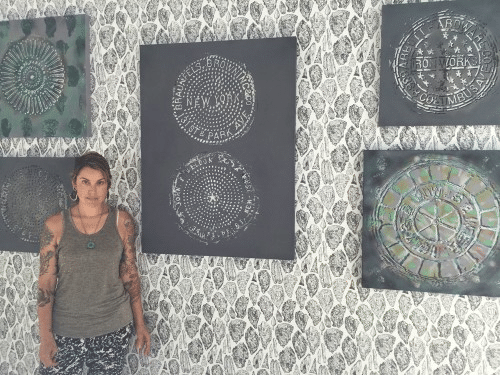 Brooklyn Manhole – Sarah Merenda
Sarah starts each design with a drawing, illustration, painting, rubbing, or photograph and manipulates the images with Photoshop before digitally printing them on eco-friendly paper for private clients, architects and interior designers.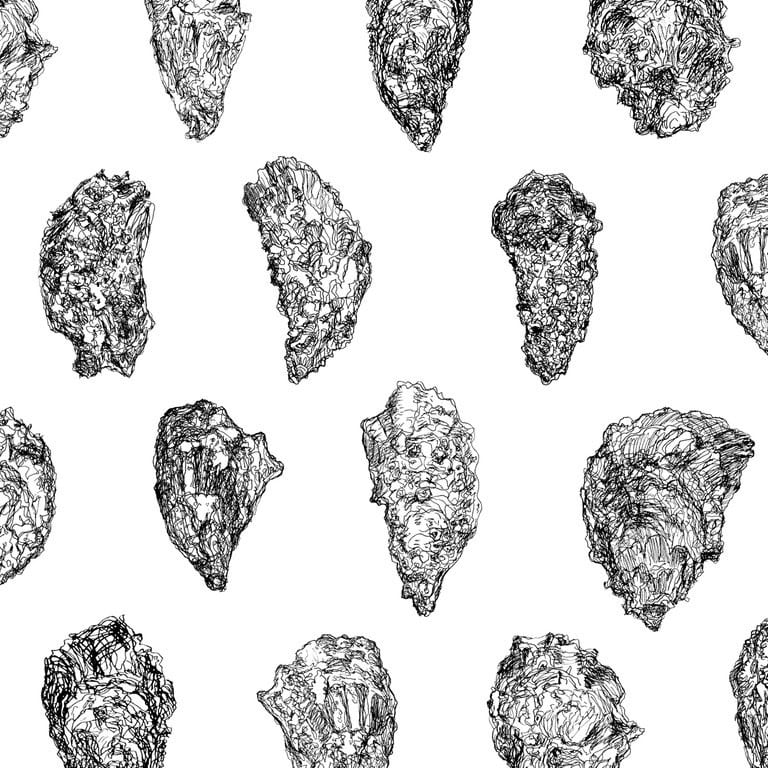 Oysters – Sarah Merenda 
Shocking his audience, Tom Maryniak (http://www.tommaryniak.com) uses woodblock printing techniques to create his wallpaper designs. Also creating logos, book covers and signs, he enjoys seeing his custom designs adorning walls as fine art.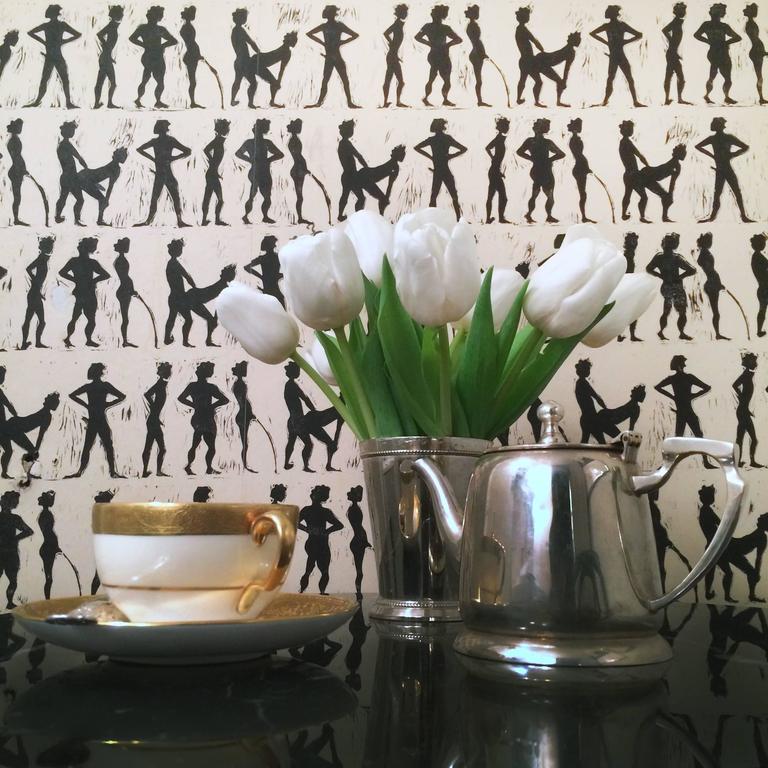 Grecian Porn – Tom Maryniak 
Maryniak states, "I've always tried, in my own work (and, in more recent years, in my wallpaper designs) to create something that stands out." His work is unapologetically provocative. A home with his handiwork would be sure to produce a blush and a chuckle from its guests. His wallpaper creations are originally designed, carved and printed on linoleum blocks in his London studio, and then converted into digital reproductions.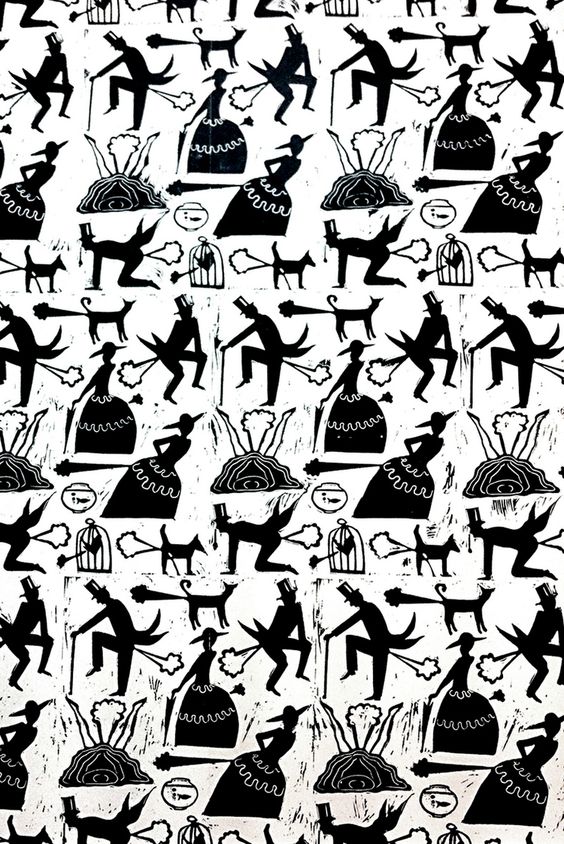 Victorians Farting – Tom Maryniak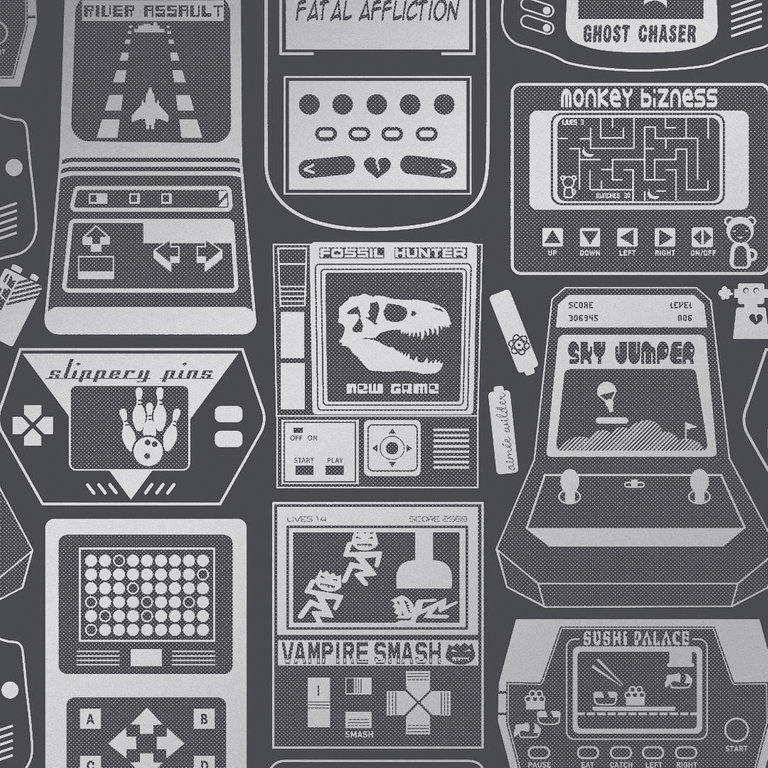 Gameland Army – Aimee Wilder 
New York artist, Aimee Wilder uses a screen-printing process to create her vintage inspired and eclectic designs. As an illustration degree graduate, she debuted her wallpaper line (see https://aimeewilder.com) in 2009.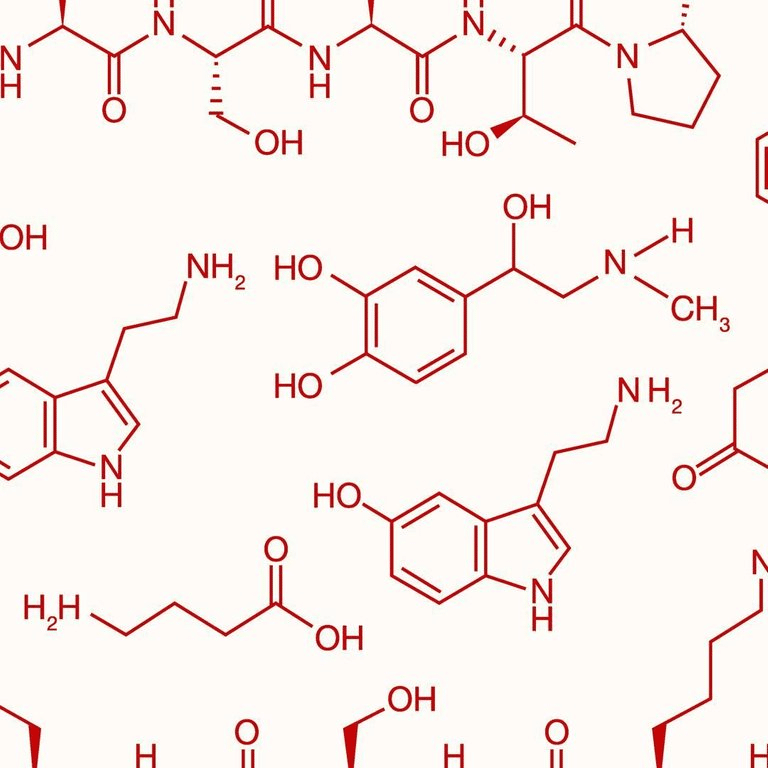 Love Molecules – Aimee Wilder 
The Love Molecule pattern is comprised of twelve molecular formulas of neurochemicals essential for life, love, and happiness: adrenaline, anandamide, androstadienone, dopamine, estrogen, gaba, norepinephrine, oxytocin, phenethylamine, serotonin, testosterone and vasopressin. A definite conversation starter, this design is started with a screen-printing process on a clay-coated, FSC-certified paper.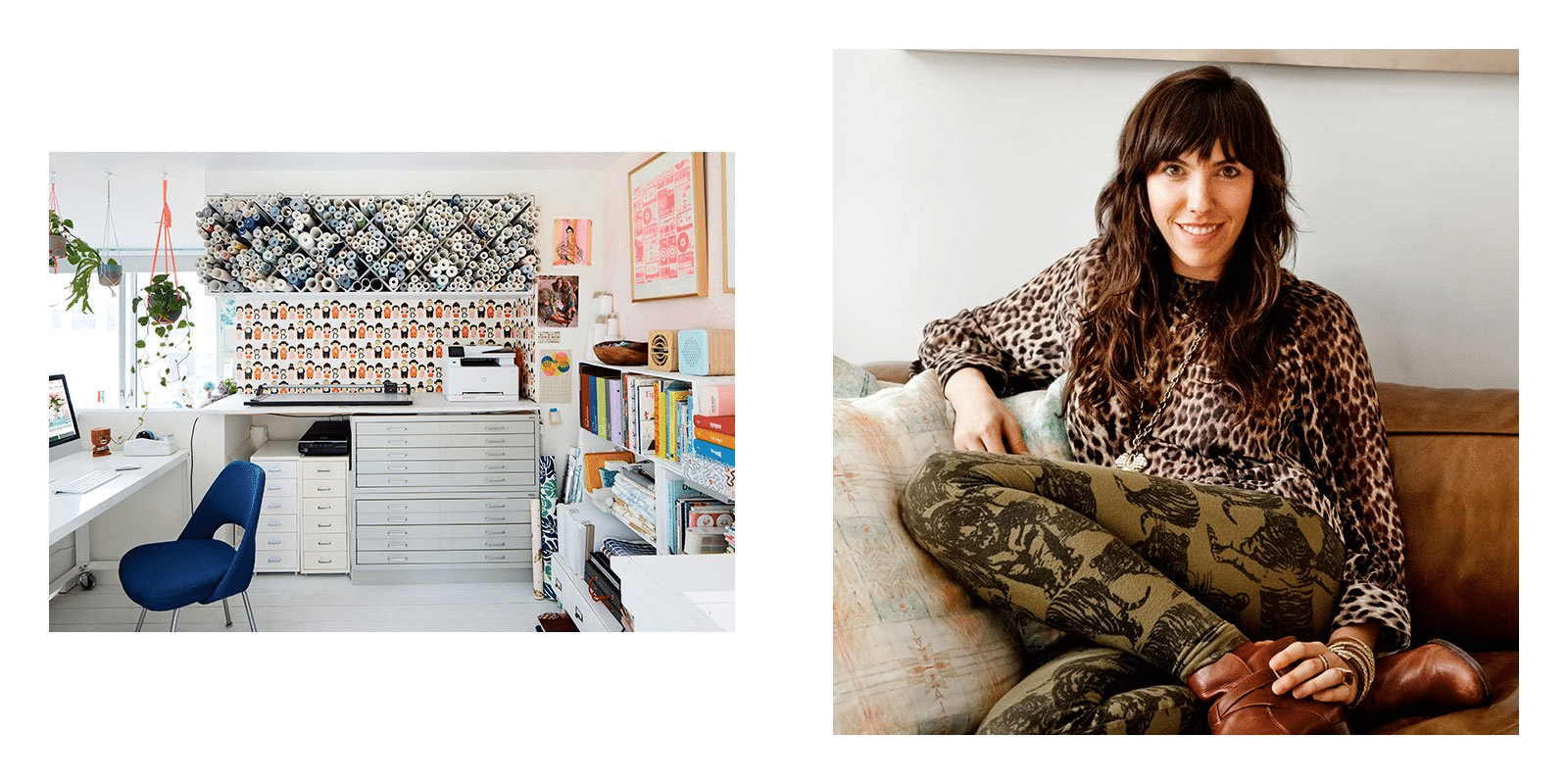 Wallpaper is recovering from its bad rap in a big way. It's now easier than ever to apply and remove. Its many options are fun and fashionable. Entering this career path is a beguiling way to express your artistic talents and produce your art on a magical level in a growing market. Take a look at venturing into this enjoyable career with your new art degree.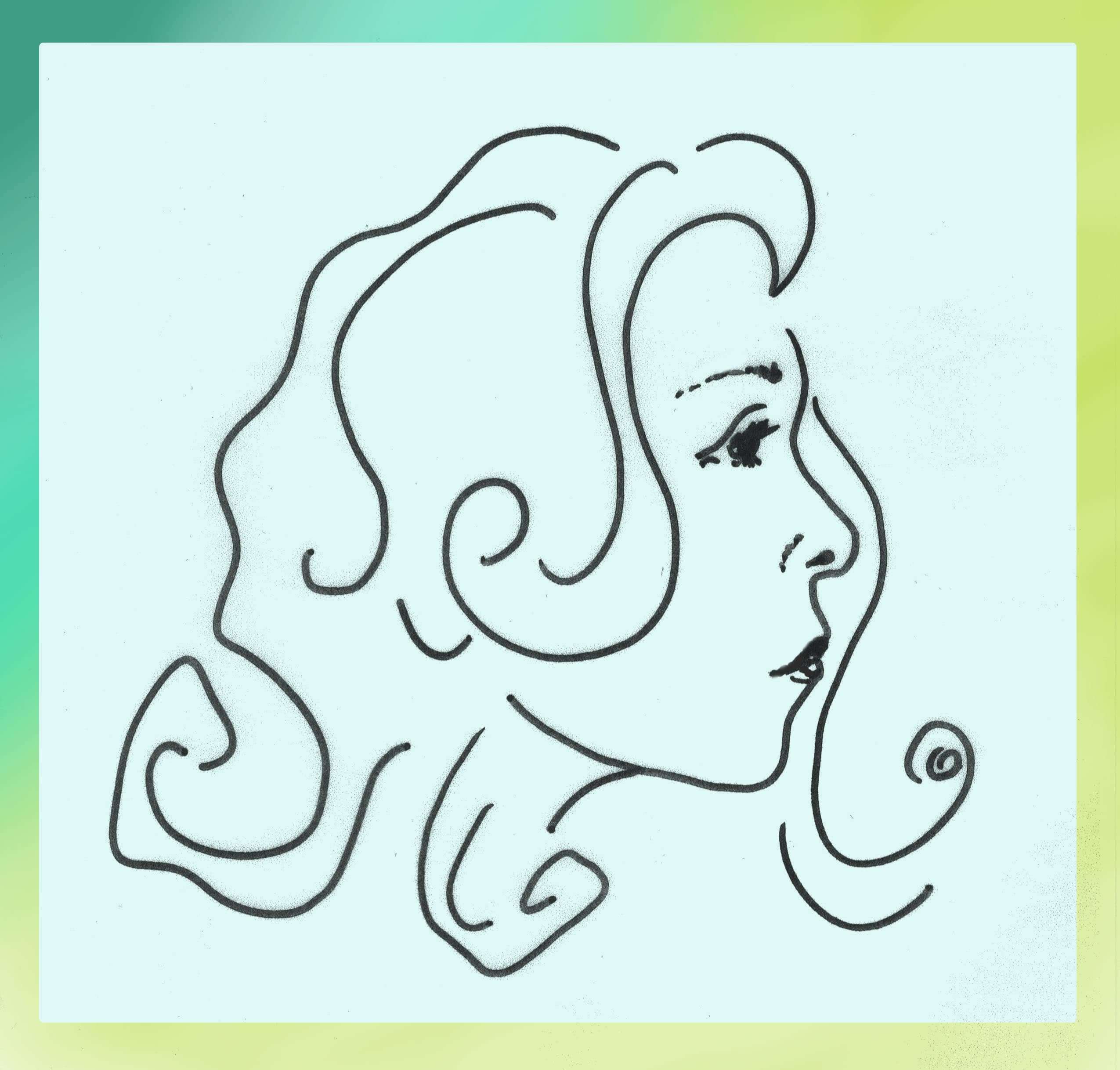 Jill Meyer is the Managing Editor of Notes on Design. A Scottsdale, Arizona resident, Jill is an artist, decorative painter, interior designer, and writer.