Sessions College Earns DEAC Renewal of Accreditation Through 2025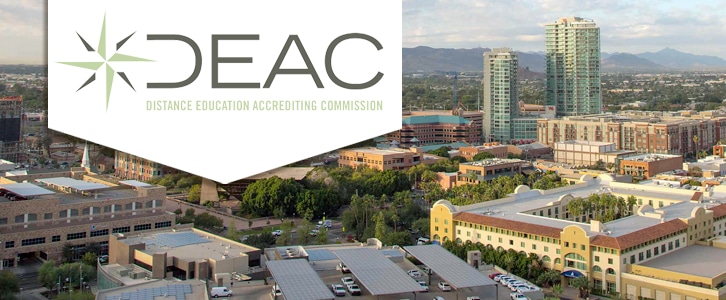 Dear Students,
I hope everyone is staying safe, healthy, and creative this summer during these challenging times with the COVID-19 pandemic.
I'm delighted to announce some exciting Sessions news: On July 17th, 2020, Sessions College received official notice of renewal of accreditation through 2025 from our institutional accreditor DEAC (Distance Education Accrediting Commission).
This is a tremendous accomplishment for our college, and a tribute to not only to our faculty, staff, and our programs, but to you, our students!
How so? Receiving renewal is the culmination of a 12-month process during which every aspect of our school is examined.
As a school undergoing accreditation renewal, in 2019 we conducted a comprehensive self-study designed to assess whether we meet the highest standards for schools. Do our decisions flow from our mission? Do our programs have outcomes that are realistic and meet employer needs? Are our faculty qualified and prepared? Do we conduct program assessments to evaluate student learning?  Do we have strategic planning to guide the future evolution of the school? Do we meet established benchmarks in terms of graduation rates, employment rates, and student satisfaction? And much, much more!
In the 2019/2020 school year, all of these questions were answered in an exhaustive, highly documented 250-page report, and our courses and programs were closely evaluated online by external subject matter experts. Then: A team of education and business leaders from other schools conducted an evaluation visit at the school to verify each aspect of the institutional report. During our March 5th, 2020 visit, evaluators interviewed staff, faculty, and students to get a holistic picture of the school.
At this point I want to say a major THANK YOU to all staff, faculty, and students for leading us to the "promised land" and helping us secure our renewal. There are too many to name (a cast of thousands) but I'd like to single out a few.
On our staff, Dr. Meryl Epstein, Director of Education, Tyler Drake, Director of Student Services, and Kimberly O'Hanlon, Senior Admissions Advisor, each played a key role in coordinating our report and our visit. Our faculty members, Andrew Shalat, Kristen Becker, and Felicia Kieselhorst, each kindly lent their perspectives in interviews. And from our  student body, special thanks to our AWESOME Student Ambassadors Kerstin Briar, Rachel Herring, Paolo Fulgenzi, Ashley Rich, and Katie Nelson for so ably representing the student experience.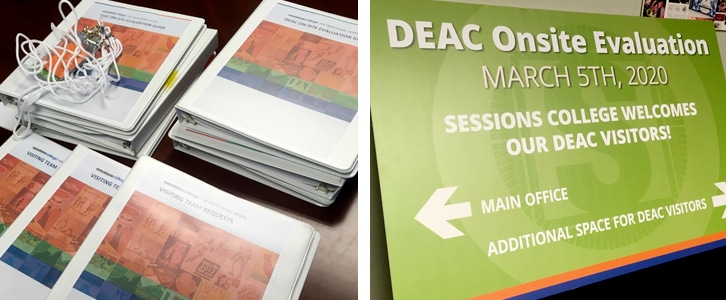 As you can tell, renewal of accreditation is not a trivial matter 🙂 Every school must "pass the bar" every five years. Founded in 1997, Sessions College has believe it or not, successfully passed the accreditation process five times. As a pioneer in online education, we have been delivering online, accredited education for almost twenty years. Some things that didn't exist when Sessions was first accredited include: Facebook, Youtube, Twitter, the iPhone, and a profitable Amazon.com. 🙂
Now, you may ask what exactly is accreditation—and why should you care that this honor conferred on your school?
As the President of Sessions College, I've had the good fortune to be involved in school accreditation since 2007, serving on a voluntary basis with the Middle States Commission on Secondary  Schools (2007-2015) and then with the DEAC Accrediting Commission (2017-present). During that time I've worked with talented, passionate school leaders from all sectors and gained insights into the value of accreditation and how it works in support of education in this country.
Simply put, accreditation is one of the cornerstones of quality in education today. In order to assure that schools and colleges maintain the highest standards in educational programs and business practices, the United States Department of Education recognizes specific accrediting agencies as "reliable authorities concerning the quality of education or training offered by the institutions of higher education or higher education programs they accredit." These agencies then work together with the Federal Department of Education and state agencies as a "triad" of agencies that continually monitor each institution to provide quality assurance for consumers and taxpayers.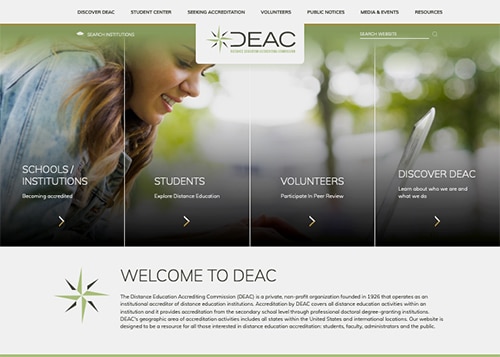 One thing that's a real asset to Sessions College as a fully online school is that we are accredited by the DEAC, the only accrediting organization in the United States that focuses on distance education.
Led by Executive Director Dr. Leah Matthews, the DEAC is an institution that gets online education, that understands its value as a mode of learning that empowers adult and non-traditional learners to pursue their digital learning and career goals. From my perspective, DEAC has a deep experience in how to use accreditation for not only quality assurance but also school improvement. By focusing on the importance of outcomes assessment or strategic planning (to name just two examples) DEAC is an organization that challenges schools to create structures and processes that endure and which deliver results for students.
As we all grapple with the extreme challenges and uncertainties of the COVID-19 era, we are living in a time when access to a quality online education is only going to become more important. As we navigate a socially distanced world, the entire traditional education community has been plunged into delivering online education in an effort to keeps schools and learning alive.
For many schools, there have been mixed results, because planning and delivering a successful online program is not a turnkey process—to make it work for students, everything about an online program, its content, its  goals, the structure of learning and assessment, who teaches the program and how they teach—should  be specifically designed for online or at least adapted to it.
As scientists search for a vaccine, our society will increasingly be looking to online learning to provide a high quality, affordable, accessible solution to learn digital and creative skills for a fast-changing job market. As a leader at Sessions College, I'm proud of how our institution and its students have met the challenge, and I'm looking forward to the launch of some new, exciting, and innovative program offerings that are in development as we take our school forward.
Thanks to all of you in the Sessions College community for making this continuing story possible.
For more information about the DEAC, visit deac.org. The Distance Education Accrediting Commission (DEAC) is a private, non-profit organization founded in 1926 that operates as an institutional accreditor of distance education institutions. The Distance Education Accrediting Commission is listed by the U.S. Department of Education as a recognized accrediting agency. The Distance Education Accrediting Commission is recognized by the Council for Higher Education Accreditation (CHEA).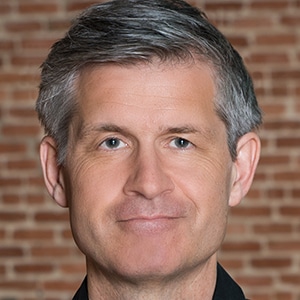 Gordon Drummond is the President of a Sessions College, where he is Director of Instructional Design, among many roles. He's passionate about education, technology, and the arts, and likes to surround himself with more talented people.