Profile of a Painter: An Interview with Dan May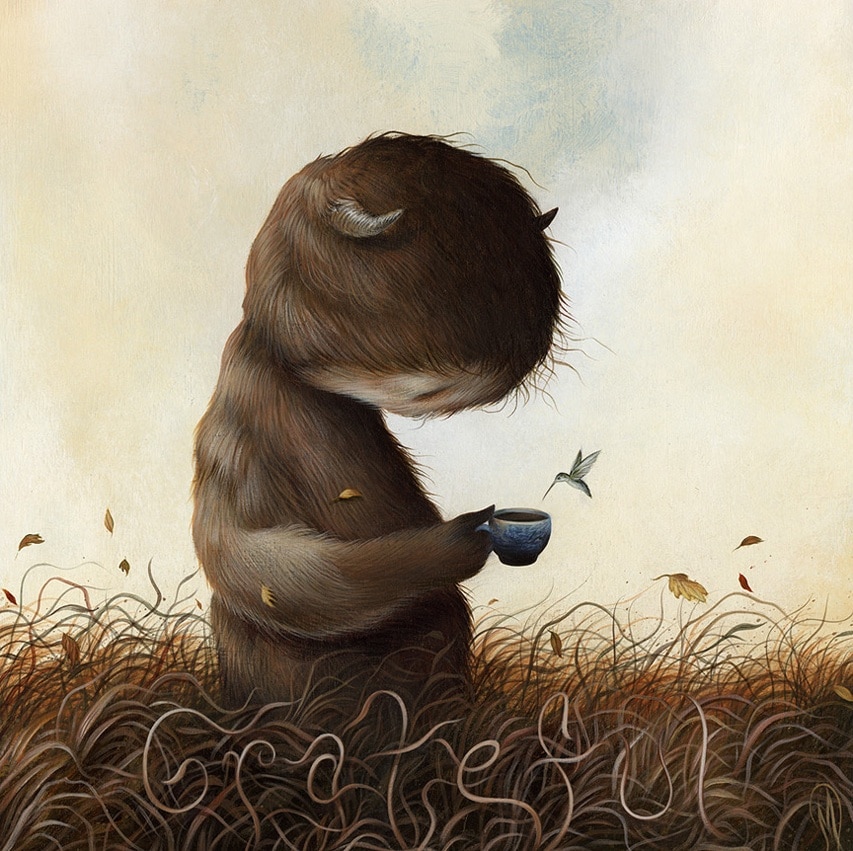 October Morning by Dan May, 2014 (image via danmay.net)
In this NoD series, we interview distinguished artists and designers to explore their work and uncover the secrets of their creative process.
Dan May is a modern narrative painter. A native of Rochester, NY, Dan attended Syracuse University where he achieved a BFA and began to immediately pursue his artistic interests. May weaves a rich texture of the surreal and mysterious into his highly original flowing style. His detail-intensive works have become widely recognized for their dreamlike ability to transcend the natural states of space and time. His paintings have been exhibited in galleries and museums throughout the world, including the 2013 Suggestivism show at the Acquario Romano in Rome. Dan lives and works in northern Michigan with his wife, Kendal and their son, Max.
---
Hi Dan, Thanks so much for your time! I'm looking forward to hearing more about your work and your artistic background.
First, when did you first start painting? Were you born with a paint palette in hand, or did your interest in art develop over time?
I was definitely a kid who was always drawing or painting from an early age. My parents have photos of me painting around age three. The coloring books in our house were all blank with the exception of my own drawings on the blank inside covers… noticing this, my parents started buying me sketchbooks and loose paper to keep me busy. I just loved it! It is something that I always have gravitated towards and just continued to work at throughout my life. My love of drawing and painting is definitely a part of who I am.
Your website bio uses the term 'modern narrative painter' to describe your work. What are some of the defining features of a narrative painting?
I think in general, narrative painting is telling a story. In my work in particular I am providing clues (with each painting telling its own story), and over time these clues add to the larger story. I never fully give away what each image is about, but they are all a part of the journey. My hope is that my work evokes emotions in the viewer and allows them to engage in the story in their own unique way.
Where Time Beckons the Wicked by Dan May, 2011 (high-res image at danmay.net)
You have a BFA in illustration from Syracuse university. How much of your technical expertise do you attribute to art school, and how much would you say is self-taught?
I think that they go hand in hand. Art education and learning through self experimentation have equally shaped my skills as an artist. If you choose to attend art school, you most likely are bringing not only skills, but a passion for art that you have developed through years of practice. While attending school you open yourself up to new techniques, new ways of looking at things, and ultimately continue to grow. School or not, I don't think that you ever stop learning and honing your skills as an artist.
Sap by Dan May, 2009 (image via danmay.net)
There are so many different types of creative work styles. What does your average creative workday look like? Do you try to paint a bit every day, or do you work in concentrated bursts?
I have always been a night owl. The evening hours have been the most productive time for me. Having our first child this past year definitely presented a bit of a challenge, but with time we were able to create schedule that works great. A typical day will begin with 'office hours' (printing/packing/shipping/emails/etc.), and once the evening rolls around I begin painting (usually around 8:30) and I work until 3 or 4am. I paint or draw every day.
Have you ever experienced "artist's block?" If so, what are some strategies you've used to overcome it?
Luckily this has not happened to me. I am constantly working and back logging ideas. My problem is that there are not enough hours in the day to complete all that I would like to! My hope is that this creative 'well' never dries up.
Plight of the Wanderer by Dan May, 2014 (image via danmay.net)
The linework in your paintings has a very ethereal quality. I love the way you use textures like hair, grass, and ribbon to communicate a sense of motion.
Can you talk about what you're trying to communicate with hair or similar elements in your work?
Yes, I have a fondness for line work. Not only do I enjoy it for aesthetic reasons, but the process of creating the flowing lines is somewhat meditative to me. It is an ever-evolving theme in my work. It has come to represent many things, but overall I think that it represents a sense of mystery and evolution. It is a symbol of our "journey" through life.
Contemplation of Jupiter Rose by Dan May, 2011 (image via danmay.net)
Your work also heavily features "beastlike" creatures and wild animals, many of whom appear docile. Have you always been interested in beasts as a subject matter, or were you surprised to find this recurring theme in your work?
Going back as far as I can remember I have been drawing and painting my own little worlds of critters and creatures. While attending college I broke away from this a bit as I focused primarily on technique and painted more realistic illustrative pieces. Once I graduated and was in search of 'my style' I realized that I could go back to my roots and just create my own worlds again with the new techniques that I had acquired. My 'world' has continued to evolve ever since.
At the Water's Edge by Dan May, 2013 (image via danmay.net)
---
Your paintings have been widely featured in galleries, and in publications around the world.
Many beginning artists don't know how to navigate the gallery scene. When you were getting your start after art school, did you approach galleries or did they approach you?
After graduation I began pursuing illustration jobs and began working regularly as an illustrator. As my portfolio began to grow I found myself posting my personal work to various online sites; from there certain images would get picked up on blogs and art websites and I began getting requests to take part in shows. For a while my schedule became over run with group shows and I found myself taking on less and less illustration work. These days I still take on an occasional illustration job, but that whole industry has changed dramatically and my time is devoted almost entirely to creating my personal work.
Do you have a personal favorite piece? Can you think of a piece that was particularly fun to work on?
To be honest, it always seems to be the most recent painting that I am working on. All of my creative energy is focused in that moment in time. Whatever is currently on the easel feels like a 'favorite' to me. Each new painting is an opportunity to 'out-do' myself and create a personal best. That said, looking back there are certain pieces that do stick out to me. Viewing these works I can recall a particular moment in time and that makes it special to me.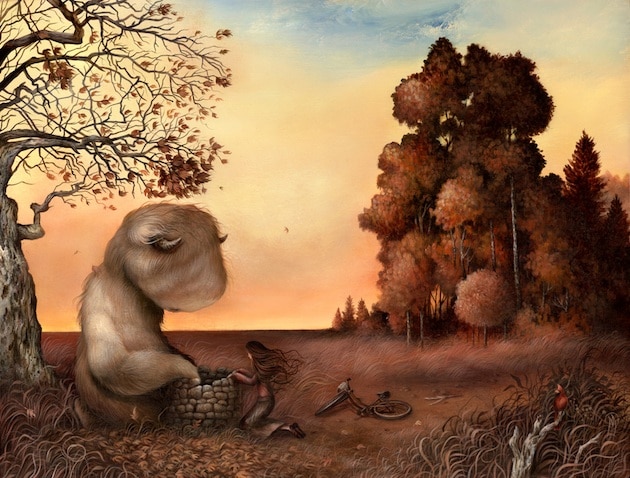 The Well by Dan May, part of a November 2014 series (image via danmay.net)
Finally, because NoD is all about inspiring young creators, do you have any advice for aspiring artists?
I would say that it takes an endless amount of dedication, hard work, promotion, and support, to be an artist. Make sure that you develop and maintain a solid web presence. The internet has made the art world a much smaller place and you never know where an opportunity might come from. Continue creating and challenging yourself everyday.
Thanks for your time, Dan! It's been a treat to explore your paintings and to learn about the beautiful worlds you create. Keep in touch with Notes on Design and let us know about your future work!
Want to follow Dan online? Check out the following links:
Website: www.danmay.net
Twitter: twitter.com/danmayart
And more on:
Facebook: facebook.com/danmay.art
Instagram: instagram.com/danmayart
Tumblr: danmayart.tumblr.com

Hannah Shaffer is a Web designer and game designer with a love for community-based learning. Hannah was the NOD Managing Editor in 2014.