Sessions College Announces Annual Graduate Awards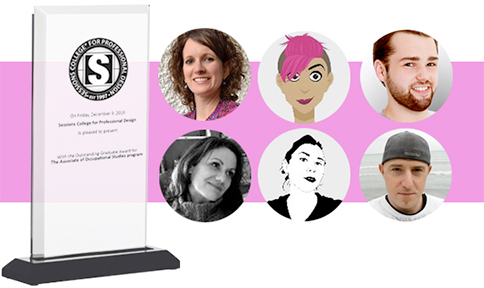 Tempe AZ - January 11, 2017
Online students can do remarkable work. That's the message Sessions College for Professional Design www.sessions.edu is sending with the launch of its annual Outstanding Graduate Awards program. In December, Sessions College announced that six of the school's online 2016 graduates would receive awards for outstanding student achievement.
The students honored all completed fully online two-year degree programs, studying across the U.S. and abroad at locations as diverse as Victor, Montana, Washington, DC, Ontario, Canada, and Palmerston, New Zealand. Award recipients were carefully selected by staff and faculty for academic excellence, strength of creative work, and overall contributions to the school. Awardees received a commemorative plaque and a commendation for future employers.
The award recipients are: Chris Telford, Ontario, Canada; Eladia Laines, San Leandro, California; Jessica Somerton, Palmerston, New Zealand; Kim Schiavone, Victor, Montana; Natasha Gonzales, Pueblo, Colorado; Scott Warren, Washington, D.C.
The awards program is not only designed to reward achievement, it's also important to the cause of promoting the quality of online education. Founded in New York City in 1997, Sessions College was among the first accredited online art/design programs. It has since grown from a boutique provider of courses to an online college offering a range of Title IV eligible degree programs in graphic design, web design, digital media, photography, and more.
For many online schools, broader recognition has been hard to come by. "Over the last few years, there's been a steady stream of negative press about online programs," explains Gordon Drummond, President of Sessions College. "At most accredited online institutions, the reality is very different. At Sessions, we see many incredibly talented and dedicated students graduate each year with career-ready skills."
Can online programs provide success? Interviewed about their student experiences, the 2016 award recipients seem to think so. Graphic Design award winner Chris Telford from Ontario, Canada, credits the support of his staff and instructors for pushing him to reach another level: "The staff have been great to work with, and the instructors challenged me to find the next step in my development." Web Design winner Natasha Gonzales from Pueblo, Colorado appreciated "how focused and applicable the curriculum was."
"After finishing school in April," says Web Design award winner Jessica Somerton, "I worked really hard on putting my portfolio together and started applying for jobs. In June, I was offered a job as a Graphic Designer! I don't think that would have happened without the solid, varied portfolio Sessions helped me to build."
"We are really proud of these students and we want to get the word out about what they can do," says President Drummond. "We also want to get the word out again about the potential of online education. In the right program, it can be not only an affordable and convenient way to gain skills and a credential, it can also be a challenging and meaningful experience that produces capable graduates."
Sessions College is accredited by the Distance Education Accrediting Commission (deac.org) and by Middle States Commission on Secondary Schools (msa-cess.org) at the certificate program level. Sessions College is licensed by the Arizona State Board of Private Postsecondary Education (ppse.az.gov) and approved by the National Council for State Authorization Reciprocity Agreements (nc-sara.org) as a SARA institution.
To find out more about these award-winning students and view their work samples and instructor commendations, visit the 2016 Outstanding Graduates Awards section at sessions.edu. For more information on Sessions College for Professional Design, visit About Sessions.
About Sessions College
Sessions College offers accredited arts online degree and certificate programs as well as individual courses. Its mission is to prepare art and design professionals for successful careers by providing the highest quality of online design education. Students gain a thorough training in the technical, creative, and critical-thinking skills that are required for a fast-changing industry.
Back to The Newsroom