Sessions College Sees High Interest in VRRAP Eligible Design Programs
Online Design College Programs Address Increased Demand for Creative Digital Design Talent
TEMPE, ARIZ. OCTOBER 25, 2021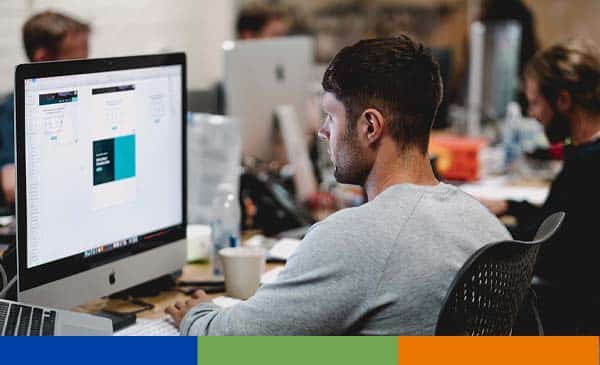 Sessions College for Professional Design ("Sessions") has increased its support function for its increasing military enrollments, most recently due to the high interest from enrollees in the Veterans Rapid Retraining Assistance Program (VRRAP).
The VRRAP program looks to help veterans whose careers have been negatively affected by the COVID-19 pandemic. In March of 2021, 5% of all veterans looking for work noted they have exhausted all of their job training opportunities, and cannot find stable employment. That number is close to double the national average.
As the industry has shifted, tech companies are needing an endless amount of creative talent with skills and disciplines associated with digital media, video, and branding. According to recent research, the demand is especially strong for graphic designers, video editors, social media producers, digital artists and photographers.
Sessions offers VRRAP enrollees the ability and skills to take advantage of this exciting market opportunity with:
Six accredited, credit-bearing certificate programs in graphic design, web design, digital media, digital photography, illustration, and advanced web design
An innovative, fully online, asynchronous, project-based educational paradigm results in the specific skills needed for the design industry
Approved under the GI Bill and Department of Labor high demand job training criteria
"VRRAP demand for our programs has been tremendous," said Louis J Schilt, Sessions Military Liaison. "Students are finding our programs rigorous, but supportive through a faculty and support team that are passionate and instrumental in preparing Veterans for a dynamic, creative, and lucrative career in the design industry."
Students graduate with not only a Certificate, but a professional level portfolio of work, mandatory for employment and client recruitment. In addition, graduates can easily transfer 24 credits to a Sessions College Associate of Occupational Studies or Bachelor of Fine Arts degree.
Sessions College is the pioneer in accredited and affordable online skills-based education that readies adult and college age learners for the digital design workforce. Founded in 1997, Sessions College offers project-based bachelor and associate level degrees and certificate programs for in demand careers in art, design, and photography. Students learn via real world projects that reflect the latest industry-relevant skills. Sessions College is accredited by the Distance Education Accrediting Commission (DEAC) and the Middle States Commission for Secondary Schools (MSA-CSS) and is approved to deliver its online degrees and programs throughout the United States by the National Council for State Authorization for Reciprocity Agreements (NC-SARA)
Sessions College Dean Wins USDLA Award for Leadership in Distance Education
May 17, 2023
Sessions College Continues 10 Year Trend of Winning Design Industry Competitions
January 30, 2023
Sessions College Featured on Trending in Ed
December 6, 2022
Sessions College President Featured on Higher Ed Podcast
October 5, 2022
Sessions College Creates New Pathways for Adult Learners
September 15, 2022
Sessions College Increases Choices in Innovative Design Certificates
November 24, 2021
Sessions College Certified as "Great Place to Work"
November 19, 2021
Sessions College Sees High Interest in VRRAP Eligible Design Programs
October 25, 2021
Sessions College Recognized for Quality, Affordability, and Design
October 11, 2021
Sessions College Again Ranked Among the Best Online Colleges
September 15, 2021
Sessions College Provides Prestigious In-Demand Industry Credentials
August 18, 2021
Sessions College Launches Online BFA Programs
November 24, 2020
Sessions College Announces 2020 Outstanding Graduate Award Recipients
September 23, 2020
Sessions College Expands Advisory Board
August 26, 2020
Sessions College For Professional Design Adds Neil Edwards to Board of Directors
August 18, 2020
Sessions College Seeks Expanded Opportunities for DigitalComplete
August 12, 2020
Sessions College Named to Most Affordable College Tuition and Top Design School Lists
August 7, 2020
DEAC Renews Sessions College for Professional Design Accreditation Through 2025
July 29, 2020
Kimberly O'Hanlon
Senior Director of Admissions
(480)212-1704 ext. 155
kimberly@sessions.edu