Sessions College Again Ranked Among the Best Online Colleges
In Demand Skill Based Design Programs With Industry Leading Metrics
TEMPE AZ – September 15, 2021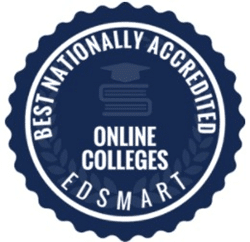 Sessions College has again been recognized as a leader in online education by EDsmart which provides college rankings, reviews and ratings according to data collected from the U.S. Department of Education and other reputable sources.
Sessions College was ranked #21 of 65 nationally accredited online colleges and the only design school in the top 60 schools ranked. Rankings are based on affordability, academic quality, student satisfaction, and student outcome.
"At Sessions College, we understand that education is an investment in one's future, and we're committed to providing a great return on those educational dollars," said Doris Granatowski, Sessions CEO. "An affordable program is valuable only if a student receives an education that is respected in the job market."
True to its mission, Sessions' innovative asynchronous project-based educational paradigm results in the specific skill based needs of design industry employers and clients.
Sessions' fully online degrees and certificates provide a high quality, engaging, and industry-relevant education for those who seek rewarding careers in high demand, dynamic and lucrative fields. Graduates report a high rate of success in advancing their careers and getting a creative job—at rates that compare favorably with traditional schools.
As the industry has shifted, tech companies are needing an endless amount of creative talent with skills and disciplines associated with digital media, video, and branding. According to recent research, the demand is especially strong for graphic designers, video editors, social media producers, digital artists and photographers.
About EDsmart
EDsmart reviews publicly available data to produce independent ranking assessments of various educational programs, in addition to student guides and resources. The site is regularly updated by a committed team of writers and researchers, who produce college rankings and resources that will help prospective and current college students get into, pay for, and thrive at the college of their choice.
About Sessions College
Sessions College is an online school of visual arts offering degree and certificate programs in Graphic Design, Web Design, Illustration, Photography, and more. To find out more, visit Admissions.
Sessions College Website Redesign Recognized as Winner in GDUSA's 60th American Graphic Design Awards
November 16, 2023
Sessions College Dean Wins USDLA Award for Leadership in Distance Education
May 17, 2023
Sessions College Continues 10 Year Trend of Winning Design Industry Competitions
January 30, 2023
Sessions College Featured on Trending in Ed
December 6, 2022
Sessions College President Featured on Higher Ed Podcast
October 5, 2022
Sessions College Creates New Pathways for Adult Learners
September 15, 2022
Sessions College Increases Choices in Innovative Design Certificates
November 24, 2021
Sessions College Certified as "Great Place to Work"
November 19, 2021
Sessions College Sees High Interest in VRRAP Eligible Design Programs
October 25, 2021
Sessions College Recognized for Quality, Affordability, and Design
October 11, 2021
Sessions College Again Ranked Among the Best Online Colleges
September 15, 2021
Sessions College Provides Prestigious In-Demand Industry Credentials
August 18, 2021
Sessions College Launches Online BFA Programs
November 24, 2020
Sessions College Announces 2020 Outstanding Graduate Award Recipients
September 23, 2020
Sessions College Expands Advisory Board
August 26, 2020
Sessions College For Professional Design Adds Neil Edwards to Board of Directors
August 18, 2020
Sessions College Seeks Expanded Opportunities for DigitalComplete
August 12, 2020
Sessions College Named to Most Affordable College Tuition and Top Design School Lists
August 7, 2020
DEAC Renews Sessions College for Professional Design Accreditation Through 2025
July 29, 2020
Press Contacts
Kimberly O'Hanlon
Senior Director of Admissions
480-212-1704 ext. 155
800-258-4115 ext. 155
Email: kimberly@sessions.edu
Chat: http://www.sessions.edu/chat/