Sessions College Certified as "Great Place to Work"
Innovative Online Design College Proves New Normal Operating Environment Works
TEMPE, AZ (November 17, 2021)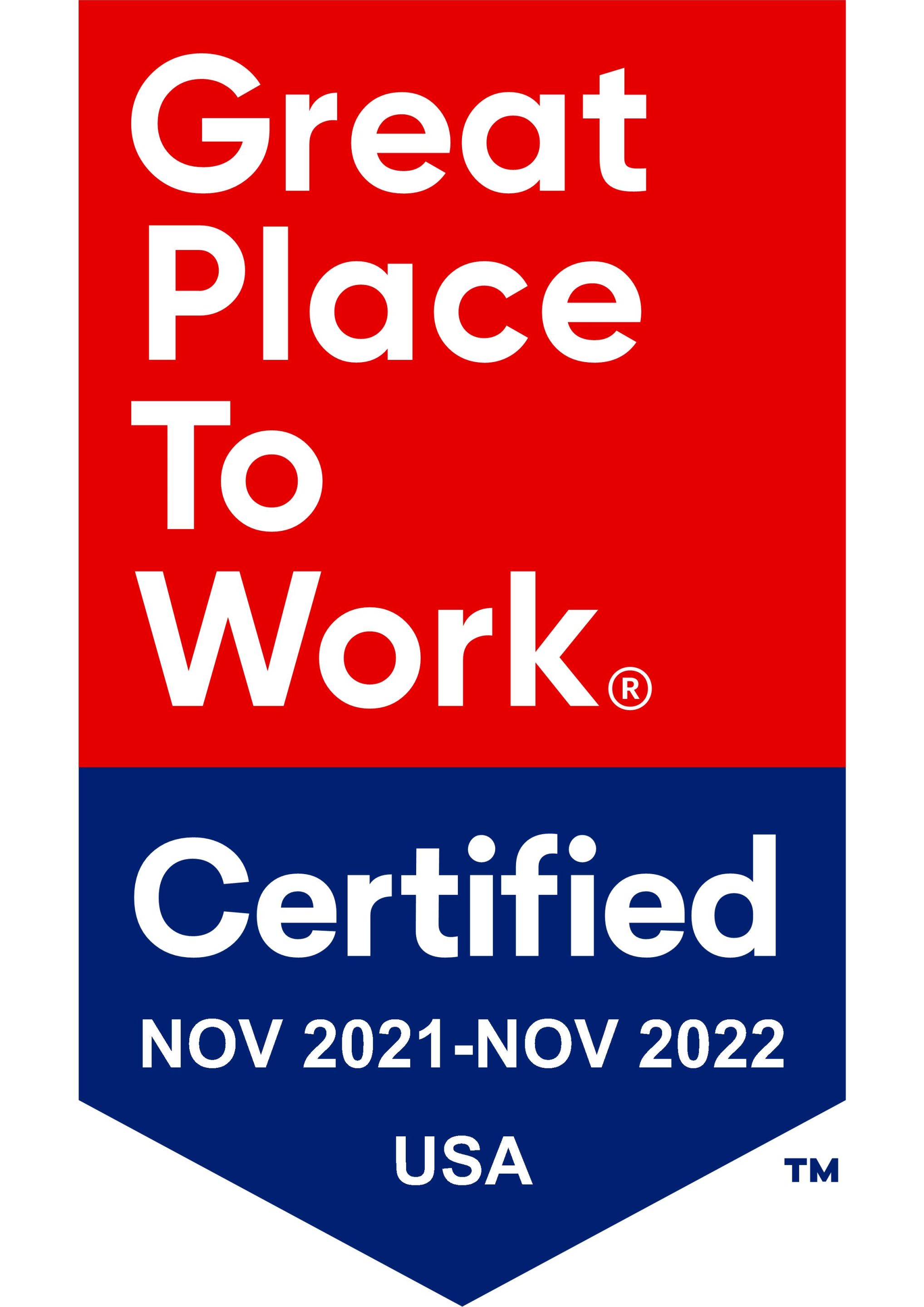 College for Professional Design ("Sessions") was certified as a great workplace today for the third time by the independent analysts at Great Place to Work®. Sessions earned this credential based on extensive ratings provided by its employees in anonymous surveys.
The prestigious award is based entirely on what current employees say about their experience working at Sessions. This year once again, 100% of employees said it's a great place to work – compared to 59% of employees at a typical U.S. based company. (Source: Great Place to Work® 2019 U.S. National Employee Engagement Study).
Since 1997, Sessions College has been a leader in online education, offering a unique asynchronous project-based educational paradigm. Students are prepared for in demand digital design careers with quality programs that are accessible, flexible, and affordable.
Since March 2020, Sessions has migrated to a fully remote working environment for all its operations. During this seismic shift, Sessions' industry-leading student outcomes regarding satisfaction, graduation rates, and employability have been maintained and improved. In addition, new Bachelor of Fine Arts programs have been developed and launched.
"Our team has remained productive and collaborative during this very challenging time," said Doris Granatowski, Sessions CEO. "But we wanted to understand whether our approach to the fully remote working environment was as engaging and fulfilling to our staff. We have maintained a stable work force and have been successful in recruiting new talent. But the question remained – are we still a great place to work? We found out we are."
Great Place to Work® is the global authority on workplace culture, employee experience, and the leadership behaviors proven to deliver market-leading revenue, employee retention and increased innovation.
"Great Place to Work Certification™ isn't something that comes easily – it takes ongoing dedication to the employee experience," said Sarah Lewis-Kulin, vice president of global recognition at Great Place to Work. "It's the only official recognition determined by employees' real-time reports of their company culture. Earning this designation means that Sessions College is one of the best companies to work for in the country."
According to Great Place to Work research, job seekers are 4.5 times more likely to find a great boss at a Certified great workplace. Additionally, employees at Certified workplaces are 93% more likely to look forward to coming to work, and are twice as likely to be paid fairly, earn a fair share of the company's profits and have a fair chance at promotion.
Sessions College is the pioneer in accredited and affordable online skills-based education that readies adult and college age learners for the digital design workforce. Founded in 1997, Sessions College offers project-based bachelor and associate level degrees and certificate programs for in demand careers in art, design, and photography. Students learn via real world projects that reflect the latest industry-relevant skills. Sessions College is accredited by the Distance Education Accrediting Commission (DEAC) and the Middle States Commission for Secondary Schools (MSA-CSS) and is approved to deliver its online degrees and programs throughout the United States by the National Council for State Authorization for Reciprocity Agreements (NC-SARA).
Sessions College Dean Wins USDLA Award for Leadership in Distance Education
May 17, 2023
Sessions College Continues 10 Year Trend of Winning Design Industry Competitions
January 30, 2023
Sessions College Featured on Trending in Ed
December 6, 2022
Sessions College President Featured on Higher Ed Podcast
October 5, 2022
Sessions College Creates New Pathways for Adult Learners
September 15, 2022
Sessions College Increases Choices in Innovative Design Certificates
November 24, 2021
Sessions College Certified as "Great Place to Work"
November 19, 2021
Sessions College Sees High Interest in VRRAP Eligible Design Programs
October 25, 2021
Sessions College Recognized for Quality, Affordability, and Design
October 11, 2021
Sessions College Again Ranked Among the Best Online Colleges
September 15, 2021
Sessions College Provides Prestigious In-Demand Industry Credentials
August 18, 2021
Sessions College Launches Online BFA Programs
November 24, 2020
Sessions College Announces 2020 Outstanding Graduate Award Recipients
September 23, 2020
Sessions College Expands Advisory Board
August 26, 2020
Sessions College For Professional Design Adds Neil Edwards to Board of Directors
August 18, 2020
Sessions College Seeks Expanded Opportunities for DigitalComplete
August 12, 2020
Sessions College Named to Most Affordable College Tuition and Top Design School Lists
August 7, 2020
DEAC Renews Sessions College for Professional Design Accreditation Through 2025
July 29, 2020
Kimberly O'Hanlon
Senior Director of Admissions
(480)212-1704 ext. 155
kimberly@sessions.edu