Sessions College President Interviewed by Rebuilding the American Dream Podcast
Gordon Drummond Discusses Technology, Assessment, and the Development of Online BFA Programs
Tempe, AZ (October 6, 2022)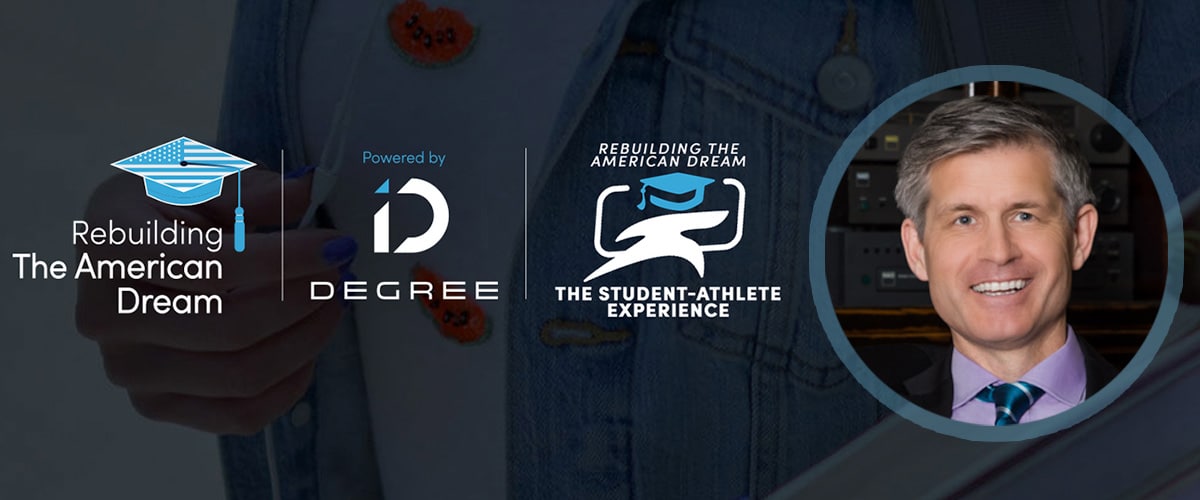 Founded in 1997, Sessions College is one of the longest-running accredited institutions offering a fully online education.
This week, Sessions College President Gordon Drummond was delighted to have the opportunity to discuss how Sessions College developed its own unique brand of online education for creative professionals with the Rebuilding the American Dream podcast. Powered by Degree Insurance, the podcast is dedicated to creating conversations with leading minds about higher education in America.
Sessions College President Gordon Drummond is an educator and instructional designer with a passion for art, design, and technology. He joined the school in 2001 as a Curriculum Director and has served as President since 2011. Gordon has extensive experience in school accreditation and holds a Master's in English Literature from The University of Edinburgh in Scotland.
As an entirely online institution focused on training creative professionals, Sessions College is in a unique position to be a leader in online learning trends and technology growth. Their Education team and faculty are focused on developing how learning happens and the importance of getting a student ready for the constantly changing needs of the workforce.
In a wide-ranging discussion, Gordon Drummond talks to Carren Crossley about technology, assessment, and how the college developed its latest online BFA Programs in Graphic Design, Illustration, and Digital Photography.
The podcast may be played below or easily found on the americandream.fm website. It is also available on the most popular podcast platforms: Apple, Spotify, TuneIn, Stitcher, and Google.
Powered by Degree Insurance, Rebuilding the American Dream is a podcast featuring conversations with leading minds about higher education in America. The podcast introduces listeners to thought leaders who are shaping the lives of the next generation, to discuss the challenges and innovations shaping higher education and how it can adapt to give students a strong foundation for their futures. Through in-depth conversations with leading voices in education, they discover what it takes to give students the tools they need to excel and succeed in order to rebuild the American Dream.
Sessions College is the pioneer in accredited and affordable online skills-based education that readies adult and college age learners for the digital design workforce. Founded in 1997, Sessions College offers project-based bachelor and associate level degrees and certificate programs for in demand careers in art, design, and photography. Students learn via real world projects that reflect the latest industry-relevant skills. Sessions College is accredited by the Distance Education Accrediting Commission (DEAC) and the Middle States Commission for Secondary Schools (MSA-CSS) and is approved to deliver its online degrees and programs throughout the United States by the National Council for State Authorization for Reciprocity Agreements (NC-SARA).
Sessions College Website Redesign Recognized as Winner in GDUSA's 60th American Graphic Design Awards
November 16, 2023
Sessions College Dean Wins USDLA Award for Leadership in Distance Education
May 17, 2023
Sessions College Continues 10 Year Trend of Winning Design Industry Competitions
January 30, 2023
Sessions College Featured on Trending in Ed
December 6, 2022
Sessions College President Featured on Higher Ed Podcast
October 5, 2022
Sessions College Creates New Pathways for Adult Learners
September 15, 2022
Sessions College Increases Choices in Innovative Design Certificates
November 24, 2021
Sessions College Certified as "Great Place to Work"
November 19, 2021
Sessions College Sees High Interest in VRRAP Eligible Design Programs
October 25, 2021
Sessions College Recognized for Quality, Affordability, and Design
October 11, 2021
Sessions College Again Ranked Among the Best Online Colleges
September 15, 2021
Sessions College Provides Prestigious In-Demand Industry Credentials
August 18, 2021
Sessions College Launches Online BFA Programs
November 24, 2020
Sessions College Announces 2020 Outstanding Graduate Award Recipients
September 23, 2020
Sessions College Expands Advisory Board
August 26, 2020
Sessions College For Professional Design Adds Neil Edwards to Board of Directors
August 18, 2020
Sessions College Seeks Expanded Opportunities for DigitalComplete
August 12, 2020
Sessions College Named to Most Affordable College Tuition and Top Design School Lists
August 7, 2020
DEAC Renews Sessions College for Professional Design Accreditation Through 2025
July 29, 2020
Kimberly O'Hanlon
Director of Marketing
(480)212-1704 ext. 155
kimberly@sessions.edu