Sessions College Website Redesign Recognized as Winner in GDUSA's 60th American Graphic Design Awards
Design College Inspires Creativity by Showcasing Excellence
TEMPE, AZ (November 16, 2023).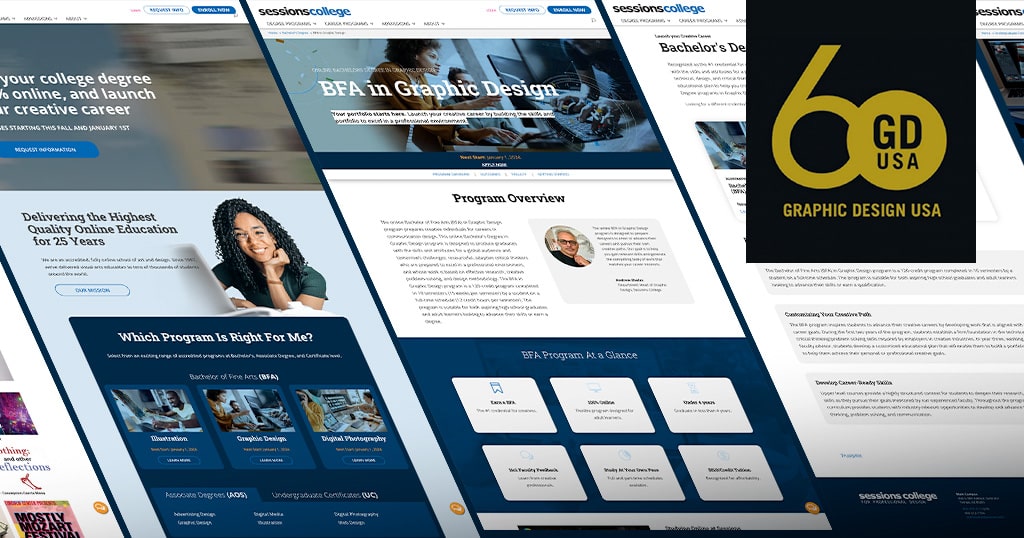 Sessions College is thrilled to announce that its newly redesigned website has been honored as a winner in GDUSA's prestigious 60th anniversary American Graphic Design Awards™.
 
The recognition is a testament to the outstanding work and dedication put into the project, making Sessions College one of the top 10% selected winners out of over 8,000 entries.
 
Sessions College Creative Director Patricio Sarzosa, who worked with the school's content team to develop the rebranding, was the creative mind behind the award-winning entry titled "Reimagining Web Aesthetics - Sessions College Homepage Redesign," expressed his gratitude for the acknowledgment. The redesign project aimed to enhance the overall user experience, combining creativity and functionality to represent Sessions College.
 
GDUSA's American Graphic Design Awards™ is a flagship contest that celebrates outstanding work across various media, open to everyone in the design community. The winners, including Sessions College, will be featured in the 2023 GDUSA Design Annual, both in print and online.
 
"We are immensely proud to have our website redesign recognized by GDUSA. This acknowledgment reflects the dedication and creativity of our team at Sessions College," said Gordon Drummond, President of Sessions College. "This achievement is not only a testament to our excellence but also provides a valuable opportunity to inspire and motivate our students."
 
In line with its mission, Sessions' innovative asynchronous project-based educational approach consistently meets the distinct skill-based requirements of design employers and clients. Sessions proudly offers a diverse range of programs that deliver high-quality and industry-relevant education.
 
Graduates from Sessions College frequently achieve remarkable success in advancing their careers, boasting success rates that stand favorably alongside those of traditional educational institutions. This recognition in the GDUSA's 60th American Graphic Design Awards further affirms Sessions College's commitment to excellence and innovation, reinforcing its standing as a leading institution in the design education landscape.
About GDUSA's 2023 American Graphic Design Awards™
In its 60th Anniversary celebration, the American Graphic Design Awards™ by GDUSA is an inclusive contest open to design firms, agencies, freelancers, and students. Recognizing outstanding work in diverse mediums such as print, packaging, internet, and more, this prestigious event is sponsored by Billerud, a global leader in sustainable paper and packaging materials. Inspired by Robert Half, the "Designing For Good" category highlights graphic communications driving positive social and environmental impact.
Sessions College is the pioneer in accredited and affordable online skills-based education that readies adult learners for the digital design workforce. Founded in 1997, Sessions College offers project-based Bachelor's and Associate level degrees and certificate programs for in-demand careers in  illustration, graphic design, and photography. Students learn via real-world projects that reflect the latest industry-relevant skills.
Sessions College is accredited by the Distance Education Accrediting Commission (DEAC) and the Middle States Commission for Secondary Schools (MSA-CESS) and is approved to deliver its online degrees and programs  throughout the United States by  the National Council for State Authorization for Reciprocity Agreements (NC-SARA).
Sessions College Website Redesign Recognized as Winner in GDUSA's 60th American Graphic Design Awards
November 16, 2023
Sessions College Dean Wins USDLA Award for Leadership in Distance Education
May 17, 2023
Sessions College Continues 10 Year Trend of Winning Design Industry Competitions
January 30, 2023
Sessions College Featured on Trending in Ed
December 6, 2022
Sessions College President Featured on Higher Ed Podcast
October 5, 2022
Sessions College Creates New Pathways for Adult Learners
September 15, 2022
Sessions College Increases Choices in Innovative Design Certificates
November 24, 2021
Sessions College Certified as "Great Place to Work"
November 19, 2021
Sessions College Sees High Interest in VRRAP Eligible Design Programs
October 25, 2021
Sessions College Recognized for Quality, Affordability, and Design
October 11, 2021
Sessions College Again Ranked Among the Best Online Colleges
September 15, 2021
Sessions College Provides Prestigious In-Demand Industry Credentials
August 18, 2021
Sessions College Launches Online BFA Programs
November 24, 2020
Sessions College Announces 2020 Outstanding Graduate Award Recipients
September 23, 2020
Sessions College Expands Advisory Board
August 26, 2020
Sessions College For Professional Design Adds Neil Edwards to Board of Directors
August 18, 2020
Sessions College Seeks Expanded Opportunities for DigitalComplete
August 12, 2020
Sessions College Named to Most Affordable College Tuition and Top Design School Lists
August 7, 2020
DEAC Renews Sessions College for Professional Design Accreditation Through 2025
July 29, 2020