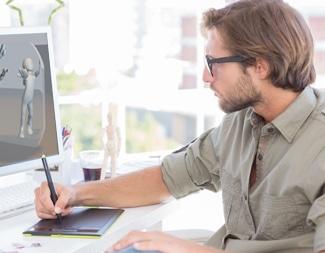 Animators tell stories by creating characters and animating them—making them move.
Design Career Guide
Animator
If you're like many moviegoers, you wept during the opening sequence of Pixar's animated film, Up. Or let out a cheer when Buzz Lightyear demonstrated the ability to fly in Toy Story.
Whether Buzz was actually flying—or merely "falling with style"—his movements were directed by a team of talented animators who used believable physics, graceful motion, and creative facial expressions to connect us emotionally to a fictional character.
View More Creative Jobs: Graphic Designer | Web Designer | Marketing Manager | Art Director | Illustrator | Multimedia Designer | UX/UI Designer | Photographer
Animators: Bringing art to life in motion
Q: WHAT DOES AN ANIMATOR DO?
Animators use frame-by-frame images to give the illusion of movement when they create characters, images, and special effects. From the early days of animation to the late 1980s, animators drew every frame of an animation by hand. Today, the majority of animators use computer software to help create animated sequences.
2D animators may use Adobe Flash or a newer product like Toonboom. 3D animators typically use an Autodesk software like Maya or 3DS Max, in conjunction with 2D tools like Photoshop.
Most animators use storyboards to visualize and plan animations, so the ability to draw figures and map out a scene-by-scene progression is still important. For video games and movies, many animators work collaboratively with programmers to design movements or interactions. While today's animation industry is highly technology-driven, the best animators have a knack for the traditional verities of animation: the ability to draw compelling characters and convey expression, emotion, and movement.
Q: WHERE CAN I RESEARCH ANIMATOR JOBS?
California and New York are two established centers for the entertainment industry in the United States. Less well known is the fact that many animators work at home as freelancers. Creative freelancing sites such as upwork.com or guru.com can be good places to look for animation jobs.
Q: WHAT'S THE AVERAGE ANIMATOR SALARY LIKE?
ANIMATOR SALARY – According to the U.S. Bureau of Labor Statistics, the 2022 median salary for Special Effects Artists and Animators was $98,950.
Animators may work full time for film and video production companies or video game studios. Alternatively, animators may do freelance work on a per-job basis. This may include work for the entertainment industry or for educational organizations or the nonprofit sector.
Dedication, collaboration, and communication are essential. To ship the game or movie, you may need to put in exhausting hours in the name of greatness, and work as a team to get it done. Prima donnas need not apply.
The U.S. Bureau of Labor Statistics cites the 2022 median salary for special effects artists and animators as $98,950. The Federal Occupational Handbook projects that employment for animators will grow by 8 percent from 2022 to 2032.
Q: CURIOUS HOW TO BECOME AN ANIMATOR?
If you're considering a career as an animator, think about some basics you could start right away. Develop your drawing skills, particularly character or figure drawing. Break down your favorite animated works (movie or video game) scene by scene or pose by pose. Take a course to get familiar with an animation or modeling/animation software (such as Adobe Animate or Maya).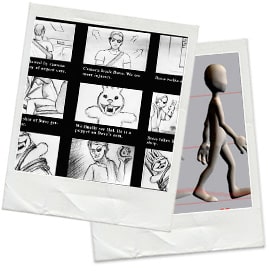 If you're serious, a bachelor's degree or postsecondary degree in fine art or animation is usually essential for work in the field. Though some animators are self-trained, a degree in animation will provide aspiring animators with both practice and focus. A judisciously edited demo reel with clips from your best pieces are necessary for professional work in the field.
Sample Job Description
Do you have what it takes? Here is a typical entry-level job description for an animator:
Animator
Behemoth Games – Austin, TX
Job Description: Behemoth Games is seeking an animator to work on our new original IP, RPG game for a home console game system. You'll be responsible for creating 3D animations for interactive gameplay and cinematic cut-scenes. You must demonstrate a deep understanding of animation principles and the ability to work in a wide range of visual styles.
Learn more
Required skills
:
Your technical skills are solid and efficient (key framing, animation rigs, and use of animation tools)
You are well versed in how to create game animations (poses, cycles, blending, layering of animation)
You are an excellent communicator open to direction and change
Software skills: Maya, Premiere, After Effects (or comparable programs)
Art skills: drawing, image editing, and photography skills
Attention to detail, strong technical skills, and creative problem solving are key
Must be commited to shipping a great product on time
TOP ANIMATORS: Some widely admired animators to check out include Los Angeles-based animator Chris Kelley, Harriet Gillian, and Blue Sky Studios.
RELATED JOBS: Character Animator, Game Animator