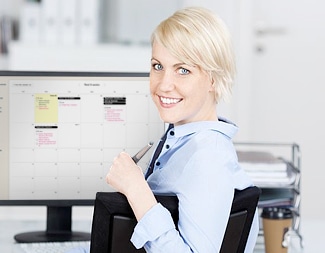 Marketing managers can make it all happen, by design.
Design Career Guide
Marketing Manager
"It was the Harvard Business Review who proclaimed in 2008 that the MFA was the next MBA. Their bold idea: an art/design education could be the ideal training for that supremely creative endeavor, building a business.
A decade later, design has made serious inroads into marketing. Every small to mid-sized company recognizes the importance of good design to their marketing efforts, and many ask their marketing managers to not just manage their customer outreach, but design it too."
View More Creative Jobs: Graphic Designer | Fashion Designer | Web Designer | Animator | Art Director | Illustrator | Multimedia Designer | UX/UI Designer | Photographer
Marketing Managers: Connecting to Customers
Q: WHAT DOES A MARKETING MANAGER DO?
Marketing managers
are the bootstraps of small to mid-sized businesses. In the past, marketing managers were responsible for evaluating market research for a company's
product or services, developing marketing plans, and delivering effective marketing campaigns to customers.What's changed in recent years is that companies understand that they need flexible people to control print and Web marketing in-house and are asking marketing staff to shape the message.
A successful marketing manager performs a number of challenging responsibilities. He or she must identify the demand for products and services, assess the competition, and reach out to potential customers. In print, they may be responsible for conceptualizing, writing, and overseeing the design of materials such as catalogs, brochures, and flyers.
On the Web, they may be responsible for developing or managing a company's Web site and Web marketing efforts, such as Internet advertising, lead conversion, and social media. A marketing manager with design skills may also become a design manager who outsources or art directs design or technology services where needed.
Excellent communication skills, an understanding of marketing trends, and general design skills are necessary. Marketing managers usually work full-time for a company—either for a small team, or for a large marketing agency serving many clients. The hours can be long but the reward is seeing your marketing ideas come to life and help a business succeed.
Q: WHERE CAN I RESEARCH JOBS?
The marketing manager position is more likely than other creative jobs to be listed in conventional big-box jobs sites like Monster.com or CareerBuilder.com. If you are interested in a position that blends marketing and design, add "design" or "Web" into your search parameters.
Q: WHAT ARE THE CAREER AND SALARY EXPECTATIONS?
According to the U.S. Bureau of Labor Statistics, the 2018 median salary for Marketing Managers was $132,620.
Though most marketing managers work during regular business hours, the job may require additional work hours to meet tight project deadlines. A marketing manager is expected to "make it happen." Some marketing management positions, especially those for large or intentional companies, may require a lot of travel.
In the world of marketing, confidence and creative problem solving go a long way. It is not uncommon for a marketing manager to begin in an entry-level advertising position and work upward through the company after demonstrating a positive performance record.
The U.S. Bureau of Labor Statistics lists the 2018 median salary for Marketing Managers as $132,620, showing that the marketing role is highly valued as a person attains success and seniority. The Federal Occupational Outlook Handbook predicts that overall employment for marketing managers will grow by 10 percent from 2016 to 2026, outpacing the rest of the economy. (Of course, if those marketers do their jobs, the demand for their services may grow faster!)
Q: HOW DO I GET STARTED?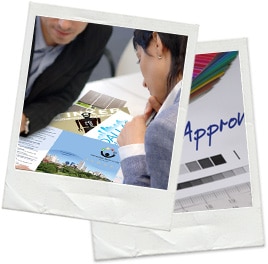 If you're considering a career in marketing with a design focus, you need to develop your portfolio like any other graphic designer. A bachelor's degree in marketing or business administration is generally required. Some marketing managers may choose to pursue advanced degrees, which may lead to greater mobility in the field.
In addition, you will need to develop the general print and Web design skills that today's graphic designers have. Look for an accredited college program that offers a mix of traditional design education and contemporary software/technology training. Seek to graduate with a portfolio that shows your talents developing marketing concepts and materials for a range of clients.
Marketing Manager
Sterling Properties. – Sacramento, CA
Job Description: Sterling Properties is looking for a business-focused creative person to manage print and Web marketing. An excellent writer and communicator, you will design our print brochures and other marketing pieces. You will manage our email campaigns, maintain and update our company Web site, and help our team of brokers achieve their goals while they are on location, location, location.
Learn more
Qualifications
:
Advanced proficiency in Adobe Illustrator, Photoshop, and Dreamweaver
Excellent communication, project management and organization skills
Proficient in MS Office
Working knowledge of HTML and Constant Contact
Basic knowledge of WordPress and HTML
Ability to work with a team
Strong word processing skills
Ability to multi-task in a fast paced environment
Strong attention to detail