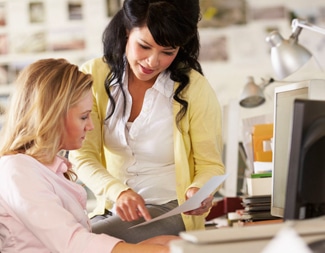 Working with creative staff, Art Directors strive for quality, consistency, and authenticity for a brand or organziation.
Design Career Guide
Art Director
Looking for a longer term career path as a creative? An art director is a supervisor responsible for making decisions for a company's brand and managing a team of creative professionals. Whenever you have a team of artists, designers, or photographers, you need an art director to provide strategic, high-level vision, creative management, and day-to-day judgments about what works and what needs… more work.
View More Creative Jobs: Graphic Designer | Web Designer | Animator | Marketing Manager | Illustrator | Multimedia Designer | UX/UI Designer | Photographer
Art Directors: Leading the creative team
Q: WHAT DOES AN ART DIRECTOR DO?
Art Directors work in every creative industry, from advertising, to book and magazine publishing, to game development, to graphic and Web design agencies. Every publication has an art director. Every brand has one.
The most obvious requirement for the job is experience. You must have worked in design for a number of years and learned how to work for different clients, how to design for one client across many different platforms, and how to manage not just projects but other artists and designers too. Most likely, you'll have distinguished yourself as a designer, perhaps even won some awards. Now you are ready to apply that knowledge to something bigger—getting a whole team of designers to carry out your vision, or imparting a new, consistent look to a company's entire visual identity.
At a minimum, the art director role requires outstanding design skills and production knowledge. At higher levels, an art director is the interface between creative and business or management functions. They are often de facto project managers. They are responsible for large-scale endeavors, and so the position brings risks and rewards.
Q: WHERE CAN I RESEARCH ART DIRECTOR JOBS?
According to the Bureau of Labor Statistics, the majority of art directors in 2012 were self-employed and worked full-time. This reflects the apparent reality that for every in-house art director position, there is an equal or greater number of short-term positions needing an experienced designer to art direct them. Art Director positions are advertised on major job sites as well as the specialized career resources listed on our Job Boards page.
Q: WHAT ARE ART DIRECTOR SALARY EXPECTATIONS LIKE?
ART DIRECTOR SALARY: According to the U.S. Bureau of Labor Statistics, the 2022 median salary for Art Directors was $105,180 per year.
The Bureau of Labor Statistics states that the majority of art directors work in advertising and public relations, followed by publishing, design services, and the motion picture industry. Most art directors start out as "graphic designers, fine artists, editors, or photographers" and serve in that capacity before earning the chance to become an art director.
The U.S. Bureau of Labor Statistics lists the 2022 median salary for Art Directors as $105,180. Employment of art directors is predicted to grow 6% from 2022 to 2032, which has trended upwards in recent years.
Q: CURIOUS HOW TO BECOME AN ART DIRECTOR?
If yo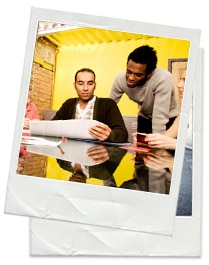 ur career goal is an art director, you almost certainly need to pursue a degree in design and employment in a design agency or other company where you can gain experience working with senior designers tackling different brands and media. The National Association of Art And Design (NASAD) recommends the BFA as the standard qualification for a design career, though many designers still ascend to the art director level with native talent, work experience, and a non-traditional path. What all art directors seem to share is demonstrated ability, leadership, and a confidence born of experience in the field.
Sample Job Description
Do you have what it takes? Here is a typical job description for an art director:
Art Director
Taste the Food – Chicago, Illinois
Job Description: Taste the Food is the leading brand for healthy home cooks. An internationally known publisher of recipes and dietary information, our brand is manifest through magazines, digital media, social media, and education programs. We are looking for an art director to provide consistent brand direction and design leadership across platforms.
Learn more
Required skills:
5+ years of professional experience in the industry

Exceptional typography and layout skills

Ability to conceptualize and direct creative photoshoots end to end

Knowledge of print (Adobe Photoshop, Illustrator, InDesign) and Web (HTML, Dreamweaver, Flash, etc.)

Ability to manage projects, meet deadlines, and manage in-house and freelance creative resources

Positive and collaborative style that will embody our brand for a healthy, positive lifestyle
RELATED JOBS: Creative Director, Design Manager, Senior Designer