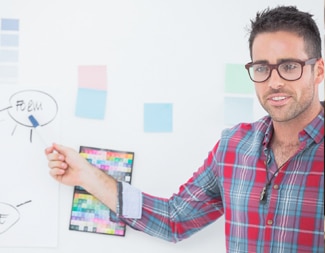 UX/UI Designer is a cool new title for an in-demand Web design role.
Design Career Guide
UX/UI Designer
For better or worse, the terms UI and UX are increasingly converging in one new Web marketing role: UX/UI Designer. Many traditional technology managers insist the roles should be separate, with UX Designers focusing on evaluating and improving a user experience, and UI Designers designing and programming interfaces to accomplish specific tasks.
Employers are throwing away the pocket protectors and looking for Web designer/developers who can design and program with the user's emotions in mind. The result is the UX/UI Designer, able to design intelligible Web or screen interfaces, ensure they work, and make them an exciting, and memorable part of the customer experience.
View More Creative Jobs: Graphic Designer | Fashion Designer | Web Designer | Animator | Marketing Manager | Art Director | Illustrator | Multimedia Designer | Photographer
UX/UI Designers: Turning the user interface into an experience
Q: WHAT DOES A UX/UI DESIGNER DO?
UX/UI Designers
generally design Web-based interfaces such as sites, applications, and games. In order to do this effectively, they must consider all aspects of the user experience. Who are the site's target customers, and what is the goal of the interface? What is the "user workflow" expected for the interface? How can text and images be used to communicate clearly and create a specific experience? How can audio and animation be used to support to message and enhance the experience?
At a nuts and bolts level, a UX/UI Designer may be designing interface elements like buttons and dropdown lists, or navigation components like search fields and tags, or informational items like user response messages and progress bars. At a more abstract level, he or she may in charge of evaluating: "What was the user experience like? Was the system easy to navigate? What percentage of users returned to use the system again?"
UX/UI Designers should have strong coding skills and be well-versed in current Web standards, including best practices for usability and accessibility. Both areas require a good eye for design and close attention to detail. UI/UX designers should be comfortable working across the Adobe Creative suite: from Photoshop and InDesign to Flash and Dreamweaver. One recent job ad for a UX/UI Designer says it all: "To succeed, you must understand how to make something beautiful and insanely functional."
Q: WHERE CAN I RESEARCH JOBS?
UX/UI Designer jobs can be found at both major career search sites and the niche sites listed on our Jobs Search page. Also, did you know? There is a job board specifically for UX/UI Designers, at
justuxjobs.com
.
Q: WHAT ARE THE CAREER AND SALARY EXPECTATIONS?
UX/UI DESIGNER SALARY – According to the U.S. Bureau of Labor Statistics, the 2018 median salary for Web developers was $69,430.
Most UX/UI Designer positions currently listed are for agencies with major clients or for a medium-to-large sized company with a significant Web presence. UI/UX designers tend to work in full-time, salaried positions for Web or software companies, or large companies that can accommodate teams of in-house designers.
According to Indeed.com, the median annual salary for a UX/UI Designer in the United States in 2014 was $87,000. According to the AIGA/Aquent 2014 Survey of Salaries, the median annual salary for a Web developer (front end/interface) in the United States in 2014 was $58,000. (The U.S. Bureau of Labor Statistics lists the 2018 median salary for a Web developer as $69,430.) Overall employment for Web developers is predicted to grow by 15 percent from 2016 to 2026. Mobile devices and ecommerce will be a major factor.
Q: HOW DO I GET STARTED?
Most UX/UI Designer jobs require at least 1-5 years of work experience in UX/UI design for the Web. A general Web design position working for a range of clients would be a good training for the role. Fundamental design skills and Web coding skills (as well as some programming) are a must, so anyone considering this kind of position must develop "outside of the box" skills. Being a skilled programmer alone is not sufficient, though a degree in computer science, software development, or Web design may be useful for landing a job.
Sample Job Description
Do you have what it takes? Here is a typical job description for a UX/UI Designer:
Brass Tacks, Atlanta
Job Description: Brass Tacks is an interactive agency in Atlanta, Georgia. All we do is create websites and web applications for top clients. We are looking for a talented UI/UX designer to join our team. You will turn interfaces into rich user experiences, working with our team as you model user behavior, create wireframes, and design interface concepts and graphic layouts.
Learn more
What we are looking for
:
Experience in designing and iterating on web apps
Quantitative and user behavior analysis skills
Excellent written and verbal communicator
Outstanding Adobe Illustrator, Photoshop, and InDesign skills
Working knowledge of HTML, CSS, Javascript, and Bootstrap or equivalent framework
Passion for creating experiences in online environments
Excellent organizational and time management skills
RELATED JOBS: Web Designer, Interface Designer, Interactive Designer, Web Developer, User Experience Designer