ICANN held a press conference in London last week entitled "Reveal Day" to unveil the 1,900 generic top-level domains that companies, organizations, geographical regions, start-ups and others have applied for. Getting these new gTLDs to the general public, however, will be a lengthy process and most will not be cleared until 2013 or later according to the ICANN forecast.
Amongst the many companies who have applied for multiple gTLDs, Donuts.co has applied for 307 words for domain names with a hefty price tag. "Finding a suitable domain name is a struggle. There are more than 125 million total names in the top five gTLDs, with three-fourths in .COM. As a result, the Internet needs to, and is, migrating toward specificity," states Donuts' main site.
And with nearly unimaginable funding (think, $125,000 per gTLD + $25,000 yearly fee for each x 307 gTLDs = $$$$, aka Billions), Donuts has strong and deep resources with which to challenge any other company who has applied for the same gTLD.
Many companies like Donuts have applied to purchase gTLDs with the intent of reselling, much like a wholesaler, to domain hosting power-houses like GoDaddy.com. This could prove to be a very lucrative business transaction, particularly because many gTLDs will be unavailable unless purchased from a 3rd party. You can also expect to see an increase in the marketing of these new addresses as they are released and available for purchase.
This opportunity for variety and diversity in the evolution of the internet is a huge forward leap for companies and individuals alike. It will be interesting to see what develops.
—
At Sessions College. Are you an aspiring Web designer or developer? You can take your Web Design skills to a professional level in our accredited Web Design Degree or Web Design Certificate programs.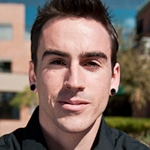 Rob Pullins is a new media marketer and world traveler. In 2013, Rob was Managing Editor of NOD while he was Director of Marketing at Sessions College.