WWW…Wednesday: A Look at Windows 11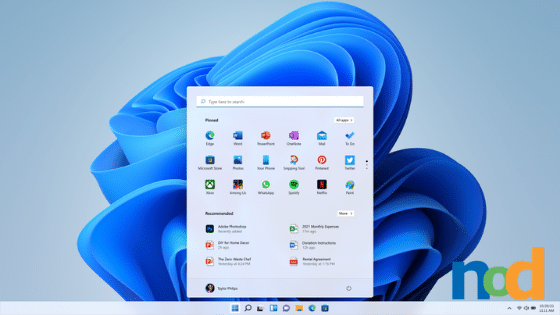 Microsoft recently announced Windows 11, the next installment in their legacy operating system, replacing Windows 10 which was first released in 2015. Citing insights into user habits gained over the past year as evidence, Panos Panay, Windows 11s Chief Product Officer, painted a picture of the Windows platform transcending its utility-oriented roots and stepping into a role far more personal and intimate. Over the past year, users increasingly turned to their PCs not only for work, but for connection and entertainment. With that in mind, this next evolution of Windows attempts to better merge these 2 worlds without straying too far from the brand ethos most are already familiar with.
First, and perhaps the most noticeable feature of Windows 11, is that the taskbar has been given a facelift. It's sporting some new icons and has been centered, an interesting move and strongly reminiscent of Apple's OS. With ease of use being one of the focuses for this release, I suppose it isn't all that surprising though, as the center of the screen requires less movement to reach with the cursor than does the corner.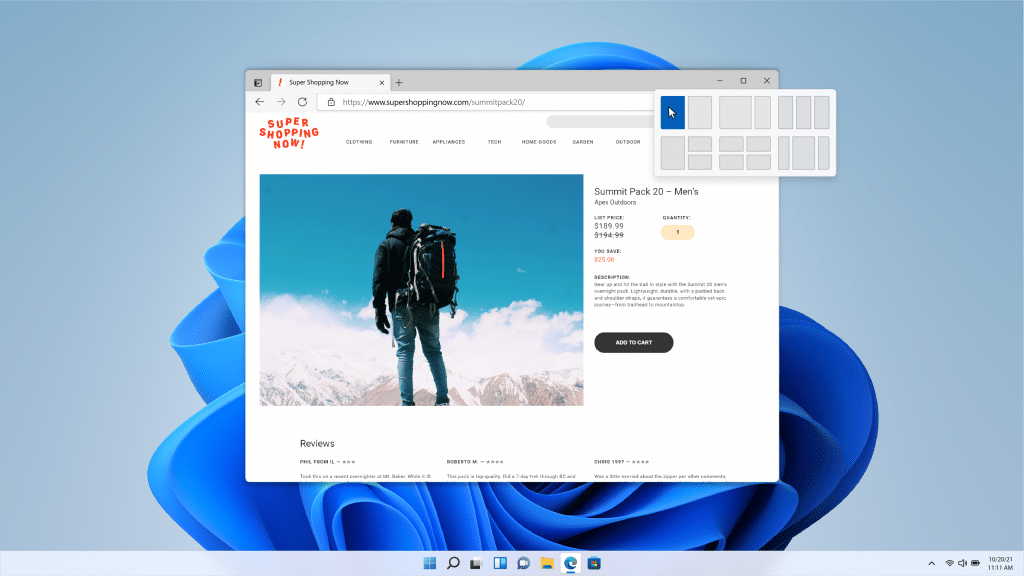 Other aspects of the UI have been redesigned as well, including icons, fonts, and sounds, all aimed at creating a calming user experience. The default notification sounds in Windows 10 can be a bit jarring, as anyone who has used a tablet with Photoshop has experienced, so this will come as an appreciated change.
Cortana is nowhere to be found in this release. In her place comes a more powerful Start that makes it faster to find what you're looking for. With help from the cloud and Microsoft 365, Start menu now shows recently accessed files across devices, whether Android or iOS, a utility we've seen with some mobile devices and a welcome addition to the Windows platform.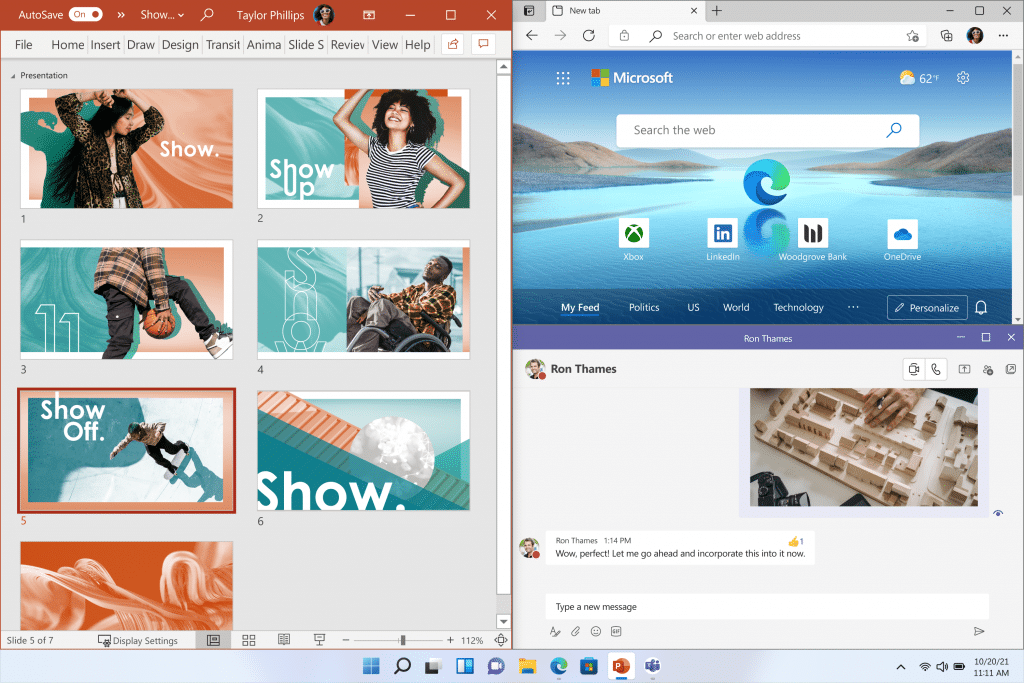 Another feature present on other OSs but lacking from Windows was an integrated chat, and with Windows 11, we're finally getting it. Chat will integrate with text, voice, and video, merging contacts across devices and platforms to keep you connected to the people you care about.
Windows 10 brought us the ability to snap windows side by side, a feature that lent itself to a number of different workflows making life easier for developers and writers alike. Windows 11 brings us the next evolution of this utility in what they call Snap Layouts, Snap Groups, and Desktops. These tools allow users to utilize different layouts that are better-oriented for different types of multitasking as well as create different desktop environments dedicated to things like work, study, or gaming which can be switched between as needed.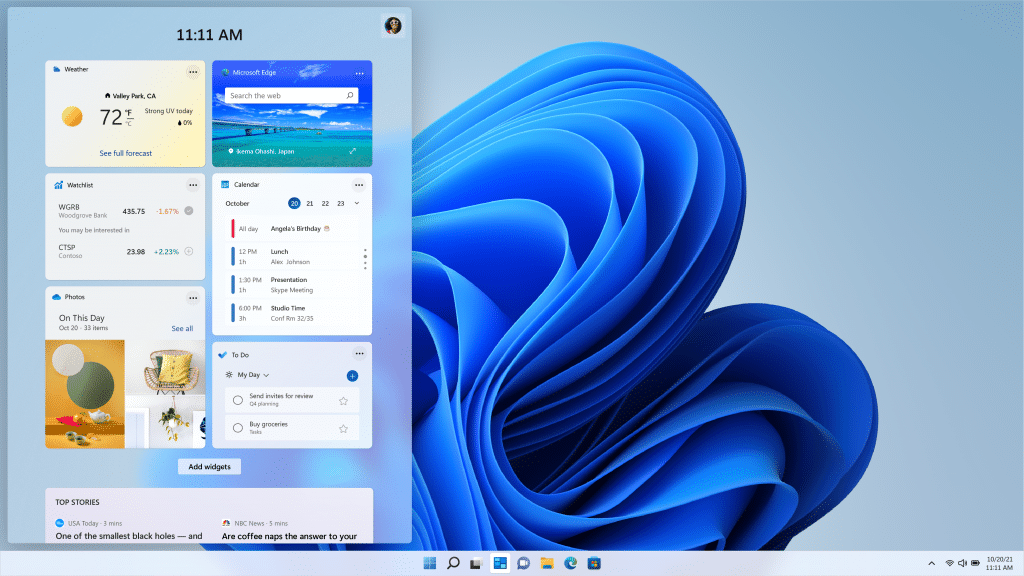 Windows 11 will also feature a dedicated widget panel that utilizes AI to bring you a personalized feed with the information you most need at a glance. News, weather, and interests can all be browsed without disturbing your window arrangement thanks to the panels sliding, frosted-glass-like overlay, making it easy to take a quick break to check the headlines and get right back to work.
A new Microsoft Store has also been created, offering users a single location to download apps and content with confidence. The store hosts games, shows, and movies, but will also feature third-party apps like Adobe Creative Cloud. Android apps are also coming to the Microsoft Store via the Amazon Appstore, opening up a new host of possibilities for desktop use.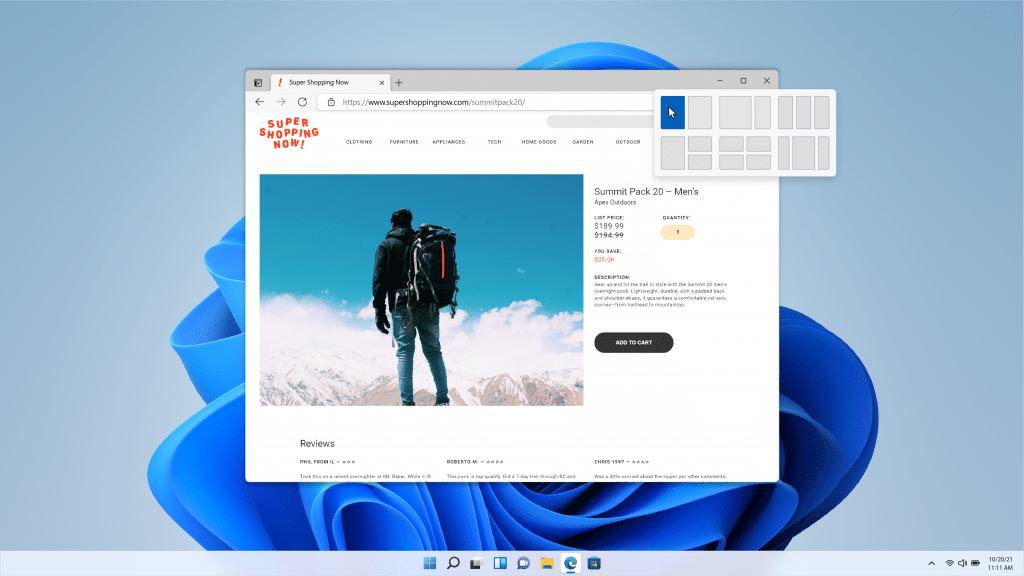 Along with improvements to security, the changes made to improve ease of use mark Windows 11 as a thoughtful redesign, giving Windows users something to look forward to later this year. Users whose PCs meet the requirements to run Windows 11 will get a free upgrade upon its release. Though the tool for checking compatibility is not yet available, you can find the minimum system requirements here.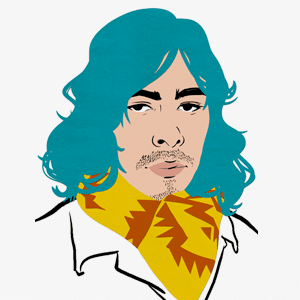 Taylor is the Managing Editor of Notes on Design. Taylor is a graphic designer, illustrator, and Design Lead at Weirdsleep.